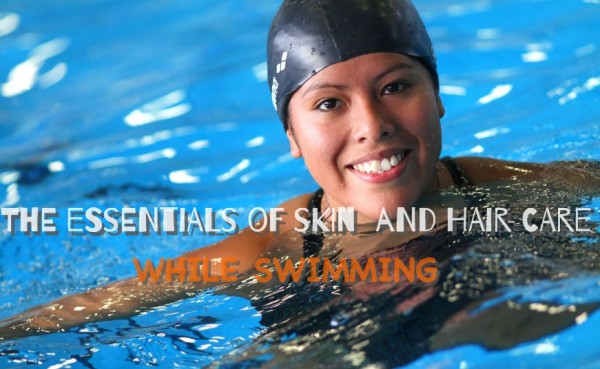 I have recently joined swimming lessons. Like most people I claimed to have known swimming for years, but the truth is that, I can't do a single lap in one go. Plus, my technique is all wrong. So finally, I decided to work on it. While my classes are coming along reasonably well, my skin and my hair texture seem to have taken the toll. I am getting tanned with the chlorine water and sunlight and my skin is also parching. My hair has gone from shiny to dull.  I asked around for help in various Facebook and Whatsapp groups, as women can share and possess inane knowledge on these subjects. So what are the essentials of skin and hair care to remember while swimming?
I got loads of advise, but what I realised through my conversations was that most people believe that there is no effective solution to this. But then, I have never learnt to give up. So as usual, I did my research and have come up with these. At the end of the article we also have sought expert help from Dermatologist Dr. Falguni Shah.
Hair Care:
Before swim:Dry hair will absorb chlorine directly into the hair, but wet hair will slow down its absorption.Wet your hair and add an oil or silicone-based hair product like conditioner, serum or coconut oil. This will act as a barrier to the chlorine without leaving a residue in the water. Wear a swimming cap to avoid wetting hair while swimming. An easy trick is to use some warm water to help get your cap on, making it easier to put on. 
After Swim: Wash out all the chlorine from your hair right after exposure. Use a swimmers shampoo that specifically removes these metals from your hair. A DIY alternative is to use apple cider vinegar. One part vinegar to 2 parts water poured over freshly shampooed hair will do the trick. Make sure to give it a final rinse. You can buy a specialty shampoo designed to get rid of chlorine and mineral deposits like copper. You can get concentrated vitamin C in a bottle from SwimSpray. Also, a home-made pack of honey, avocado or mayonnaise and egg yolk is very effective to give your strands that very necessary moisture. Mix together these ingredients and massage into your scalp. Wrap your head in a warm towel and leave it for about 10-15 minutes. Rinse out well with lukewarm water and shampoo as normal.
If you like the post, pin it!