Diwali is a festival which is all about the festival of lights, positivity, and enlightenment. I shared about Diwali being as one of my favorite festival in the previous blog and for this festival, I love to dress up. Not only on the main day but the other days as well. This is also the time to visit people's homes and to enjoy card parties. Have you already planned your Diwali look this year? Here are some latest Diwali Trends in clothes and accessories for Indian moms which you can use. So grab all your beautiful attires and pair them with up the funkiest accessories and footwear and jazz up for this Diwali!
---
1) Traditional is the way to be
Finally, the season has arrived where you can dress up all traditional. So grab the opportunity and go all Indian. Drape that elegant Kanjeevaram sari and put on some gold jewelry which will definitely put some to envy. Wear all those beautiful attires of your own caste and flaunt them by pairing up with handcrafted accessories.
---
2) Use your creativity
Fusion is all about combining the two cultures that are the Modern culture and the Old Traditional culture. Transforming the old traditional sari of your mother into a piece of suit or making a skirt out of it or a beautiful kurta and pairing it up with beautiful accessories will give a touch of the modern-ethnic wear as well as it will give an elegant look. Like I used my saree to create this jacket and paired it with a golden pant. Also, got a short golden top stitched as an inner.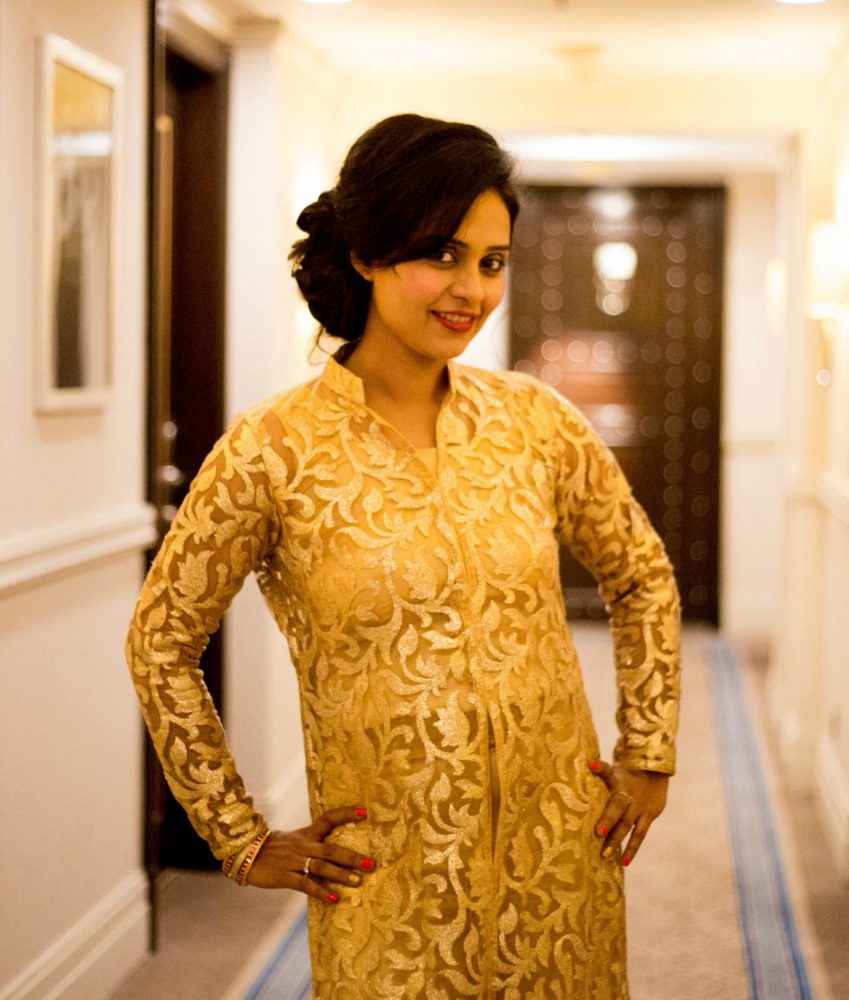 ---
3) Stand Out
Colours are the aspect which actually makes the outfit look alive. Wear a variety of colors, you can prepare a schedule for the everyday attire of your own choice by setting up the colour palette for your occasional days. Deep green for Laxmi Pooja, Yellow for Bhaidooj, etc. You can opt for multicolor prints as well and thereby you can pair it with a classic bracelet-watch to go with the look or your favorite accessory.
---
4) Let the Shoe do the Talking

Footwear actually does describe a person's sense of style and fashion. Pair your outfit with lovely Jodhpuri or Kolhapuri chappals. You can wear good flip-flops which are stylish yet comfortable embroidered with designs and glittery stones. Wear heels which are comfy and avoid stilettos or pencil heels as they may fiddle with your clothing causing you clumsiness.
---
5) Bring Out those Jewels
Jewelry gives the outfit a complete look. Wear decent jewelry and pair it well with your outfit and footwear. If you dress it traditional with flashy colors wear a statement piece of jewelry like a big necklace. Do NOT wear too many jewelry pieces else the overall look can turn out to be gaudy.
---
6) Wear the theme
Dress according to the occasion, if you are going to attend a Diwali party or throwing one yourself, If the party is all about fun and socializing keep your look all comfortable yet trendy, if the party is all about having dance battles along with happy times then opt for fashionable tops, stylized jackets and pair them up with harem pants and palazzos that would guarantee comfort for long and if the occasion is all about sitting or attending a pooja and worshipping the lords then wear sarees or anarkali suits. Avoid light colour toned outfits like white or cream shades as it would be difficult to get them washed and take off the stains in case you spoil on them.
---
7) Bling
Opt for dresses which have stones like emeralds, pearls, and rubies embedded in them or Wear beautiful stone jewellery or designer stones make for a good style statement. They do give an ethnic look as well as leave a classy statement.
---
8) Funk is the game
It's all about being different and this is the reason why you should opt for abstract colours like neon or some funky colours this Diwali. Grab on some beautiful yet quirky accessories pair them up with classy as well as the comfy footwear put on some accurate make-up and there you are all set to have an amazing celebration.
---
9) Make A Statement
The newest trend is metals and they look wonderful when worn with traditional garments during festivities. Wear simple yet a statement leaving accessory, let is stand out and it can transform a simple plain outfit also eye-catching catching one.
---
Try these ideas for Diwali 2017 and create your own style statement!
---