I am a great believer of consuming everything in moderation, which extends to chocolates and all packaged foods. As long as we keep everything under a limit, there is balance. As kids grow up, they will make their own choices and as a mother, it is my duty to keep their lifestyle choices in right balance. To think that my kids will only eat salads and vegetables, or only home cooked meals is not practically possible always. So honestly, I let them try everything if they primarily meet their nutritional goals and don't get overboard.
I still remember the days when my uncle from Dubai used to get me Kinder Eggs. I would be delighted to eat the chocolate and would get excited to find the surprise toy in it. Time has passed and the Kinder egg has become a carefully packed Kinder Joy – with two separate segments, one with yummy snack and one with toy, but, yet I see the same happiness in my kid's eye when he sees Kinder Joy.
I got an opportunity to visit the Ferrero India Plant in Baramati that manufactures Kinder Joy. I wanted to know how our favourite treat is produced, it's complex packaging and the quality standards. In this post I will share what I learnt and saw to the best of my knowledge.
We were given a presentation about the Ferrero plant and social initiatives of the Ferrero Group. From maintaining high quality standards in sourcing raw materials, making their own machinery to keep the working and quality standards same across 20 plus countries. The Ferrero Group's flagship Kinder joy treat follows five golden rules which include milk of high quality, selected raw materials and production processes with high hygiene standards.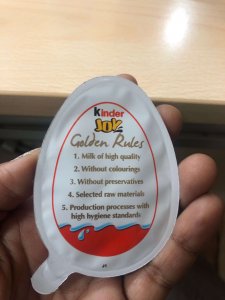 There are ISO certified processes and close to 200 quality parameters against which Kinder Joys are checked before they are ready to be marketed to consumers. Samples from the Baramati plant are sent to the Ferrero Quality labs at Germany and Italy for random quality checks. I also learnt that the Ferrero Group is also involved in many social initiatives which contribute to the society around. We also were shown the Kindergarden project which is adjacent to the plant, will share details of the same later.
After the presentation, we were taken to see the plant and I was impressed with the mechanisation of the process and how efficiently it is executed. From the chocolate being produced with the careful selection, processing and proportioning of ingredients to ensure nutritional value. No wonder they produce around 2.5 million Kinder Joys in a day. Their packaging is polypropylene which is recyclable, and the toy used inside is made of resin and poses no choking hazards. All the toys are tested and approved for food grade quality. This assured me about giving my kid the Kinder Joy.
Did you know Ferrero family owns three largest confectionery groups? Nutella, Ferrero and Kinder Joy?
It was the 'Charlie in the Chocolate Factory' experience for me, seeing with glazed eyes at all those treats being running along the conveyor belts. How the two different parts of the egg just stuck to each other without any glue. Witnessing all the different steps in making of Kinder Joy was such an eye-opening experience. I am sure my little one would have also loved this experience.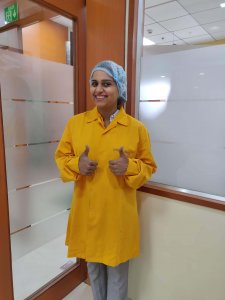 The Ferrero plants has higher women population, more than 50%, globally. It was encouraging to see that the Ferrero group has one of the best CSR initiative – Kindergarden for the children of the Ferrero employees and local community. There are 140 plus kids associated with them currently. When we visited the kindergarten we were touched by the little ones who were studying there. The facilities were at par with high hygiene and quality standards.
Kinder Joy firmly believes that a happy child will be a better adult tomorrow and their commitment to this belief really shows in their well-designed portion size product and Ferrero's global CSR initiative – Kinder+Sport. As part of its continuing efforts to bring the joy of movement into the life of every child, Kinder+Sport has developed the 'Joy of Moving' methodology, an innovative educational model, based on games and dedicated to the all-round growth of children. Developed in association with Rome University "Foro Italico", MIUR of the Piedmont Region and the Italian Olympic Committee (CONI), the method is based on games created to promote the physical, cognitive and social development of children and increase their life skills.
The Ferrero Group is making a huge difference into the lives people around them.
I came back a satisfied mom. If you have any concerns regarding KinderJoy, I would be happy to take it up.
disclaimer: While I was invited by Ferrero India for the plant visit the views expressed and opinions are my own and I have written to the best of my understanding of the product.