I have now been running for three years and I still remember my first marathon. I ran in a very lightly padded shoe. I had really practised for my first marathon and luckily my body was very well conditioned. My entire focus that year was to finish the race. What i didn't realise was in the process of running and not caring much for the kind of shoes I wore, left me with cramps in my knee and also my nails were all black and blue.
What I learnt from this;
One that a runner should always choose a shoe size bigger than his/her actual size as your feet will swell when you run.
The shoe has to fit you well to perform better.
Your shoe has to be picked according to your running gait and foot measurement.
I wanted to keep running consistently for years and for that I needed to ensure that I don't harm my body or my knees.
That year I went to the #SCMM expo that happens in BKC in Mumbai and realised that I have over pronation. There was gait analysis happening at the ASICS Stall, but there was a long queue and I couldn't get one done. However, the sales person sold me the ASICS correction shoe for over pronation.They supported me well, but it took me a long time to break into them.
Finally, I was relieved to know this year an exclusive ASICS store has opened at Phoenix Mall in Lower Parel, who also do gait analysis. I headed straight there and got one done.
Why is a Gait Analysis required?
The major focus of gait analysis is to measure the degree of pronation. Pronation is the natural inward roll of the foot as the outside part of the heel strikes the ground. This roll acts as a shock absorber for the leg and body, optimally distributing the force of the impact of the heel hitting the ground.
Overpronation is when the feet roll inward too much
Underpronation (or supination) is where the feet don't roll inward enough.
Gait analysis matches the runner's degree of pronation with the correct shoe type, with the aims of counter-balancing over or underpronation, helping reduce the risk of injury and improving running efficiency.
How does the Gait Analysis work?
Step 1:
I was asked to fill some general information about my height, weight, age etc and made to sign a form.
STEP 2: 3D Foot Mapping
The staff at the store asked me to wipe my feet and put some stickers around my feet, to mark certain areas on my feet which they would analyse. I was asked to put my feet in a metal cavity and my foot was covered from all ends so that no light can pass. A 3D scan of my foot was taken.
The advanced 3D Foot Mapping System analyses your foot using laser and micro cameras. The result is a 3D scan of your foot, which is compared to a database to find the shoes that match your feet best. Measurements made by the system include foot length, forefoot width, ball girth, arch height and heel tilt. This how the scan looks like.
STEP 3: Gait Cycle Analysis
Next I was given shoes one size bigger than my feet and asked to run on the treadmill, in my natural style.
It involves running for a few minutes on a treadmill while a video is made of the runner's feet. This footage is then analysed in detail by an ASICS professional at the store who will explain the findings. Then he will suggest shoes with cushioning, structured cushioning or maximum support options based on the results.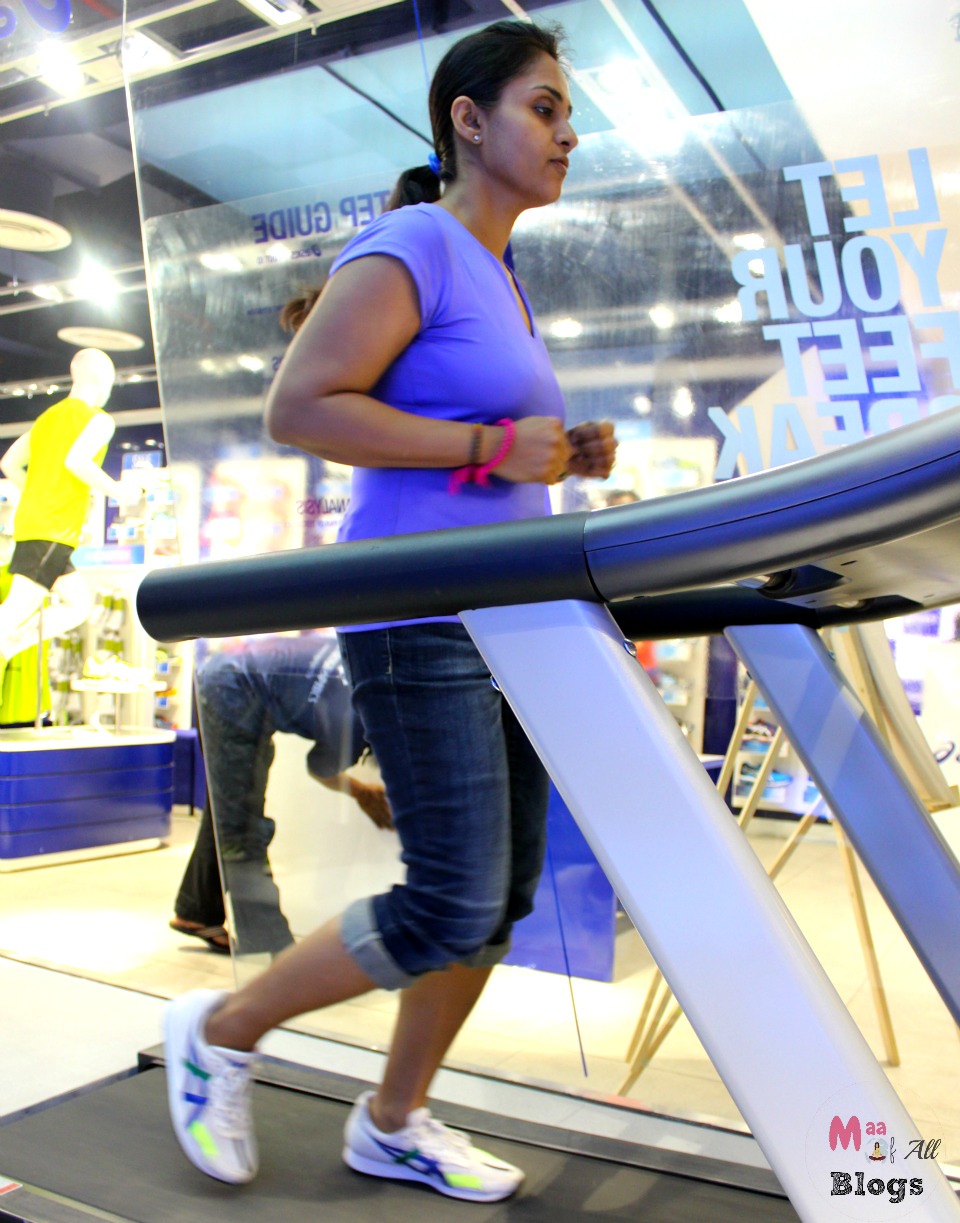 ASICS representatives can help identify certain movements which may be triggering injuries or affecting running efficiency. So this analysis is great for runners who otherwise are not aware of their running styles.
That's my Gait Analysis for your reference.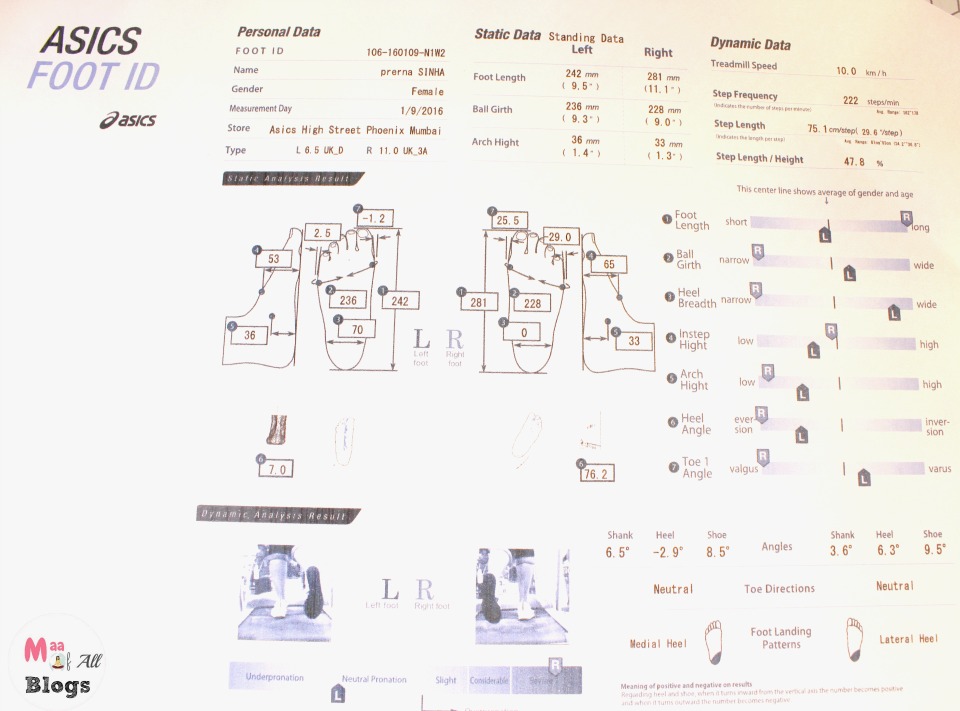 p.s. Also I would like to mention that a nominal cost of INR 500 is charged for the Gait Analysis, but this is refunded in case you buy a shoe from the store.
Some finer Points to remember:
Do not change your shoe or wear a new shoe for the race. Breaking in the shoe is very important
Test your running shoes by running in them for a week. If you quickly develop blisters or foot pain, they may not be the right shoes for you. In this case, I would suggest head to an sports orthopaedic and get custom-fit insoles done for your shoes.
Replace your shoe every 300-400 miles.
Happy running and hope this will help you pick the right shoe :)!!