You never know what you are capable of until you have tried it.
I just ran my first full marathon and this post is dedicated to that. Hopefully, if you are planning to run one or have just finished one, you will relate or find solace in my story.
Every story has a preface and mine started something like this. My husband at a friend's party decided to enrol both of us for a half marathon as most of our friends were doing the same. As random as that. It must have been all the alcohol in the system that made me say yes, because I see no reason why a person who had just run 6kms dream run before that and that too mostly walked would agree to do a 21kms run on a whim.
After the party, when senses came back I was psyched because, 21kms seemed like an enormous length to be run. Nevertheless, I religiously prepared for it along with my friends and finished my first 21kms a few months later at 2 hours 30 minutes and was on the top of the world.
This was 2014 and ever since then, I have run various half marathons and 10 kms run but somewhere in the back of my mind I always wanted to try running a full marathon. However, while running a half, my brain would tell me running the same distance again is an insane idea. Today after completing a full, I don't know if the brain was right or am I actually insane. The fact remains that I have done it and yea, it's a tick on my list.
So what got me to even register? I have been running the Mumbai Marathon for many years and this year I didn't which was ok but then closer to the run I got FOMO and while the world ran around Mumbai Marine drive, I ran a 30 kms in my building, which I had never attempted before. Now I was missing the high which I get after a race, so what was the next best option? I decided to do a longer run which I can do slowly and someone suggested me a 35 kms run at Tata Ultra which happens in Feb. Mind you, I didn't realise then that this was called an Ultra because the trail is really tough and apart from the 30 kms that I ran in the building that day, I hadn't really been training.
So I registered, did some bit of practice with just 4-5 weeks to go and went for the run. Somehow completed(was dehydrated as in the hills sun can be killing), much later than the cut off but honestly I just wanted my body to know what it can feel at a 35 kms. In another whim, registered for Satara which was a good 6 months away and just a 21 kms.
Already a 21 kms hill was sounding easy. But I forgot all about it as I took a few months from running due to some family issues. To cut it short when I finally woke up, it was already August-mid and Satara hill run was on 25th August. It was a wise decision not to go, but then what are crazy friends for? Meenakshi, my running buddy was aghast. How could I miss Satara, did I even know how difficult it is to register for it? Arre, but what about how difficult it is to run a 21 kms hill with no practice. Anyway, she didn't take no for an answer, and I must be crazy enough to listen to her. So that week, I requested Nisha(another awesome running buddy) to make me do hill practice. We did 8 kms on Monday, 11 kms on Wednesday, 16 kms on Friday and I went and ran the Satara Hill Marathon. The timing was my all time low but it didn't matter. I had decided to just enjoy the run.
It didn't matter but alas, now I was aching to run more and that's when my other crazy buddy, Gautam(comrades runner), pushed the idea of running a first full marathon at Adani Ahmedabad. He convinced me with arguments like, this is the best track possible(flat and scenic) and many of my other half marathoner friends are doing their first full marathon there. I got tempted and said yes. Why? Must be the endorphins, again.
My training began in September and I started straight from a 28 kms long run. My body, didn't know what was happening, but in a few weeks, it got the rhythm. Training in NCPA is no joke with the Peddar road slopes and the Marine drive humidity. I was reaching mileages body had never seen before. It was screeching stop but the mind kept pushing on. I was at my lowest speed ever, arches were burning, ankles were hurting, IT band was inflamed and tender. You get the picture!
Finally, the D-day arrived and somehow, I was more excited than worried. All I cared about was finishing happy and how happy I will be once I finish. In my mind, with every passing km, I was doing a mental countdown. To my surprise I was running better and more comfortably than I had done in my practice runs. All that training had helped. I joined the 5.15 bus and we were a bunch of first-timers who were chatting and running. It was a scenic route with river banks on the side and trees to shade you. All was going well until at the 28th km, I suddenly had an IT band pull on my right leg and soon on the left side too. I told the pacer to go ahead as I couldn't keep up. I met Prabha(my running partner), told her about my injury so that she was aware that I might reach later than expected. We were a gang of 12 people running from our group that day.
It was fate that a runner spotted my discomfort and asked me why I had slowed down. I told him about my IT band and just like that he gave me a paracetamol and asked me to go slow as I still had 14 more kms to go. I took his advice and also remembered the strategy of my friend Joyee(she just did NYC marathon), where she ran 9 minutes and walked 1 minute for a large part of her race. From then on, I ran every km and then walked 100 mtrs, and with every passing km, I would feel elated at the thought of how close I was to finishing my dream. This and the medicine helped me keep my pain under control. Sun was out now but my spirits were high and soon, I saw the finishing line and did a 100 mtrs dash.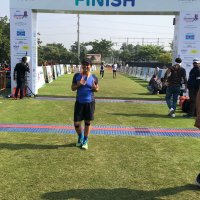 I completed my first full in 5 hours 39 minutes. Not the best, but much better than what I had expected given the circumstances.
And just like that, I had accomplished my dream. I was a full marathoner.
As they say,
for those who dare to dream there is a whole world to conquer.
Signing off, until my next adventure.