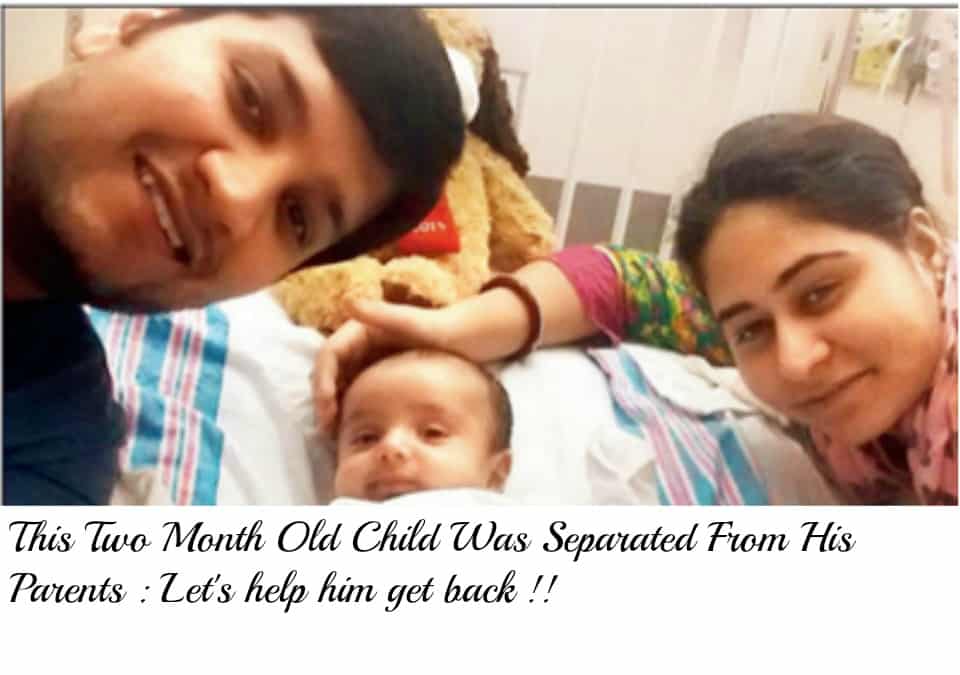 A child makes a mom or a dad. Our child is our essence, extension of our own being and no matter what we do we cannot, but love it unconditionally. This why I was so shocked to read the news of a two-month child being ill-treated by new parents, so much so that the authorities had to put the child in foster care.
A two-month-old son of an Indian couple that works with Tata Consultancy Services has been placed in foster care by US child welfare officials after he was admitted to a local hospital with head injuries in New Jersey.

The son of Ashish Pareek, an employee of Tata Consultancy Services and resident of Jersey City, had apparently slipped from his mother's hand and hit his head on a TV stand before falling hard on the floor, according to his family.

The baby was immediately rushed to a local hospital where he was diagnosed with serious internal injuries to his head.

After initial treatment, the hospital transferred the baby, Ashvid, to another hospital where doctors reported the case to Department of Child Projection and Permanency (DCPP).

Local authorities had said that the child suffered from 'Shaken Baby Syndrome' and had not agreed with the parents' version that the little boy had hurt himself when he fell off the bed while playing.

The New Jersey DCPP had said that the parents neglected to take proper care of their child.

The parents have said that it was an accident and deny claims by US authorities that they had tried to harm the child, according to Pareek's family. Pareek's wife Vidisha delivered the baby in October. They have been living in the US since August. The Indian Consulate is in contact with authorities as well as the child's parents but said legal procedures will have to be followed in the case since it has gone to court.
What is your take? Do you think these parents were actually abusing the child or was it a genuine mistake?
I remember as a first time parent, I have committed a few mistakes myself and I am sure so have you. My 5 month old son started rolling off the bed and would fall a hurt himself, no matter how much I tried to fortify my 6 feet wide king bed. Every time he fell, I used to cry and my heart used to crush and while I was still wracking my brains on how to solve this, one day I saw him just pausing, when he reached the end of the bed and then slowly trying to climb down, till he actually managed to plant his feet down and almost stand while holding the bed. At the tender age of 5 months, he could stand and he had learnt his first lesson of survival. After reading this news I can't help but wonder, had I been in the US, maybe by now, I would be behind the bars for not being able to tend to my child's need, while I was just clueless on how to help my child out in this position.
It was probably a genuine mistake where the child slipped out of the parents hands. When you are a new parent, you are clueless about multiple things, how many times to feed the baby ( does that make you wanting to starve it?) or should I use a diaper of a cloth nappy (does that make you less informed or just on a lookout for better choice?). Learning to hold a new baby in the right way is also quite a task. I have friends who cringe from holding a new-born as they are scared they might not be able to handle it, some don't even know how to support the neck while holding the baby. Let's give these poor parents a benefit of doubt. It takes a monster to abuse a two month old child of their own and they don't look like monsters to me.
If you also feel for the child and his parents, which I do, do sign this petition and help them get back their baby.