This Saturday at Tat-Twam workshop, which had been designed for dealing with kids emotions I discussed my kid with Saisha, who was conducting the workshop. After a long discussion she put me at ease with my issues, and which I realised were mine and not my child's.
What she told me has stayed with me;
We need to embrace our kids and accept them with their unique personalities and not try hard to mould them into human beings we want them to be.
Isn't it true for most of us? We have a set framework within which we try to fit our kid's schedules and performances and sometimes even their personalities. Somehow these words have made me peace with myself and have decided not to push my kids any further. But as any parent I am not sure if this is the correct approach or not and I have my concerns. In fact, I have a lot of concerns. Being a mom to a Pre- Teen is not an easy job. I decided to rest a few of my concerns and some common concerns by discussing them with Freyaz Shroff of KurNiv kids, an organization which specializes in creating leaders and leadership driven mindsets for corporates, schools, parents, teachers & children.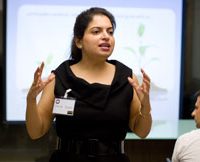 Freyaz works on empowering individuals through allowing them to focus on the best that resides within them. She has addressed the United Nations' Commission of the Status of Women in February 2012 and in 2012 won the Jamshed Pavri Humanitarian of the Year Award!
This is how our discussion went;
Even at this age peer pressure is a lot. Sometimes kids go out of their way to impress their friends. Sometimes they become loners and cut off with their friends and immerse themselves in books, TV, maybe the social media and prefer to live in a virtual world. Is this healthy? How to promote healthy social behaviour?
The fight for self-worth and self-esteem is a very real one to children of all ages, but especially when children are in their pre-teens and teens. There are so many hormonal changes, thought processes are not fully developed, but the emotion centres of the brain work in full swing. It is a tender age and if handled positively can lead children to have healthy self-esteem patterns for life.
Reinforce Them!
From a young age help children develop an independent mindset. Allow them to choose their clothes, extracurricular activities they would like to do etc. Keep increasing the parameters of choice as they get older. Help them to know how proud you are of them for who they are who they continue to grow up to be. As they start feeling independent there will be an immediate increase in both their confidence and their level of trust in you.
Peer pressure revolves around the desire to fit in with the group; however the more independent and confident a child is the more likely they are to set the trend than to follow the trend.
Teach them how to say No!
Help your children understand that the word "No" is not a bad word. The word "No" has prevented many a mishap and has protected many people from hurt or harm. Teach kids fun and cool ways to say No! "Nah man, Drugs are for losers" or "Dude hitting your girlfriend doesn't make you cool, protecting her does!" Use their language; let them build a rapport with you. Ask them for ideas on how they can say No in "their language" when confronted with situations they don't want to be a part of or in situations which they feel uncomfortable.
Guide them towards choosing wisely!
At the end of the day it is all about the choices your children make. Make sure your children are knowledgeable about the pressing issues of the times; laws about underage sex, drinking, ragging etc. Help them to understand issues that may be uncomfortable to talk about such as their bodies, needs, drugs, dating, unrealistic expectations from friends and/or teachers.
Role play difficult situations with your kids, ask them what they would do if…
A guy persuaded her to be in a relationship, before she was ready for one
Friends asked her to stay out past her curfew
She failed in an exam
She finds herself in a situation in which she is uncomfortable
At the end of the day let your children know that they are in control, not you. That you trust them with their choices and that you are here to support them if ever they falter.
Remind them that if all else fail that you will happily take the fall. Give them the option of telling their friends that my mom will get upset or my mother has said no or that "my mom is not cool dude, I gotta go!" It's okay if your reputation is a little on the stricter side as long as your child is safe, isn't it? READ MORE