Children's Day is here! It was a lot easier and more fun for me when we were kids. That was the time to go for parties and look forward to what my parents would get me. We would dance in joy when we did get our gifts, which were usually chocolates. The tables have turned now, I am the parent and I am expected to do all this for my kids and more. My kids are way more advanced than me, they go ahead and invite their friends to a party at home, even before I can plan it. It's taken for granted. And of course, I am told the gift they want for children's day, well in advance.
While all of us love our kids and we can definitely fulfill their demands, I wanted to make it a little special for them. A day and moment that will make them value their gifts, and not forget it in a few days and show them that happiness does not necessarily mean you have to spend a lot of money. So I started thinking how to bring fun home this Children's Day. The gifts had to special and personal, so I got down to jotting them. I am planning to pick up at least two or three things from the below ideas and you can help me choose;
My kids are very creative and they are forever drawing and gifting me cards. Most of the drawings are of cars as they are very fond of cars like most boys. In fact, Eeshan reads a lot about them and has deep knowledge of them. So my first gift idea is to give shape to their creativity. I decided to get one or some of their car drawings printed on a shirt or Tshirt.
Ahaan is a vibrant kid. His feet start tapping the moment any kind of dance numbers are switched on. My second gift idea would be a collection of all his favourite dance numbers and for that, I have been watching music videos on youtube with him. While I know a few, I want to spend time learning his other favourites.
All kids love chocolates, mine love them too and one of their favourite chocolate is Cadbury's Dairy Milk. Every year, when we throw a party we get chocolates to give to the kids as return gifts. I don't want the kids to not throw a party as they are kids and celebration is a must for them to feel special but this time I will also invite my maid's kids and make sure they mingle with my kids and their friends. Games and chocolates make a great icebreaker. Check this fun video to see what I mean.
Eeshan loves books and is a voracious reader. He reads at least one book a week. After a point, between his and my husband's books, we are running out of storage space. So getting him the membership of an online library would be a great idea. I also want to develop the love of books for my younger one and online library membership just serves the purpose.
We have shifted home in the last few years and while Ahaan was a baby, Eeshan still remembers his close friends Arnav and Myra. Some of his friends from our current building have moved to different cities as well. He is a very attatched kid and a surprise call and video from his old friends would definitely bring a smile to his face.
When Eeshan was a baby I used to shoot him on the camera a lot and the craze went down a lot when I had my second one. An Album of their childhood pictures, one for each of them marking their special moments and maybe even mentioning their milestones will take us all down the memory lane and I am sure my kids will feel very special. I want them to realise memories make the most special gifts and they don't cost money.
I love going on treks and in the last few years, I have been trekking a lot. Eeshan and Ahaan have both been wanting to join me but I always feel that my kids who are used to traveling by cars and not the foot, staying in an air-conditioned environment and other luxuries of life, will not be able to handle it. This children's day I will plan and gift them a small trek and camping trip which we will do together later in the year.
Another gift that could work well because my kids are creative is a family paint party experience which we can all go for as a family. With my hubby's and my busy schedule, we really have to plan to do thing together and painting is something that we as a family find very stress relieving. So booking a paint party or even creating one at our own place is a wonderful idea. I just need to decide on which painting we will all draw and all I need to get are some colours and a few canvases. I love this idea!
My boys love baking and decoration. Like every year we will bake a cake together or maybe cupcakes and then call their close friends and do a cupcake decoration activity which the kids can munch on later.
And for my tenth gift and final gift, I am going to make something for them myself. While I haven't decided but I am thinking fabric painting on their art bag or painting them their own individual cushion covers with their names would be a cool gift. The idea is for them to realise a handmade thing which doesn't cost much can make you feel so special.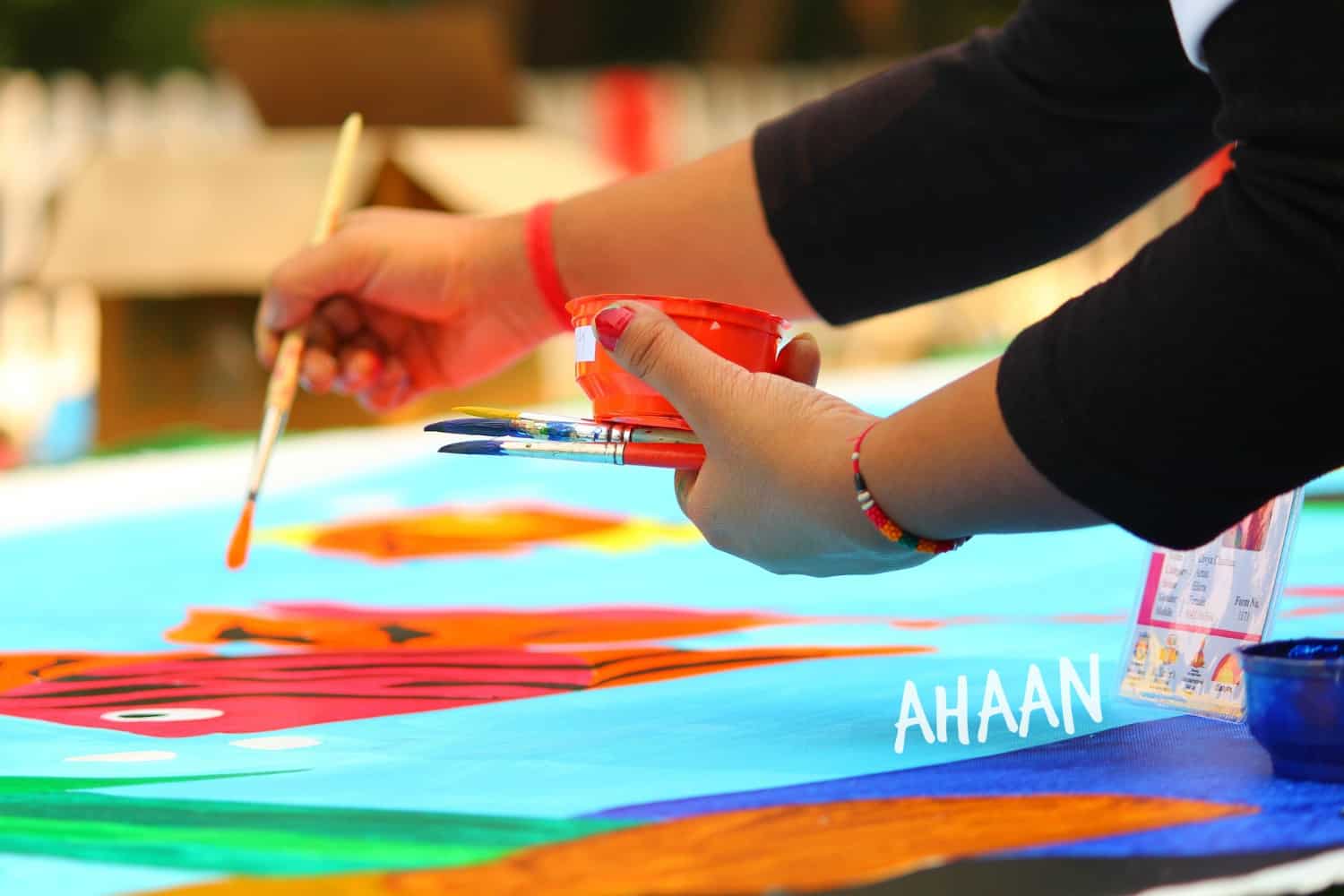 I can see I have a lot of task on hand for the next few days but if I can pull it off, I can really teach them that memories and experiences make more special gifts than toys and parties. I want them to remember that a gift that is chosen with care and created with love is valued more by another person. So which ones are your favourites? Do let us know in the comments below. And let me end by saying Iss children's day #bachchokesaathbacchebanjaayein!!