Top 5 Benefits of Kids Activity Sheets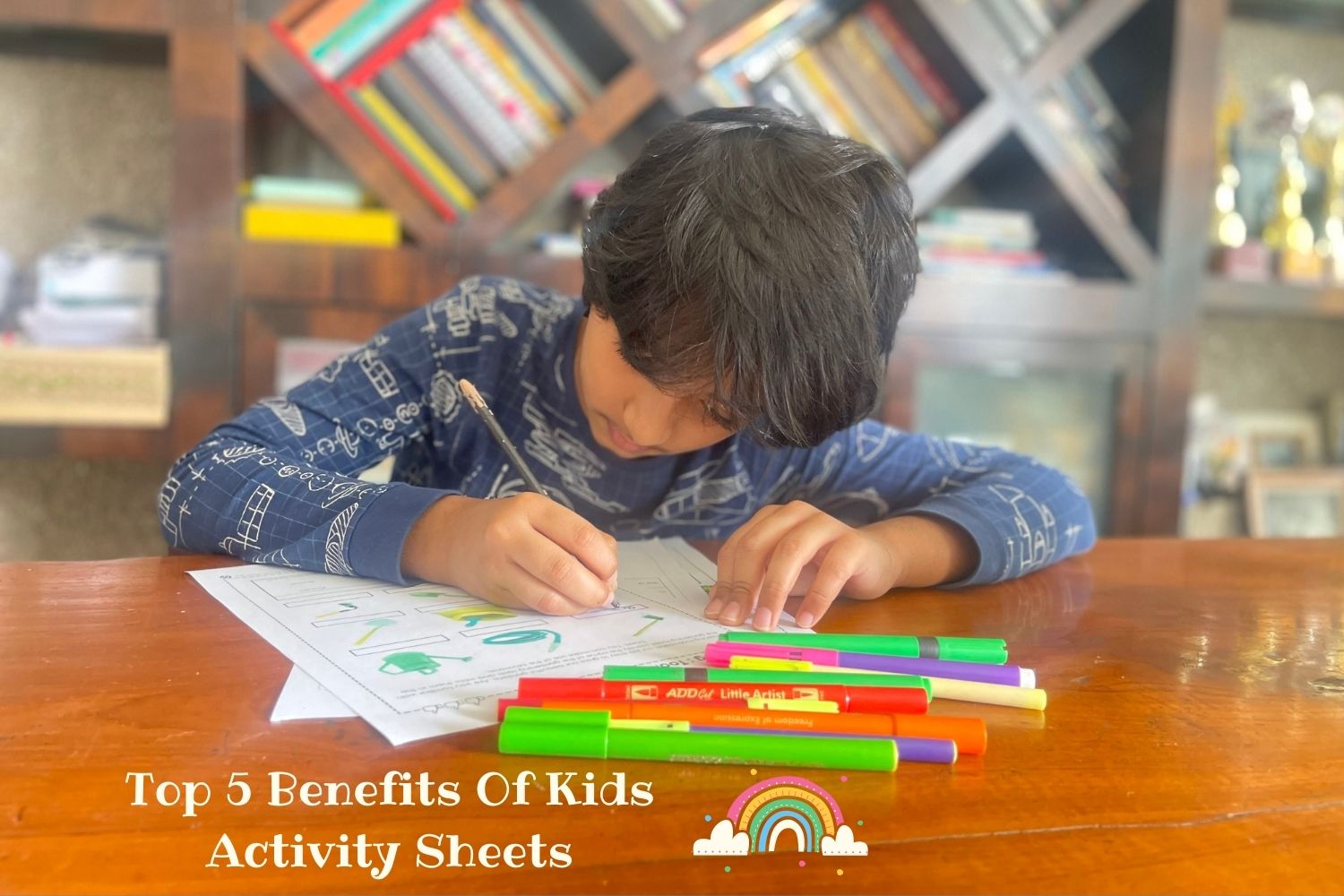 Our little ones are bundles of energy and literally need to be engaged on a constant basis. The one thing every parent hears during summer vacations are- 'Mom, I am bored'!
On one hand, I look forward to summer vacations so that the kids and I both get a break from the mundane of school routine but the moment the break starts, the stress of keeping them engaged starts hovering over my head.
While summer camps are good for a certain age group, kids that are too young or the ones above 9 years, do not find them engaging. I have over years found activity worksheets for kids a great way to challenge their grey matter and keep them engaged. It is my one go-to savior. Why do I love kid's activity worksheets, let's find out;
Benefits of Using Worksheets for Kids
 The one things kids don't want to do is study while the vacations are on. This is where fun worksheets for kids come in handy. The children learn without even knowing that they are learning which would otherwise would feel like a chore. Two birds with one stone.
With worksheets you can actually cover many related topics at once when engaging in a relevant worksheet with your kids. So how I would work with them when they were younger was, pick up a topic say, cars. Then do worksheets around cars. Pick a game while travelling on road on identifying different car brands and makes. Watch car movies with them. So overall it becomes an immersive experience and then when you bring  back worksheets which have cars on them, they love doing it. Learning becomes fun.
Teach them important  concepts in a fun way. Like for Earth Day this year we did an activity worksheet with my son and his friends. We also created crafts from waste materials while explaining the need for Reduce-Reuse- Recycle and it's impact on our environment . Now they have heard of the 3R's forever but when they actually got down to doing it themselves, the connect was different.
Worksheets encourage kids to engage on their own, look for a solution on their own. They develop logic in the children. They can teach children how to think. Their logic builds up as they try to figure out solutions and answers by themselves. One mom tip, it also keeps them busy and engaged and you get some me-time.
There are times when you want to spend time with your kids to educate them in a non-formal environment. Worksheets can be these guides for you. It enables the parents to engage in some quality time spending with their children, while also making them learn.
It's Gadget Free Time: I cannot stress enough on this one benefit. I don't know what it is about worksheets but you give even a bunch of kids worksheets and you can suddenly feel the calm and silence in the room. I have used this even during birthday parties and playdates. And they can keep themselves busy and without gadgets for hours. Worksheets like the ones below can keep them busy for hours and there is a lot of variety where they come from.
Now that I have shared so many benefits of worksheets for kids. Here is where you can source them from.
The HP PLC worksheets. The worksheets are based on the learn Apply, Resolve approach that helps develop critical skills in children. First, the children "Learn" skills they then "Apply" them in real life and finally parents step in to help "Resolve" common doubts and roadblocks with the help of our insightful tips & techniques.
​​These have been designed by HP Experts and they have structured these worksheets for children of different age groups.
There is a bank of 12,000+ worksheets for young learners on various developmental skills.
You can also assess your child's learning using the answer key included at the end of each worksheet.
Hope you found this article useful and hoping to make your kid's summer fun! You can download the worksheets here.