Our Top Jaipur Hotels Recommendations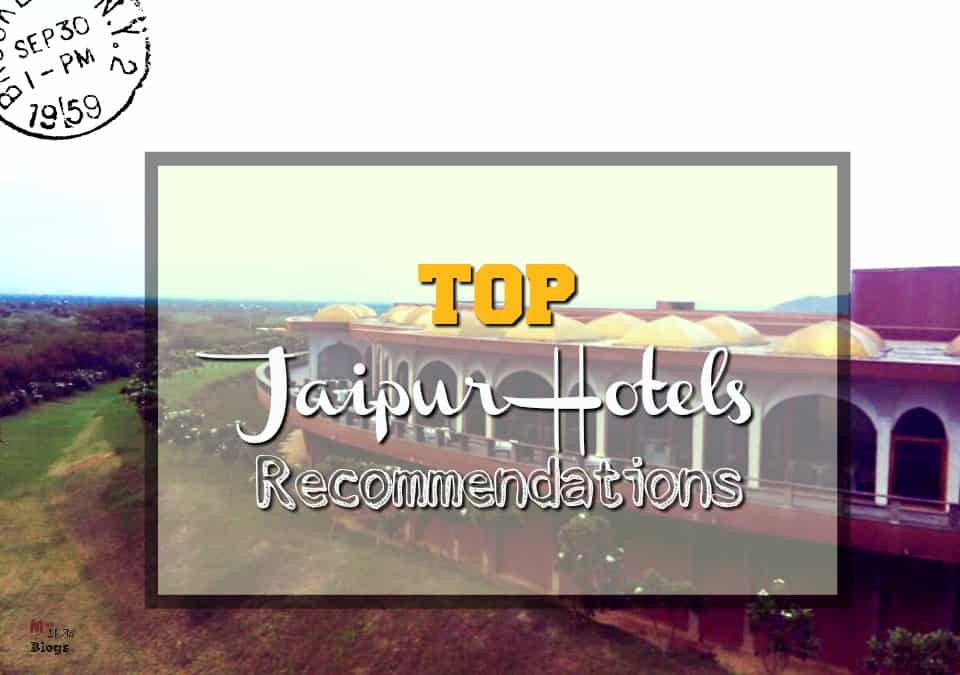 Rajasthan has always been a traveller's dream. The state of Rajasthan encompasses the ethnicity of the whole nation in its vibrancy and cultural glory. The Pink city of Jaipur in Rajasthan, is rich in momentous palaces, fortresses, temples and artistic legacy. Every alley, every lane and even the 'jali' work done in the Jharokha reflect the beautiful craftsmenship of our country and leave you enchanted.
In my early days when I resided in Delhi, Jaipur became my favourite haunt. Whether it was a quick weekend break, shopping or a research project or celebrating an occasion, it was my getaway from the monotony that happens to you staying in any city for a long time. It's been many years now since I last visited Jaipur and was missing the city. I was doing some research on where to stay so I asked around for recommendations for Jaipur Hotels.
This is a list of places that were highly recommended by friends and family;
Trident
With breathtaking views of the Mansagar Lake and Aravalli hills, the Trident meets every convenience demanded by the discerning traveller including an inviting courtyard style pool with a terrace and views over the Aravalli hills. It's intricately designed interiors with fresco paintings and carved jharokhas are a visual treat.
Rajesh Kumar Sawani;
What we loved about the hotel was it's pricing and it's location as it is just on outskirts of the city, so there is no need to get into city traffic. Also, while travelling from Delhi we can reach there pretty quickly. It is  right next to the Amber fort and the lake. Trident has some good packages and they have kids room also where kids have games etc.  Also, they are also  give complimentary room for kids.
Le Meridien
Le Meridien Jaipur is a charming palace property on the outskirts of the city, away from the hustle bustle of the main city centre. Regal architecture, beautiful landscaping and lush green spaces make this hotel a perfect holiday choice for those headed to Jaipur. The hotel which has rooms, villas and suites has all five-star facilities- two restaurants, fitness centre, swimming pool and banquets. Being a Starwood ( now merged with Marriott) brand the hotel offers flawless service and is an ideal choice whether you are on  a romantic holiday or travelling with family. It is close to Amer Fort, a must visit tourist attraction.
Vishakha Talreja, an avid traveller and travel blogger, talks about her stay at the Le Meridien;
We checked into a villa and loved the four-poster beds. The room had an outdoor bath tub and a small garden right outside our villa. The experience manager took care of all our special needs, since I was travelling with my new baby.
 Lebua Resort
It is one of the most beautiful boutique hotels around the outskirts of Jaipur and close to Amer fort. The luxurious tents, patterned canvas cubes set over a sculpted landscape in between the hills give the resort the look of a lodge. The interiors are done in leather, wood and shades of brownish reddish stone. Every room has a  pavilion day bed in their own private outdoor garden. Babysitting options are also available.
Ankit Srivastava,
Lebua resort was
highly recommended by common friends. We liked the fact that it is outside the city near a village, and behind a hillock so you can't even see the city, yet, it is still pretty close to the city. The resort takes full advantage of the open spaces by creating a uniquely designed bungalow-style rooms. Each room is a separate bungalow and the approach path is like a maze in itself.
Aiana J, a blogger and an avid traveller had a taste of the Jaipur splendor at the Ratan haveli;
I had wanted to experience Jaipur while living in quintessentially Jaipur Haveli and i Found one in Ratan Haveli. Till the gates open in a small lane that This Haveli you don't know such beautiful place lies behind those gigantic doors. It is beautifully restored Haveli hotel. Everything from the Verandah to the rooms id reminiscent of the bygone era and a delight to stay in. The food is good too which is an added plus. Definite thumbs up everyone who wants to experience the Jaipuri hospitality and the grandeur of Rajasthani culture al at one.
Everyone has their own reasons on why they chose a particular hotel, be it kid friendly, serene or just luxurious. While I have already made my mind on where to stay in Jaipur with these recommendations, I hope I have helped you decide on  Jaipur hotels  for your next stay in the Pink City. And if you have pictures and recommendations  to be added to this list, we are more than happy to oblige.