When Another Mom Becomes Your Source Of Pressure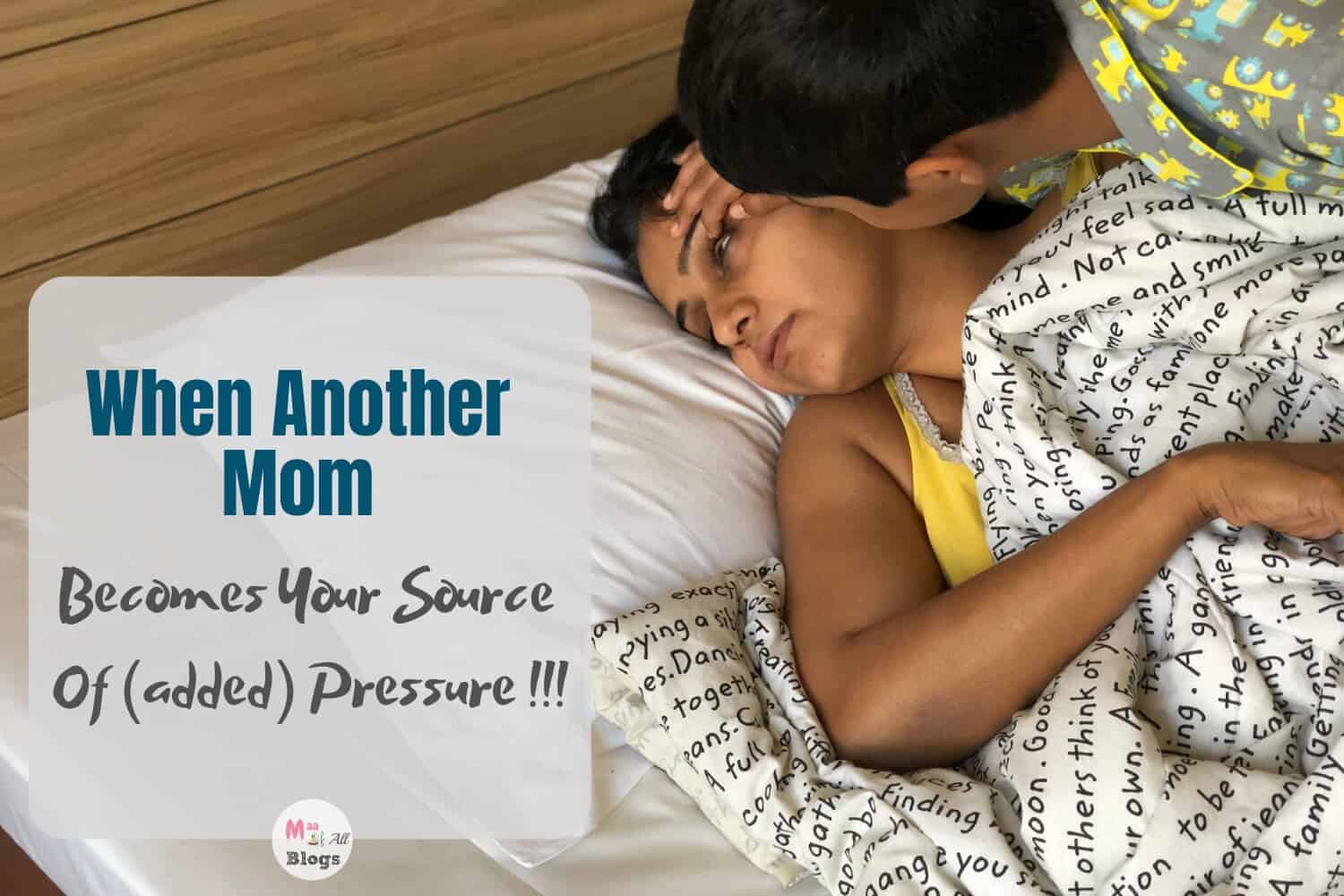 Why does your kid always come late to the bus stop?

Hasn't your girl lost so much weight?

Your kid always troubles my kids.

Haven't you put on a bit of weight, lately?

Do you always dress up in westerns?
I am sure each one of us hears this at some point of time from fellow moms. A few days back I talked about how you should reach out to other moms in need of support but let's address a different issue now, if another mom is too rude to you and the pressure becomes overbearing then this post is for you. Sometimes we don't even realise when we pass statements to others on how we becoming a source of pressure to the other moms.
As a mom, you might have already placed a significant amount of pressure on yourself so when you add some expectations and pressure from others, it becomes easy to get overwhelmed.
Here are 3 best ways which you can try out to deal the pressure from other moms. These ideas may not apply to every situation but at least one of them can be of help to you to deal with the pressure from other moms.
A. Cut Out the Source of Pressure:
This might sound harsh but if you do not deal with the source of pressure then everything else will feel like a band aid on the wound. Also, you need to keep in mind that, you need not cut the source rudely and permanently, just make a temporary cut down and enjoy your own time. Yes, send the vibes across to the mom who is causing this anxiety. You can avoid taking unnecessary calls and respond to messages. Eventually, with no response they will tire out or just lose interest.
B. Address the Source of Pressure directly:
This is the best way to handle the pressure from other mom. Confront them what you dislike and ask them not to repeat that again and add up to your already pressured life. If you cannot confront then simply communicate politely and make the source understand how you feel. Bring the topic proactively. Choose a moment when both of you are calm and in a good mood, plan what you wish to say and focus on how you are feeling because sometimes people do not really mean to add pressure in your life but they fail to realise how their comments and behaviour are interpreted. If it turns ugly, be prepared to stay calm and walk away as well after putting your point across.
C. Let the Pressure Become a White Noise:
If the source of pressure still exists even after trying both the above mentioned ideas then take the matter completely in your hands and using your mental skill block out the pressure coming your way. You can think of it like making a protective shield to block the pressure and its source which can be both temporary and permanent. This may not be an easy task for some but being able to shield yourself from some source of pressure is the first step which needs to be taken.
Apart from these 3 ideas, you can try these points too:
Do not give in to negativity: Try not to let any unwholesome talk come out of your mouth but only what is helpful for building others up according to their needs. Adding negative words of your own on top of others will increase the negativity in the situation.
Talk with other parents about it: Never ignore pressuring remarks from other moms; instead talk to them about those specific comments which are made by them. It might not be comfortable but remember that neglected wounds always get worse. You can ask for a clarification and let them know how you felt.
Evaluate whether or not you can rebuild trust: Once the mom gets aware of her mistake and tries to change herself and her behaviour and shows respect, evaluate and then decide whether you wish to continue with the friendship or not. I would suggest to be friendly but keep a safe distance.
If even after all this the mom refuses and fails to understand you and your situation and continues with the same behaviour, then it's best to cut off the relationship. Remember you can't please everyone in life and it's more important to keep yourself happy.