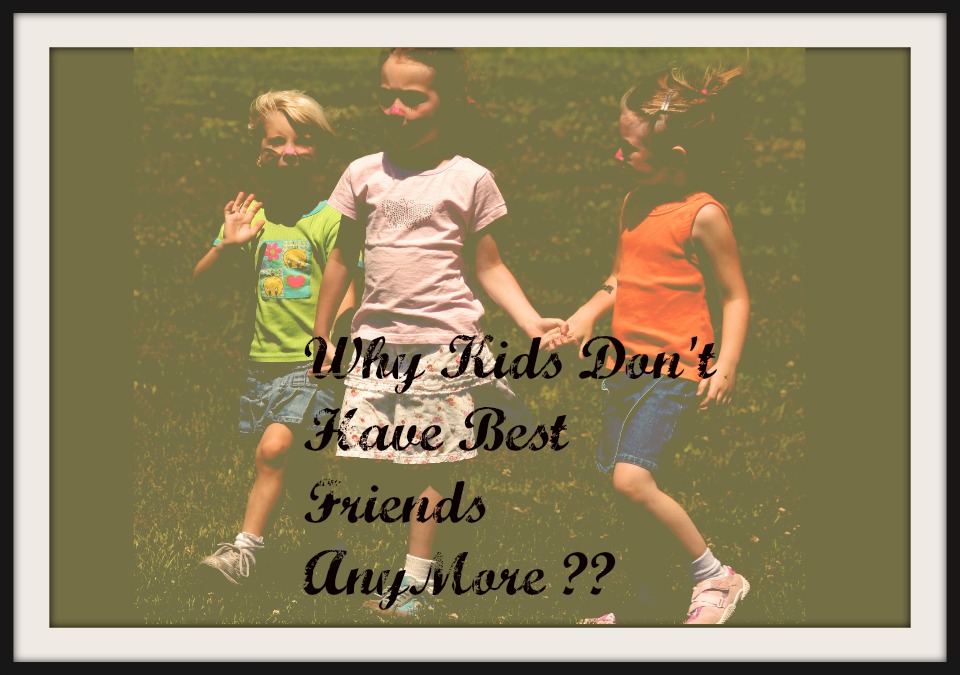 My childhood friend and I met when we were three years and we were the closest of buddies till I finally moved out of my hometown when I was 18. So much so that my parents had to literally drag us out of each other's homes. We were basically inseparable. I am still very close to her mentally, though time, distance and our new roles as moms and wives have kept us apart. We have known each other for almost 3 decades. My college friends have been in touch for the longest of time and even today we try to meet up and go on holidays at least 1-2 times a year.
This contrasts to the current generation. I see kids around and my kids as well, not having any friend loyalties. I see kids playing together, but every few days their company changes. Every person is their best friend and the very next day is not even a friend. The kids nowadays need the parents to arrange for playdates for them to meet. In our busy lives, where is the time to do this? They don't get together very often because scheduling play dates can be complicated; they usually have to be planned a week or more in advance.
I don't remember our parents ever needing to arrange playdates for us. In fact, I don't remember our parents ever, interfering in our play at all. They would just do the initial scanning of a new friend to know if we had chosen well and then it was for us.
But then I blame the schools a lot too! We grew up making best friends of our classmates. Year after year, we would interact with each other and after a few fallouts we would find that one or two special people and they would last us for a lifetime, even our families would know each other well. These formed a base for us to have intimate relationships. Today, however, by the time you get to know your friends in a class and the parents get to know each other, the class is reshuffled and you are back to ground zero. Schools feel that it may not be good for a child to rely on one relationship that might get awry and the child to suffer a setback and that it's better or kids to have a large group of friends rather than have one special friend.
My question is that did we grow up having these issues? Don't we cherish our school and college times more because of our friends? Not everyone is social enough to 'gel' in a large group! Aren't we raising a generation of superficial relationships?
With these millions of thoughts exploding in my mind, I approached, Freyaz Shroff of KurNiv kids, .
So Why do you think kids are not best friends anymore?
We have established that friendships have existed for eons; however recently we have been hearing many parents lament that today's Generations Y and Z are incapable of forming and maintaining friendships. This may not be an entirely baseless concern on the part of parents today. Many studies show considerable increases in loneliness in adolescents and teens; between 20 to 80 percent of adolescents report feeling lonely often.
Yet, if we consider the modern demands of life, this makes sense. At one point in time, friend circles used to be extremely connected, by virtue of having lived in the same place with the same people, for an entire lifetime. Children used to play together, they used to learn to argue, forgive and strengthen bonds by virtue of meeting the same group of people every day. Today, there is a greater movement of people, parents may relocate, schools shuffle children each year between divisions and play time is not as emphasized as homework time.
Further, modern lives are busy and technology (though a great boon), makes it easier for us to believe we are maintaining our friendships when, in fact it is moving us further away from others. Whilst technology can go some way towards maintaining a friendship it is shared experiences that act as the glue that binds one person to another. Conversely, the world we witness today is one of increased independence and competition. In the face of increased demands on an individual, it is easy to let friendship slide down in the list of priorities, especially when so many are unaware of just how important friendship is towards our development and social transformation and change.
As a result of these changing values, studies are showing a 40% decrease in empathy when they compare college students to their counterparts of 20 to 30 years ago. The solution is refreshingly simple. Like all skills, social skills can be taught, and loneliness is not a permanent problem! In fact, even children with behavioral problems can be taught the skill of 'friendship'.
The role models of effective social etiquette are parents and educators alike. Many teachers used to hold the view that social skills are not their domain; it is simply their job to teach academics. Yet this view changes when they are shown that children who are content with their social life perform better at school than those children who are isolated.
How can we instill the importance of meaningful relationships in our children?
As parents we need to:
Practice authoritative (not authority) parenting
Teach children how to converse in a polite way
Foster empathy and sympathetic concern for others
Be an emotion coach, talk to your child about their feelings in a sympathetic, problem solving way
Monitor your child's social life, not by hovering, but by simply being aware of how your child chooses their friends
Include play time into your child's daily routine
Encourage your child to donate and volunteer
As educators we need to:
Especially in the early years of development, avoid competitive games and other situations that can provoke conflict or discourage cooperation
Make a community project part of the curriculum
Educate children on cultural differences
Have proper systems in place to weed out and correct bullying
Reward collectively, but punish individually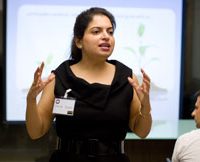 Freyaz works on empowering individuals through allowing them to focus on the best that resides within them. She has addressed the United Nations' Commission of the Status of Women in February 2012 and in 2012 won the Jamshed Pavri Humanitarian of the Year Award!
Do let us know your views, opinions in this matter. We always look forward to meaningful discussions.
Signing Off,