Why Spend A Long Weekend Break At Ibis Styles Goa Calangute?
I feel my best when I'm totally free, on holiday, walking on the beach. I'm going to miss all these calm days with the wind in my hair and none of the Mumbai chaos. I am sitting and reminiscing my recent Goa break as I type this post.
It was a long weekend and when I mentioned Goa to the kids they jumped in joy. Afterall, Goa is just a hop, skip and jump from Mumbai and when you have a weekend in mind, there is no better place that comes to me. Goa in monsoons is not only about beaches, churches or forts, it is also about the place where you stay.
I was worried that kids might get bored but the property that we stayed in Ibis Styles Goa Calangute had lots of activities like bicycles to rent, magic shows, pool games, play area to make it a perfect family destination. Being a premium budget hotel It a perfect place to get away with your family or in a large group.
The approach road to the hotel is flanked by shops and resorts but as soon as you enter the hotel lobby, you cannot help but feel the brightness of the decor. When we arrived, we were greeted by the hotel staff with shell neckpieces, hats for the kids and a flower tiara for me.
Welcome drinks were in order and while the kids played on the mood app which is stationed at the reception, we were checked in seamlessly.
---
Location:
Ibis Styles is located in Calangute, is about an hour and fifteen minutes away from the airport and just a few minutes from the Calangute beach in North Goa and 5-10 minutes from the Tivai beach. The hotel has a travel desk which can arrange for a pick and drop slightly lower than the market rate and it also offers day tours.
They also have a free service which has Thar Jeeps do a pick and drop for the guests from the beach.
---
Food at Ibis Styles Goa Calangute:
They have only one restaurant at Ibis Styles Goa- Spice It and their bar is called The Hub.
Spice It is a multi-cuisine restaurant and while you can order ala carte they have a buffet on all meal times consisting of Indian and continental food. Spice It boasts of longest breakfast from 7 am to 10.30 am for buffet and extends up to 12 pm with a few things on the menu.
Like it? Pin it!
The first night that we were there we ordered in-room dining and it came in heat sealed bag and in glass casseroles. I was really impressed by the way it was served. It reminded me so much of home.
The hotel keeps its guests entertained with some live show or the other. While we were there, a magician was performing and when he came to our table my little one, Ahaan, almost squealed with joy.
---
Rooms At The Ibis Styles Goa Calangute:
This was probably the best feature for us. Ibis Styles Goa Calangute has the concept of "my room", which is basically two adjoining rooms for a family with an interconnecting door. The kids had a blast when they saw that they had their own room with MinionDecor. Wall decals, blankets, lamps were all minions, even the toothbrush holder was a minion. The kid's room also had a dart game adding to their excitement.
Even my elder one who is usually skeptical was floored. I wasn't expecting a whole room to myself so the peace that came along with it was more than welcome. I could have even done away with the interconnecting door ;). Every room at Ibis Styles has a pool view, and we also had a balcony and a sitting area.
It comes with a 32 inch LED TV, a work desk with a chair, kettle an electronic safe etc. If you want a minibar they have a prepaid option. There were some cookies waiting for us when we checked in.
Both the bathrooms had toiletries like the dental kit, toiletries (shampoo, body wash, conditioner), sanitary disposal bag, comb, self-care kit etc.
---
After being room bound for one day, we were brimming with energy on Saturday. My kids usually sleep in late on a weekend but sand, sea, and the beach was the just the perfect excuse to get them cycling to the beach. Taking these two to the beach cycling turned out to be an adventure in itself. We took 20 minutes to reach the beach which is just 5 minutes away, thanks to my skills with Google. And while I was scared for them every time a vehicle passed, they were pros and guess who fell twice and hurt herself? They enjoyed playing with the waves and even tried their hands at yoga with everyone around giving us curious looks, but we were having too much fun to care. Calangute and Baga beaches are also close by.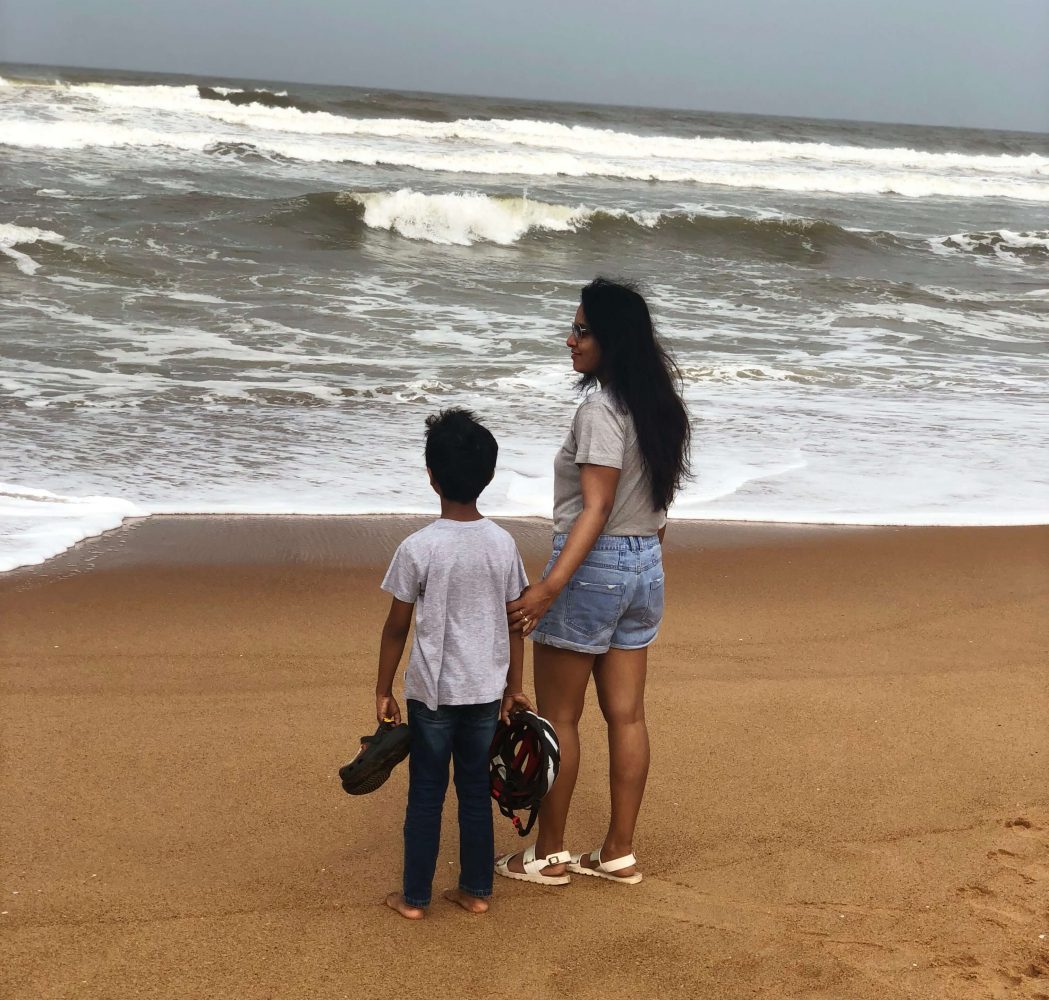 In the day, we took a car from the travel desk and headed out for some Goa experience. With lunch at Fisherman's Wharf, my Goan food cravings were satisfied. There are no shacks in most beaches during monsoons except at Brittos, which is just 20 minutes drive from the hotel and is a staple place we head to every time. Finally, I got my bit of the sun too. While Ahaan played with the waves, Eeshan and I lounged on the sunbeds and enjoyed some peace. This is a classic Goa experience for me, though I need to discover more monsoon options with kids.
However, when it's monsoons, the hotel you stay in counts in for a major part of your experience. Here are some more reasons why we enjoyed our stay at Ibis Styles Goa Calangute.
---
The Amenities And The Extras;
Spice It restaurant and a bar.
Poolside bar which operates from 11 a.m. to 11.30 p.m.
The hotel offers a babysitting facility on 48-hour notice and wheelchair accessibility is there.
There are three swimming pools, one of which is a kid's pool. The pools are open all day and all night so you can swim whenever you like. In a weekend getaway, this is a boon because in the day we usually want to head to a beach and then tend to miss out on a swim in the pool.
Kids Play Area is always a boon when you are travelling with kids, and this one had a foosball and table tennis planted right next to it.
There are 197 rooms in the property and all come with a pool view!!
Ibis Styles Goa has a well equipped Gym, a Gift Shop and a net covered Cricket Area with a Bowling Machine.
A section of the lobby has two-foot massage chairs and just next to it is an X box!! Guess where my kids were planked most of their time when they discovered this area.
You can borrow a GoPro to experiment for free. While cycling around the premises or shooting an underwater video.
---
If you are looking for a hotel in Goa in the premium budget segment, you should definitely try Ibis Styles Goa Calangute, especially if you are travelling with kids.
---
Disclaimer: While we were hosted by the property. All views expressed are mine and based on my experiences.
---
Like it? Pin it!