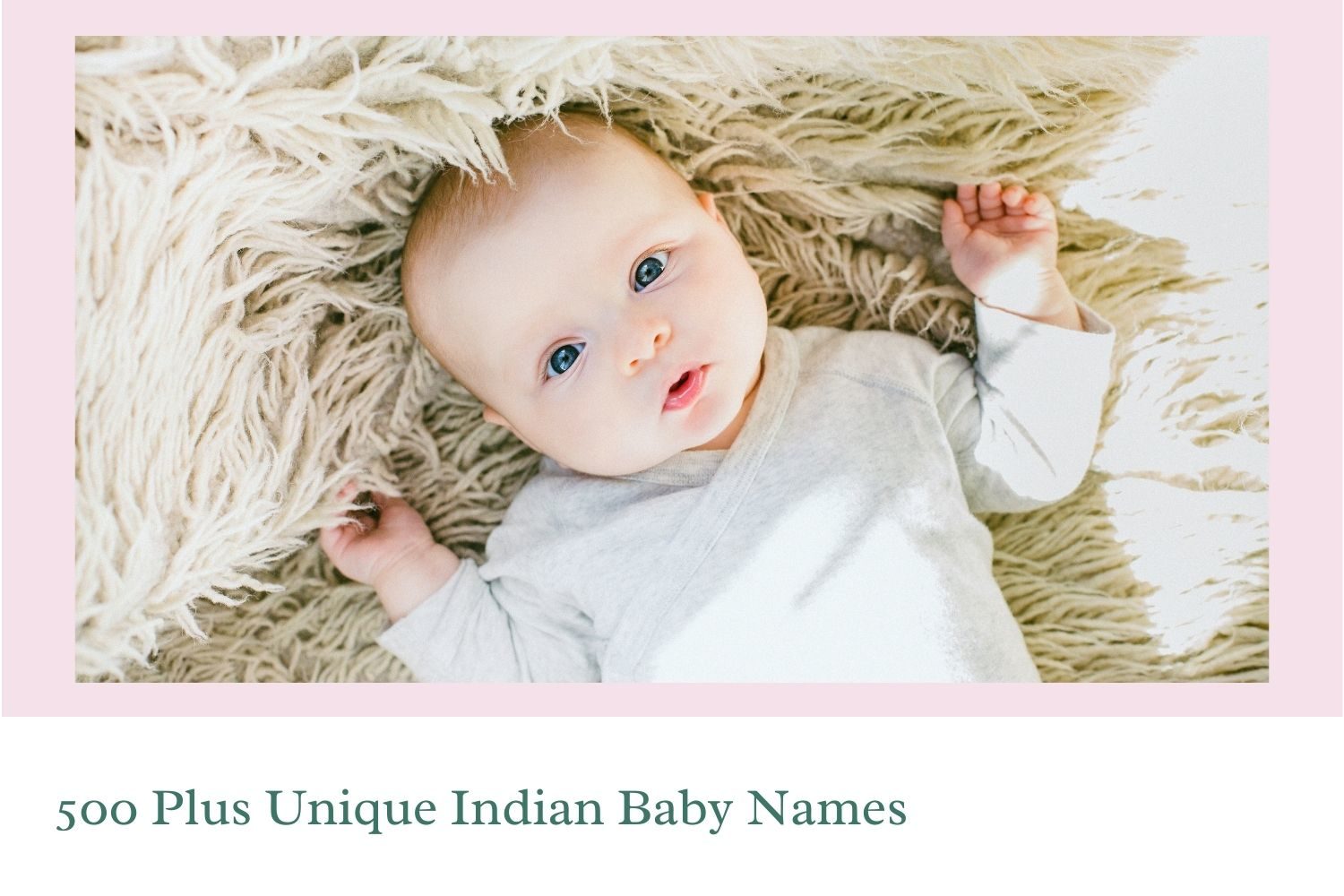 500 plus unique names of boys and girls in the year of 2021
Naming your child is possibly the most confusing thing that newly parents usually come across as there are no limitations. Once everyone knows that a mother is expecting relatives, family, friends and neighbours pour in their suggestions from all the corners. Without knowing the gender of your baby it is quite difficult to decide the name of your baby. Selecting from a classic baby names or modern and unique baby names for your little one can be very confusing for every parent.
You can also look at last year's list of unique names for 2020
A person's name is one of the supreme connections to their individualism and identity. Your name is the most important word in the world for you.
Let us have a look at some trending name of baby girls in the year of 2021:
Anika- Super sophisticated personality
Aamani- A long and confident leap
Anvi- Divinity of the forest
Arya- Diety of Lord Parvati
Aarvi- one who makes peace
Aarushi-First rays of the Sun
Aslesha- Herd Of Stars
Aaryan- Kind Hearted
Aamya- supple, night rain
Aashna- The One Who Is dutiful To Love
Ahalya- Woman Saved By Lord Rama
Anamika- Ring Finger
Aabha-Glow , Splendour
Ababa- sweet as flower
Abhati-Splendid
Abharika- Refers to disorderly haste
Aathmiya-Spiritual
Aatrayi-A river
Aadhila-Honesty
Aadhira-Moon
Aadhirai-Special star
Aaditri-Godess Laxmi
Aadrika-Mountain
Aadvika-Unique
Aasha-Hope
Aazmin-A star
Abhithi- Fearlessness
Adhishree- Exalted
Ahdia- Unique
Abhisarikaa-The Beloved one
Aagam-Coming, Arrival
Aashaka- Aarti's best wishes
Aatmika- Aathma
Bianca- White and peaceful
Binal- The Princess of any Kingdom
Bina- A Musical device
Baasima-Smiling
Badari-A source of Ganga
Baheera-Dazzling
Baidehi-Sita
Baijanthi-Name of a flower
Baishali-An ancient city
Banasri- Beauty of the forest
Bandini- Preserve
Bandhura-Pretty
Bani-Godess Saraswati
Bansari-Flute
Barani-Star
Bagya- Fortunate or with good destiny
Canisa- The one who is very closed
Chara- A calm person
Chayana- The shining moon
Caksani- Illuminating
Calama- Ever moving goddess
Cameli- A Jasmine flower
Chaitali- Born In The Month Of Chaitra
Diana- An ideal person
Disha- Different direction
Drishya- view/ visualization/ gawk
Deepit- Dazzling and lighted person
Daevy-Angel
Dajshi- The glorious one
Dakseyu- Striving for perfection
Dakshin- The competent one
Dakshita- The modest one
Ekkam- The one who is united
Esha- Pleasure Or aspiration
Estaa- Very affectionate towards everyone
Eshika- dart, a small shot
Ebbani- wish/ determination/ infatuation
Firaki- Fragrance of delicate scent
Fanha-Passing away
Fabia- A woman who is bean farmer
Fadia- A woman who is a redeemer
Gabby- From the name gabrielle
Gabie- A woman of God
Gabina-As sweet as honey
Gina- influential Woman
Gulika- A gem of  a person
Ghusn- twig, stick of a beautiful tree
Gaura- A gorgeous Woman
Hana- contentment
Hiranya- Precious gold stones
Hasina- good-looking person
Hrithika- One With Kind spirit
Ihina- Passionate for life
Iravati- River Ravi in India
Ihinaa- zeal, wish
Ishya- Beautiful and fresh like spring
Iba- Sense of honour
Ibhar- Open like the ocean
Ibrat-Learing from experience
Ibrisam-Silk
Jahnavi- Daughter Of Jhanu
Jeevika- Pious water
Jiera- One who is extremely beautiful
Joyel- Goddess
Jabeen- A name of the Ganga river
Jabb- thin
Laghima- Goddess Parvati
Laina- Ray Of Sun
Lajni- Shy
Ketki- Blossom like spring
Kajal- Mascara and attractive like color Black
Kanika- A small particle
Kalki- White pony or a unicorn
Laasya- Dance performed by Lord Parvati
Leya- A musical rhythm which leads directly to heart and soul
Liya- fine-looking personality
Lekha- Inscription
Maanika- Ruby
Maaya- goddess laxmi
Madeeha- one who is praiseworthy
Madhava-fresh like spring
Madayanti-super thrilled
Madhavilata- combination of Lata and Madhavi
Madhudhara-a flow of honey
Madhu- someone very sweet
Madalasa-indolent
Mihira- female form of Mihir the Sun
Mihika- Haze or morning moist
Maira- Adored by everyone
Meera- Devotee of Lord Krishna
Nita- Always following the rule
Naavarasi-orator
Naabhi-center part of body
Naayantara-apple of our eyes
Nabhasvati- thunder and lightning
Nachini- liked by everyone
Nabhita- fearless
Nadantika-reed obliterate
Nadesha-one born from river
Nadeeka-creative personality
Nadvala- a quantityof needs
Naavya- Worth Praising
Nyra- The splendor beauty of deity Saraswati
Nadira- A very high point in somebody's life
Naina- Beautiful and attractive eyes
Nithya- Forever graceful
Noshi- Lovable person
Oorvi- Earth
Oorja- power/ feelings/ zeal
Onalika- illustration/ Picture
Oishi- Celestial or very pure form of body
Odati- Refreshing
Oditi- Dawn
Oja- Vitality
Ojal- Vision
Ojaswita-Bright
Ojati- Strong
Oma- Life Giver
Pranavi- Lord Parvathi
Parina- Fairy princess
Prina- Contented by heart
Paavai- Beautiful Girl
Padmakshi-Lotus like Eyes
Paawni-Sacred
Padmanjali-Offering of Lotus
Padmashri-Divine Lotus
Paadini-Pleaseing Song
Rhia- Kind Heart
Raaga-Music Terms
Raagini- A Melody
Raakhi- Protector
Rabani-Divine
Rachana-Creation
Rachita-Created
Raya- Flow of pious water
Radhika-Successful
Radnya- Daughter Of King
Raekh-Shape
Ragavarshini- One who showers ragas
Raadhi- Achievement or success Achievement or success
Racana- Accomplishment
Raashi-Collection
Seem- A flower name
Saira- poetess, princess
Saachee-Beloved
Saahana- Raga
Saagnika- passionate
Saahithi- Literature
Saarya- Name of a pious woman
Saavini-Refers to Saavan
Saavi- Goddess Lakshmi
Sabari- Variegated
Sabita- Beautiful Sunshine
Sabrina- Passion
Sachika-One who is kind
Sachi- Truth
Sachita- Consciousness
Sadhika- Chaste, Faithful
Sadhna- Worship
Taalika- Calm
Taani- Persuasion to continue to do something
Taarika- A little star
Tabeedah- Emotionally significant idea
Tajah- Crown worn by rulers
Talikha-Nightingale
Talayeh- An advance guard
Talika- A person of a specified kind
Talbashah- A narrator of Hadith
Taani- Persuasion to continue to do something
Tabu- Exceptional person
Tisha- A Blissful person
Tania- Fairy Princess
Tina- Stream of water
Udita- One who has risen and ready to shine
Ubika-Growth
Ucchal- Perception
Udayati- Daughter of mountain
Uddipa- Illuminating
Udgita- A hymn
Udaya- meaning dawn
Udantika- Satisfaction
Udakanjali- Lustrous
Udichi- One who grows with prosperity
Udisha- First Rays of the New Dawn
Udaranga- A woman with a beautiful body
Ucchal- Perception
Udantika-Satisfaction
Unaisa- Everyone's darling
Varali- Raga in Carnatic music
Vanani- A part of forest
Vaagai- Name of a Beautiful Flower
Vaahila- Name Of Air
Vaani-Speech
Vaarahi- One who rides on varaah
Vaasuki- Learned
Vadivu-Beautiful
Vadhana- Bright star
Vadrmati- With Visnu
Vaibavi- Rich Person
Waamil-gorgeous
Wubitu-beautiful
Wakeeta-beatiful flower
Wamika-goddess Durga
Wishi- Wish that is rewarded
Xamak- Glimmer and glitz
Xiti-beautiful
Xoti-small
Yutika- huge number
Yaachana-request
Yaalini-melodious
Yadhana-smile
Yadunandini- Daughter of the yadus
Yagavi-bright
Yagnya- Ceremonial Rites To God
Yajna- Worship
Zwalaki- sacking star that shines brightly
Zil- Beloved daughter
Below are some unique and classic baby boy names trending in the year of 2021:
Aarush- The First Ray Of The Winter Sun
Aakesh- The lord of Sky
Agniv-vivid As Light
Aabas-Sense or Feelings
Adwait- exceptional
Anvay- United by heart
Aabher-Means a cow-herd
Aacharya-Means a learned teacher
Aad-In the beginning
Aashray- protection
Aachutan-Lord Krishna
Aadavan-Sun
Aadhar-Foundation
Anay- Lord Vishnu
Aadeep-Light
Aadhav-Ruler
Aadish-King
Aadi-Important
Anirudh- Unlimited sources
Arni- Eagle, authority
Anik- A strong warrior
Bhuvan- The globe
Babhri- carrying away
Badal- cloud
Badrinath- Vishnu
Bahula-dense
Bahurja- powerful
Bagira-nurturing and loving
Bahurja- strong
Bahyakunda- enlightened
Balaaditya- young sun
Bakula- another name for siva
Balaark- the Rising Sun
Balachandar-young moon
Bivan- The World
Brian- Honorable, physically powerful
Ceina- Innocent by heart and soul
Cadrasva- A Hindi name for Boys
Caidya- An intelligent administrator
Caha- a desired man
Caitya- the individual soul
Cakaraka- a content boy
Cakora- A shinning and content one
Cakra- A wheel or a circle
Cachari- moving quickly
Cakrabhrt- Another name for Lord Vishnu
Cakradhara- A name of Lord Vishnu
Cakrabhuj- A disc holder
Cakradrsa- A Boy with round eyes
Cakraki- One who has the Discus
Cakraka- circular
Cakrasamvara- a buddha
Chayan- One who is able to make quick decisions
Chahel- Cheerful personality
Chintan- Considerate person
Danvir- Generous and kind soul
Daarshik- The one who perceives
Daarun- A strong man
Daasu- A powerful man
Dabeet- Warrior
Dabnshu- Filled with love
Dadhica- Sprinkling curd
Dabhiti- Injustice
Dadhikra- A divine horse
Daha- very bright
Daeshim- Greatest mind
Dadhikra- Sun
Dabang- a brave personality
Daha- very bright
Dahana- A Rudra
Dahak-powerful
Daipayan- Born on island
Daityari- Name of Lord Krishna
Daruk- Type of tree
Ekaant- Private and introvert person
Ebhanan- Ganpati
Edi-herb
Edhas- Happiness
Ednit- evolved
Eashan- lord Vishnu
EegaiArasu- kin of charity
Eegan- endowed
Eehith- someone who is rich
Eelamynthan- Son of eelam
Eelavarasan- King of Eelam
Eeren- caring and lovable
Eeshwak- One who is like a precious gem
Eesvaraavu- They are the one who are very strong
Emaan- Trustworthy personality
Evavad- Honest and truthful
Falak- On the top of Heaven
Falgun- Day of the full moon
Falgu- lovely
Fanadhar- a snake
Falit- A fertile land
Faneemdra- lord shiva
Fanibhusan- Name of Lord Shiva
Fanikeshar- The ruler of the snakes.
Faneendra-shiva
Faryad- A surprising cry for help
Fateh- A man of big success
Farzand- a son
Fatehbhoop- The ruler who is experiencing triumph.
Ganak- Clairvoyant person
Garv- Pride
Gazi- defeater
Gadin- lord Krishna
Gagan- sky
Gaganamani- another name of surya
Gagnesh- Lord Shiva
Gahan- Refers to the person who is unable to understand.
Gajanad- Refers to Lord Hanuman
Gaganaghosa- thunder
Gajanad- Lord Hanuman.
Gajapati- The lord of elephants
Gajasura- The Lord of evils 
Gajasya- The one who is in the shape of an elephant.
Gajendra- another name for airavata
Gadiva- Most powerful bow of Arjuna
Hiran- Precious like gold
Harij- No boundaries like sphere
Harsha- Delighted person
Heer- Super authoritative
Idhant- Bright and luminous
Ikesh- unique
Ikjot- god's light
Iksana- sight
Iksavaku- one who brings wishes to effect
Ikshin- eyes
Iksuda- sweet tongued
Ikshu- A Malayali word for sugarcane.
Ikval- good fortune
Ilacandra- moon of the earth
Ihit- A type of award
Ijay- Lord Vishnu
Ivaan- God's precious gift
Jagat- The whole world
Jadhav- A name that means Yadava
Jagadeeshwar- The Empire of the whole world
Jagadishwara- Lord of the Universe
Jagan- Everything that existc in the universe
Jagamohana- To attract the whole world
Jwalant- Super glowy
Kunal- Son Of ruler Ashoka
Kaalki- One of many names of Lord Narayana 
Kaanan- A childhood name of Lord Krishna
Kaarik-star
Kaanishik- Name of an ancient King
Kaartik- God of War representing ligh
Kaartikeya- Son of Lord Shiva
Kaasar- A surname of Indian origin
Kaashi- Derived from Sanskrit word Kashi meaning Shining
Kaashinath- Lord of Kaashi
Kabalikrut- Swallower of the Sun
Kabali- One of many names of Lord Shiva
Kavan- A type of Poem, Water
Liyan- Delightful person
Laabh- Profit
Laalit- Loved
Labaka- One with sweet voice
Labhsha- Kind Spoken
Labuki- Melodious
Lachman- A name of younger brother of Ram
Lachan- Bright Eyes
Lagan- Appropriate Time
Laghav- swiftness
Ladu-king
Lagna- Auspicious moment or time
Lahiri- Wave
Lailesh- One of many names of Lord Shiva
Lahban- An Indian Surname
Laghav- swiftness
Lailush- One of many names of Lord Vishnu
Laksh- Aspiring and who has clear aim
Manas- Very judicious
Mehan- Very pure and peaceful
Mehal- Vast sky
Maadhav- One of many names of Lord Shri Krishna
Maaksharth- Precious part of Mother's Heart
Maan- Mind
Maaniky­- Enjoyer of the Earth
Maanvir- One who is brave and courageous in mind and heart
Maaran- Courageous
Maari- Prosperous
Milan- Getting Together always
Naman- acknowledgment
Naathim- Adjuster
Nabajit- A new winner or a new win
Nabhas- the rope of lotus fibre
Nabhith- Fearless
Nabhoda- a cloud
Nabhovithi- the path of the sun
Nabhya- central
Nadal- fortunate
Nadhir- Warner
Nikhil- Whole universe
Nisith- A blissful night
Ogaan- United
Occhav- Voice
Odaka- Apple Flavour
Odhavji- One of many names of Lord Krishna
Ogan- United
Ohas- Commend
Ohileshwar- One of many names of Lord Shiva
Onkar- God is only one for all
Ojan-waves
Ojapati- Master of Power
Paamannan- King of Poetry
Paavan-pure
Paawanjeet- Victory of the Pure
Padam-lotus
Padamjot- Brilliance and Radiance of Lord Krishna
Palam- A type of fruit
Param- One of the best
Pinank- A unique name of Lord Shiva
Reyan- A famous celebrity
Rishab- Shiva's favourite vehicle:Bull
Raaj- Kingdom
Raakesh- Lord of the night
Raam- Pleasing
Raamaanuj- Younger brother of Rama
Raamdatt- Gift of Rama
Raaz-secret
Rabhav- Skilled
Rabek- God is One
Rabinesh- God's Pet
Risheek- Lord Shiva's name
Raavee-Awesome
Shay- Present, reward
Sresht- One of the best for all
Saathvik-Calm
Sachetan-Rational
Sagara-Ocean
Sahistha-Strongest
Sahvan-Mighty
Sajiva-Full of life
Sahishnu- Lord Vishnu
Sakala- Perfect
Tanay- Beloved son
Taksheel-One with a strong Character
Takhvinder- Lord of empire
Tarus- luminosity
Virak- Super intellectual and strong headed
Unal- combatant, physically powerful
Vyom- the heavens
Waman- The petite
Yajin- Powerful Worshipper
Yash- Very famous personality
Yuvein- Young at heart and soul
Zian- Super happy and peaceful soul
Baby naming ceremony plays an integral part in the Hindu way of life. So naming your child can leave a huge impact on his or her personality. One should definitely have an overnight thought before naming their little one. As some research says that meaningful name can influence the choice of profession we opt for, whom we marry, where we live, the grades that we earn, the stocks that we invest in, whether this particular job is perfect for us or not and also our destiny that revolves around the meaning of our name. According to Hindu mythology each and every alphabet has a story behind.
Your name defines you and your personality throughout your life. Every name has a story to tell, it also has its own consequences and meanings. Considering your name means understanding the core of you. So it is always wise to do a proper research before naming your little one in order to give them a strong identity and a fruitful life.