Welcome to 2018!
It is New Year and it is time to make some new resolutions. I have a list of some 10 resolutions and at the top of the list is the obvious one; I will not buy art supplies on impulse! Very difficult isn't it? I spent a chunk of my holidays in cleaning out my supplies cupboard and found some paints and craft material which have been stacked for over a year and has never been used. So, did you make any special resolution too?
http://maaofallblogs.com/2017/12/diy-decoupage-happiness-jar.html/
It is said that New Year is a perfect time to indulge in a new hobby and Fabric Painting it is for me! I have painted on shoes but painting on garments for a strictly no go for me as I had always thought fabric painting is for grandmoms. Little did I know that it was so much fun; all thanks to the workshop that I was a part of with my hobbyist friend.
http://maaofallblogs.com/2017/02/valentines-day-gift-idea-diy-origami-heart-mobile.html/
So keeping the catchphrase better late than never in mind, I started and since then I have been painting on fabric every week. This is my latest one, a cool pineapple doodle t-shirt for my friend. Fabric painting gives you the freedom to customise the design and colours and is the best form of self-expression through attire. Be different wear different!
Today I am going to share with you how to make a Perfect Self-Painted DIY T-shirt. To get started we need the following:
A t-shirt
Painting brushes
Design and Carbon paper
Fevicryl Fabric colours
Paperboard
Sello tape
Water container and Colour palette
The first rule of Fabric painting is to pre-wash and iron the garment we are painting on. This is to ensure that there is no starch on the fabric which impedes the absorption of colour in the fibres of the fabric.
Then tape the t-shirt on a working table. Put a board inside the t-shirt so that the colour does not seep through to the other side. Trace the design using the stencil on the t-shirt. It is always better to draw the design on a sheet and then trace it than directly drawing on the garment. As the t-shirt is black I have used a white carbon paper to trace the design.
The paint the design with a base colour White.
Let it dry. Then start painting the pineapple with your choice of Fevicryl Fabric Colours. I have used Leaf Green, Chrome Yellow and Orange here.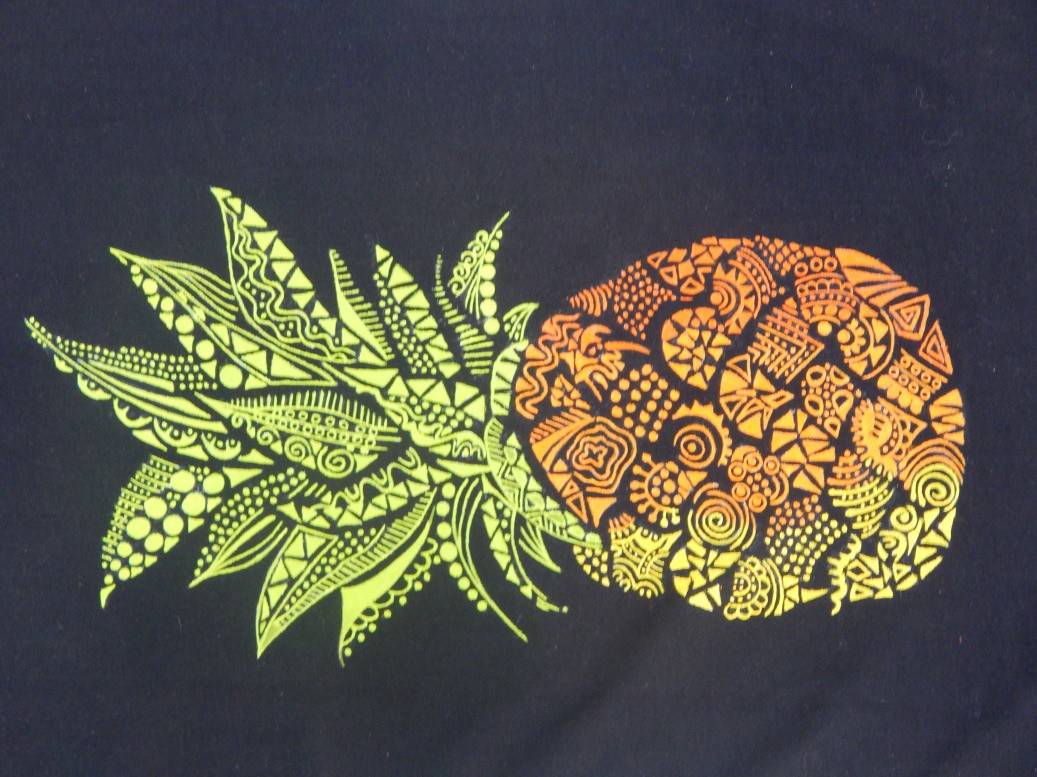 Leave it to dry.
Voila, the DIY t-shirt is ready to wear. Now, these colours don't need heat setting but we need to let the colours cure for 7 days before washing.
So isn't this super easy and totally cool! This can be such a lovely gifting idea too! Do share your thoughts regarding this with me and hope you liked this DIY T-shirt.
Until the next time…