A Cord That Can Save Your Kid's Life: LifeCell

When my first child was born way back in 2006, stem cell banking was a concept that had just reached India. In fact, I heard it for the first time. My hubby who used to then work for a pharma company convinced me that investing in it then didn't make sense as they were promising to preserve the stem cells only for 20 years and usually we expect healthy life till that age.
By the time I was pregnant with my second one in 2011, the technology had advanced and so had the inhibitions against it. Stem cell transplants and it's usage over the years have been proven and now with technological advancement, Stemcell has shown desired results in treating autism at the clinical trial stage. Who knows what can be achieved in the future? Also, now we can extend the storage for a lifetime as against 20 years earlier.
Sometimes I am grateful for what blogging exposes me to. When I had invested in LifeCell cord blood banking I had kept it aside like an insurance. Somewhere in my mind, however, it always played to find out about my decision and how well are these preserved and while over the years I have heard of a few cases where stem cells have been used, I have been inquisitive to know more. When the LifeCell team approached me, it was for my own personal interest to visit the facility.
If you have never heard of Stemcell banking, then read this first.
Stem cells are the building blocks of our bodies which have the potential to be developed into blood cells, brain cells etc so can be used in various medical conditions.
Most effective stem cells are present in the umbilical cord of the baby at birth and need to be preserved right away

A lot of us like you have wondered. Is Stem Cell Banking really useful or is it a futile investment?
Pros
Over the last 25 years, stem cells have been used in over 30,000 stem cell transplants. Although stem cells are not widely used in clinical practice, patients undergo safe and approved clinical trials for the treatment of leukaemia, neuroblastoma, cerebral palsy, SCID and many other medical conditions.
Cons
A child's stem cell being used by his sibling has only a 25% chance of a match.
There is very high chance that these stem cells will never be used. In that case, just think of it as life insurance for your child.
This is why the concept of Shared community was developed by LifeCell
So as an existing LifeCell parent you can sign up for sharing your stem cells with other parents in the community.
Why should you join the Shared Community and how will it help?
A shared community would be a

larger inventory

for the parents to choose from.

Indian Council Of Medical Research(ICMR)

has said with an inventory of 2,50,000 units confirm the chances of finding a perfect match. As of now LifeCell has 15000 shared community members and are looking to increase it by 50,000 every year.
70% of patients are unable to find a match in India due to limited stem cell donors – only 1,80,000, which is less than 1% of the global donor base
The

entire immediate family is covered ie

siblings, parents and both sets of grandparents can avail of this facility in the future free of cost.

Procuring stemcells can be expensive and finding the right match can be very time consuming otherwise.

If your child's stem cells are used for anyone,

LifeCell refunds

the entire money you have paid. However, you will still have access to the

entire stem cells from the community

in case you or your family need it.

A child gets covered for all 80 approved medical conditions.

The ones in which his/her own blood cells are needed and also where he might require donor blood cells.
So it's a no-brainer to join the community and for existing parents, the deal is just at 5000 INR. I am already in the process myself.
---
The Facility
I also visited the facility and will share some pictures and videos from there for you to understand how it is stored.
Samples collected from a just delivered mom are transported to the facility in these containers.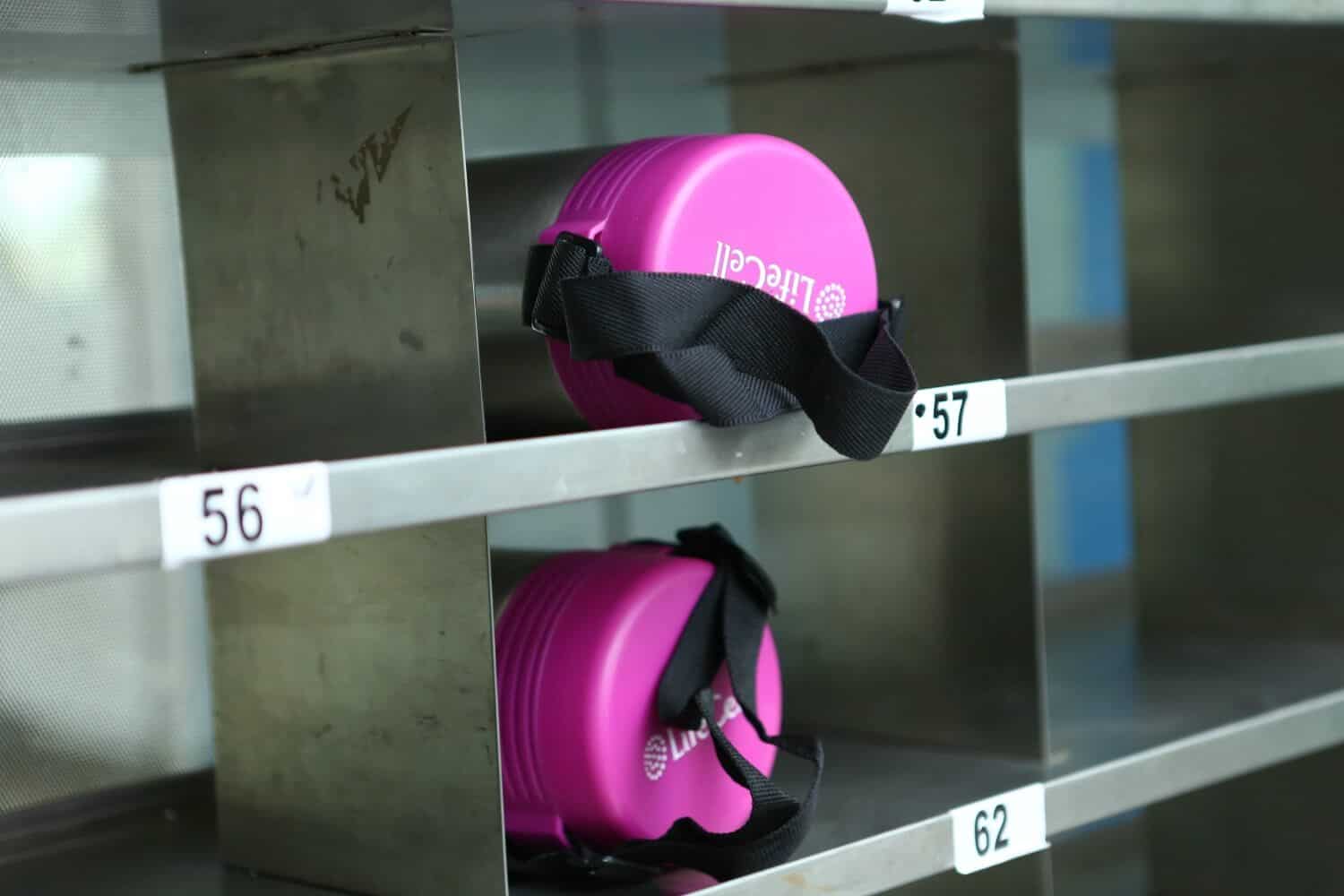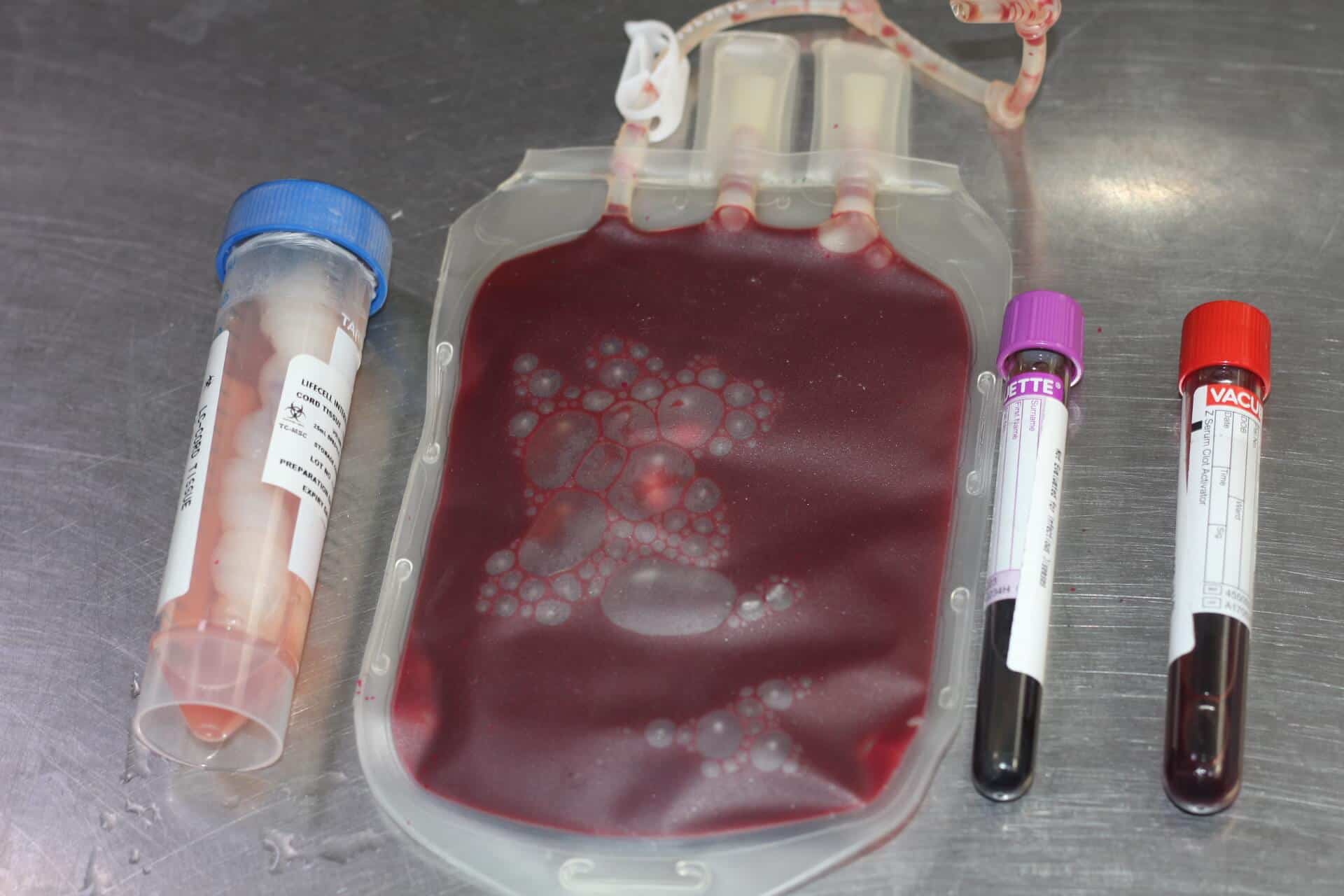 Step 1: Here the Cord and the mother's blood samples are separated. However, they still remain sealed. The mother's blood is sent for testing and the umbilical cord and placenta for curing for storage purposes.
Step 2: Preservation & confirmation-Extracted stem cells are preserved & the certificate to the parent is dispatched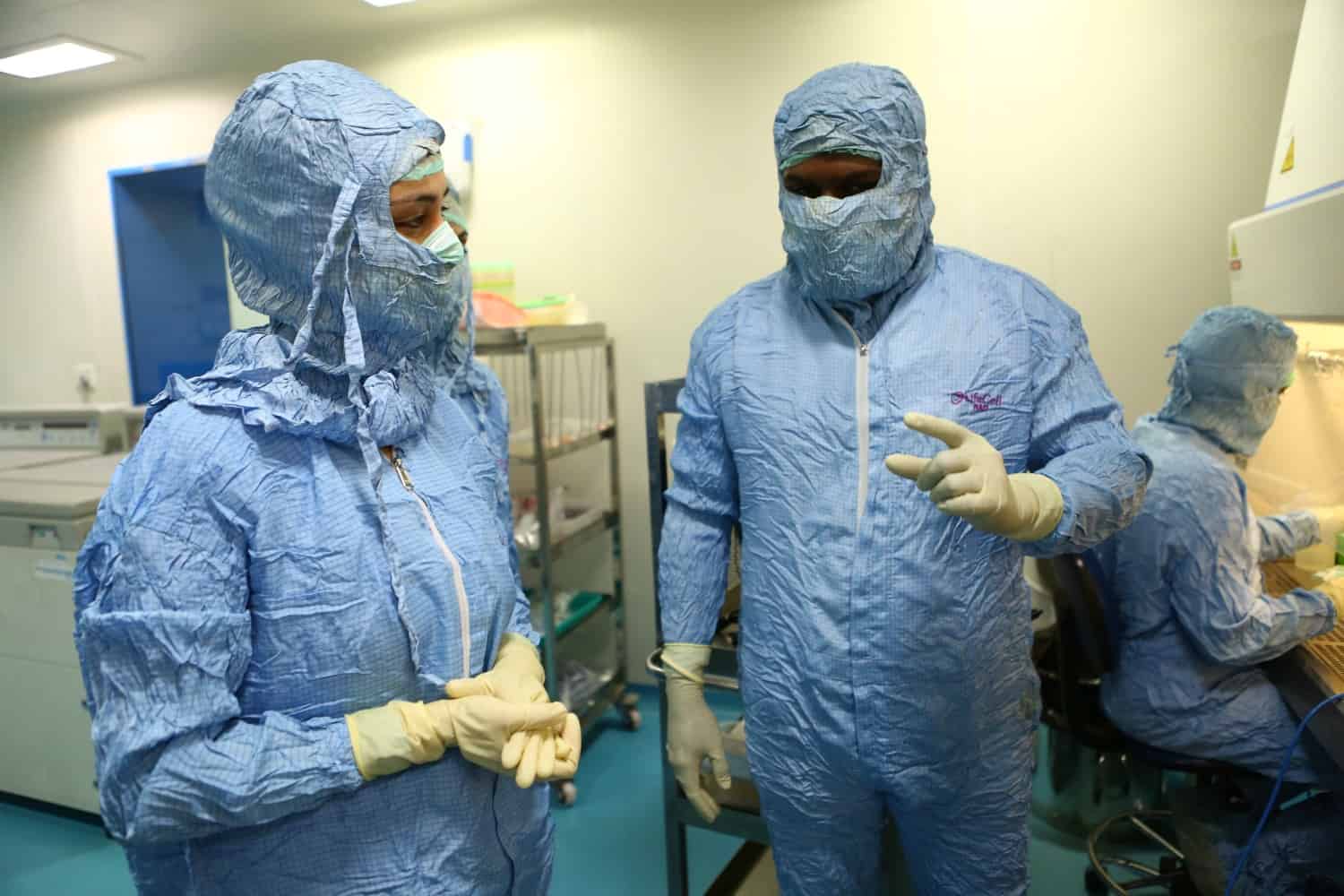 Step 3: Cells are stored in liquid nitrogen at -196 degrees and in this state, they can be kept like this for a 100 years.
Will end with some points that you should consider;
As a LifeCell parent,

you can visit the facility after taking an appointment

with them to see this with your own eyes. I am sure many like you would like to visit it. This is based in Chennai.

For

the first 2 years of the baby, the stem cells should not be shared

(LifeCell ensures this) as this is the time the baby can need it the most after which requirement drops down to 1 in 5000 for the first 20 years. And then 1 in 100 beyond that.

BabyShield Screening Tests for Babies-

All over the world there are around 50 diagnostic tests that are screening tests for a newborn. In India, very few tests are recommended by the hospitals. LifeCell provides these tests at a nominal cost to the hospitals. Ask your gynaecologist and ask for these. Early detection of rare disorders like congenital heart disease means they can be treated before the damage to the child is irreversible.

BabyShield Prenatal Screening

–

While most tests are done at the hospitals already. LifeCell provides non-invasive genomic testing for the foetus. So no harm to the baby and rare disorders can be picked.
This is a lot to take in but I know if you have already invested in LifeCell you still would like to know all this and if you are looking to invest in it for your baby yet-to-be-born then I hope I have satisfied all your queries. If you have any further questions write to us and we will take it up.
Signing off,