It's Christmas Time! And as we all know Christmas is all about happening moments, happy faces and sweet emotions filled with fun, music, and food. Planning to throw a Christmas bash at home and wondering what to make? When you lay scrumptious deserts in front of your guests noone will pop up a NO! And, this is why we have come up with some amazing dessert recipes which will quench your sweet cravings and make this season a joyous one!
---
Festive Gingerbread.
Gingerbread is a delicious treat for the festive season. Traditionally enjoyed as a biscuit, I like to stamp mine into stars and decorate them to give away my nearest and dearest.
---
Make 8 large stars
For the gingerbread :
40g butter
20g brown sugar
1 tablespoon golden syrup/ golden spread
100g plain flour/maida, plus a little extra for dusting
1/4 teaspoon baking soda
1/2 – 1 teaspoon ginger powder ( or more if you love ginger )
1/4 teaspoon cinnamon powder
1-2 tablespoons milk may be
For decorating :
25g icing sugar
Sprinkles ( optional )
Parchment paper or a small piping bag (optional )
---
Preheat the oven to 180 degrees C/ 350 degrees F and line a baking tray with parchment paper.
Gently melt the butter, sugar and golden syrup in a pan.
In a bowl sift together the flour, baking soda and spices and pour in the melted butter mixture.
Mix it until it comes together to form a dough, adding a few tablespoons of milk if the mixture is too crumbly.
Allow the dough to cool down, before dusting your surface with a little flour.
Roll out the gingerbread dough to around 5mm thick.
Using a cookie cutter ( any shape ), stamp out shapes and carefully transfer them to the lined baking tray. Mix together the extra dough and re-roll, stamping out more shapes if you can.
Bake for 8-10 mins until light golden brown.
Remove from the oven and allow to cool on the tray for 10 minutes before transferring to a wire rack to cool completely.
In the meantime make a proper cone using the parchment paper ( If using ) and make up the icing by mixing together the icing sugar and a few drops of water. The icing should be thick and smooth. Transfer to the piping bag if you wish.
Once the gingerbread is cool decorate with icing. Allow setting until hard.
You can store it in an airtight container for up to 5 days.

---
SWEET FESTIVE MINCE PIES.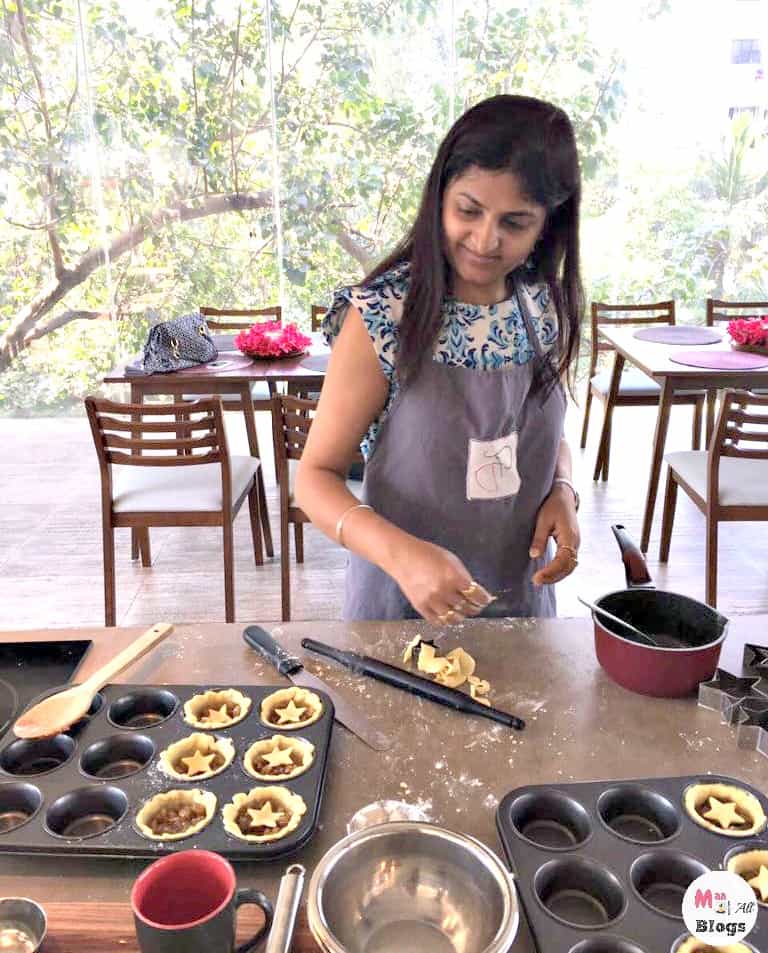 Yummy pies are the mode to actual Christmas feel and this is where you can complete touch of Christmas to your party!
---
Makes 6
For the sweet dried fruit filling :
85g raisins
1/2 apple, peeled and grated
1/8 teaspoon ginger powder
1/8 teaspoon cinnamon powder
1 tablespoon ( 15g ) butter
2 tablespoons brown sugar
For the pastry :
150g plain flour/ maida
75g butter, cubed and chilled
Juice of 1/2 orange
Few tablespoons of chilled water
Extra plain flour/maida for dusting
A good pinch of brown sugar, to dust
6 hole muffin tray
---
Preheat the oven to 200 degrees C/ 400 degrees F.
First, make the sweet dried fruit filling by placing all the ingredients in a small pan and gently heating for 5 minutes.
Turn off the heat and allow to cool while you make the pastry.
Sift the flour into a large bowl and rub in the chilled butter, until the mixture resembles the breadcrumbs.
Pour in the orange juice and add a few tablespoons of chilled water.
Mix together to form a dough, being careful not to overwork the pastry.
Dust a flat surface with a little flour and roll out the pastry until a few millimeters thick.
Using a 10cm cookie cutter, stamp out 6 rings. You may need to bring the dough offcuts together and roll again.
Fill 6 holes in the muffin tray with the pastry and divide the sweet dried fruit filling amongst them.
Using your leftover pastry, stamp out the shapes to place on top.
Dust with a little brown sugar and bake in the oven for 15-18 minutes until golden brown.
Remove from the tin and allow to cool on a wire rack.
Eat whilst warm or store in an airtight container for u to 3 days.
---
STRAWBERRY SANTAS.
This is a Christmas recipe which will grab the attention of all the age groups starting from the kids to the elderly.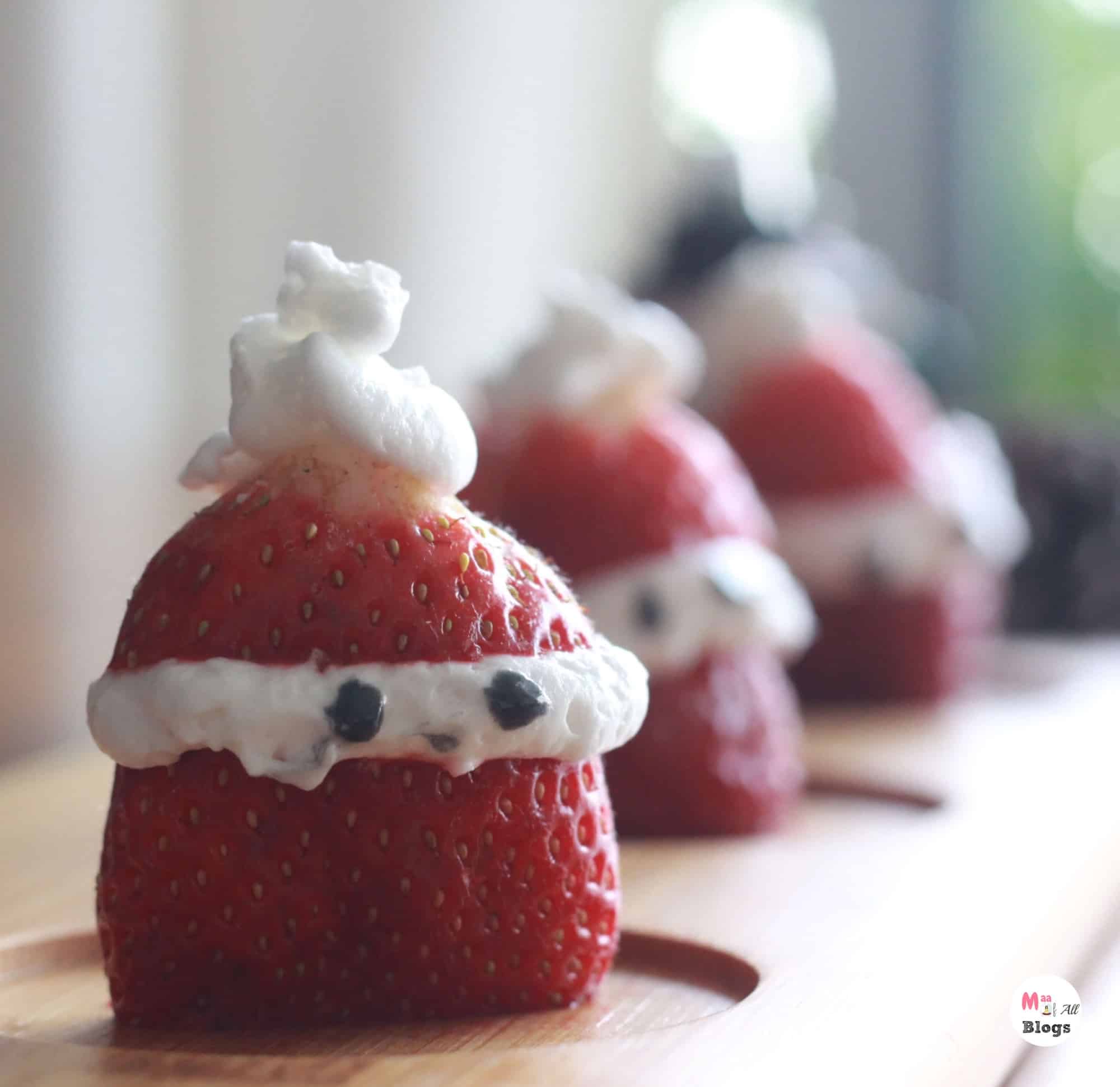 ---
Serves 6
Strawberries
Black Icing
Vanilla Frosting
---
Cut the strawberries into 3/4th parts.
Apply frosting above on the 3/4th parts.
Place the 1/4th parts on the frosting.
Make two dots as eyes on the mid part that is the frosting.
Tiny Santa's are ready for the party!
---
So have a happening bash filled with jingle bells, prayer songs, some good music, greetings, and food. MERRY CHRISTMAS YOU ALL!