My Journey From a Career woman to a Stay-at-Home Mom: Pragiti Siddhanti
Walking down a familiar road today, I was wondering how life had suddenly changed, not for the good or the bad but it is almost as if I started painting a new picture. While the previous canvas featured a well-rounded hectic life – around family, home and work the new canvas is different – and this time the background features beautiful mountains, flowers and trees. I didn't draw that, the background of this picture was a gift.
My relationships especially the ones with my husband and my daughter took a rebirth, I have a new house that I am trying to make home and the definition of work – well that has changed from a hardcore corporate woman to that of a homemaker. The reality is simple yet beautiful, I am a mother before an entrepreneur, I am a wife before a writer and I look after my home more than someone else's organisation.
A good three months ago, I moved from Bangalore to Basel, India to Switzerland – traffic jams to trams. While three months is a small period, but for me, in my life, the 3 P's have changed – people, place and plan. While I thought that this sudden transition will be difficult – I haven't regretted a single day. After the fourteen years of hard work, to reach where I reached, one could imagine some amount of guilt or regret – but trust me I don't feel a pinch. Personally, for me, I know I can go back to work anytime I want to but I cannot probably get this time in my life again. A time when my daughter is at the best age possible, an age where probably we both need each other the most.
How I do it…
I do not conform to Feminism – The definition of feminism has gotten skewed over the years, while it is packaged under the cover of women empowerment – what lies underneath is a woman who is a "do it all". Not only is she a homemaker but she doubles it up – by going to work. To me, it's the freedom that a woman can exercise – she could be whatever she wants to be – a CEO or a stay-at-home-mom. It's time to get over the constant judgement, frowns, and rolling eyes – after all, no one else is living your life.
Have a routine – It's easy to slip out of routine when you don't need to be at your desk by 10 AM or when a meeting is scheduled at 9 AM, anyone would – I say do it for a couple of days but later on have an organised day, week and weekend. Sometimes the day might seem worthless because there wasn't any plan and hence your laziness just took over. For me, the weekdays involve a lot of work around school, camps, meal planning, writing and working for beforbeauty, visits to the park, errands, laundry, cleaning, cooking along with squeezing in the "me time". I apply the same principles I use to apply at work – a work week plan which includes all the tasks for the week with priorities, the daily plan which usually formulates every morning with modifications and a weekend plan around the activities/places we should do/go to.
Prepare (to be pleased) – Be it raising a child, running errands or a corporate job – being prepared is usually the key to your success. Hence, keep lists, have diaries, pack stuff in advance like the school bag, the gym bag, the lunch bag etc. Keep your closets and cupboards neatly organised to avoid last minute chaos, stock groceries and keep the healthy quick bites handy.
'Me time' – Socialise with friends, go to the gym, chat on the phone, pursue a hobby – as long you do at least one thing a day which is completely "yours" I assure you, your sanity. At this point in time in my life, I am getting to pursue my passion as part of my profession, so it's definitely an outlet along with some time spent in the gym.
Healthy me and healthy family – To me, just like any other mother, the well-being of my child has and will be the single most important thing. But sometimes, we mothers end up ignoring ourselves – it's a little illogical especially since it all ties together very tightly. Hence, make sure you eat healthy, exercise, go for regular health checkups and visit the doctor for that little headache that you have been ignoring.
Fun times with your child – While the normal tasks like giving your baby a bath, feeding them, changing them etc. are fun especially when the rewards are the cute chuckles, the uncontrollable laughter and the innocent jokes but spending time by doing activities together is equally important. A mistake that I would often make – I would constantly do things for my little one, but I wouldn't do things with her. Things as simple as watching her favourite TV show, playing pretend games like doctor, teacher, office etc., doing art and craft, making my own games around phonics and basic arithmetic etc. – these are some of the things I do with her now, and by the way this is a part of my routine too. Trust me, a child loves it and looks forward to it – the activities alongside the routine.
I hope you liked my tips which have made this transition to a stay-at-home mom less stressful and more enjoyable for both of us.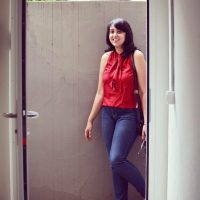 Pragati is an avid writer, blogger, and an IT manager by profession. When she is not writing, she is busy being a mom to her lovely 6-year-old daughter. She has recently moved to Basel, Switzerland and you can read all about her journey on www.beforbeauty.com.