It's this one day when I go full traditional and my hubby gets to be a VIP for that one day. Why I follow this festival is a good question; since I am a Kayasth married to a Tamil Brahmin, so actually it's not traditionally any of our family's custom. My mom told me to follow his customs and his mom told me to do whatever I felt like, so basically I was left directionless.
While I was growing up, my friend's mom used to get dressed in all bridal finery, put mehendi, cook some uncountable number of mouth-watering dishes, pray to the moon for her husband's long life. I know it sounds very non-feminist, non-modern, very conforming, very unlike me. But that's where you get me wrong, I may be unorthodox in my outlook but am I am very close to my culture. And these visuals have stuck to me since childhood. So that's my background on why I observe the Karva chauth fast.
What's Karva chauth?
Karva chauth is celebrated mostly in north India on the 4th day of Krishna paksh of kartik month. The term 'Chauth' means 4th day and Karwa is a earthen pot with a spout –which is a symbol of peace and prosperity. On this day women fast for their husband's longevity.
I have no shame in conforming to this norm. This is that one day where I do give in, and pray for my partner, who I want by my side through all walks in life.
LIKE IT? PIN IT!!
So in today's blog you will see this side of me, take you through the process of Karva chauth rituals, of course with my touch to it :). If you're a new bride, this is your quick guide to know all of Karva chauth;
Start a day in advance, by putting mehendi/Heena on your hands.
On the main day, wake up Before sunrise, eat food/ popularly known as 'Sargi' or 'Baya'. As per rituals they are not supposed to eat once the sun rises. Some people observe a stricter fast by not even having water( yours truly loses all her modern logic on that day and is amongst those crazy lots ;))
Before sunset, listen to the Karwa Chauth Katha (Legend of Veeravathi ). Some pass their plates in a circle while listening to the story, some just pray to Mata Ambika.These plates are decorated with Solah Shringar(make-up items), an urn full of water or karwa, heena. I am attatching the below chart with the katha, which can be printed and pasted to be use for the katha. To get the exact process of how to do the katha, click on this link .
Cook..cook..cook all day. Some 56 kinds of food if you're that dedicated. Thankfully, here I draw a line and cook some 3-4 dishes. Some sanity still prevails. Imagine being around food all day and yet not eat it.
Then wait for the elusive moon to rise. Somehow I have observed that the moon takes forever to rise on that night. And if you stay in a city like Mumbai, the high rises make the 'moon-darshan' even more exclusive.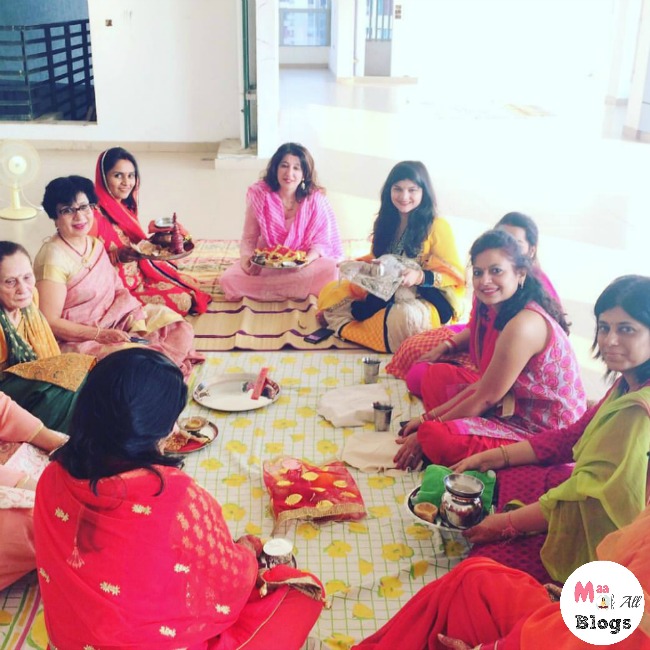 After the moonrise, pray to the moon and end your fast by your hubby feeding you the first bite. You make him feel special and feel accomplished after finishing your day without giving up on your resolution. After which, you typically end up hogging all that food that you have cooked. Gain more calories than a normal day, as Rujuta Diwekar would put it. But who cares?
So this was my 'Karva chauth' simplified story, what's yours? If you have any funny incidents, cheat moments, do share with us. We would love to know.
Until then,
Signing Off,