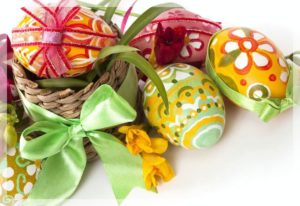 Easter weekend is here. For many years, Easter's only symbolism for me has been, a three day holiday. I have been a bit clueless, even though I have studied in a convent school, about the significance of the festival. I guess, in our country, even though we live in a secular country, we don't take out time to understand the customs of the other religions. So this time I decided to do some research. Not only did I google and use wikipedia to dig out the history, but I also talked to a few Christians around me to understand, how they celebrate the festival.
So what is the significance of Easter and Good Friday?
Christians believe, according to Scripture, that Jesus came back to life, or was raised from the dead, three days after his death on the cross. As part of the Easter season, the death of Jesus Christ by crucifixion is commemorated on Good Friday, always the Friday just before Easter. Good Friday is a day of reflection and not of celebration. A common misconception!
Easter marks the end of Lent, a 40-day period of fasting, repentance, moderation and spiritual discipline in preparation for Easter.
Catholics attend the Easter vigil mass conducted in churches all around the world which is the most ancient custom.
The Celebration
Easter Sunday then sees itself hosting a very elaborate Easter brunch with traditional Easter recipes showing off themselves at the brunch table finding their origin from the 'granny inked diaries' showcasing a real virtual treat!! 
 How do families celebrate Easter in India and some Easter Specials :
Pushpanjali Oliver Lund. She is a legal professional, specializing in corporate legal space and has worked in the banking and financial sector for over 12 years.
My childhood memories of Easter, are attached to playing these games ;
'Egg hunt' is a game during which decorated eggs, real hard-boiled ones or artificial ones filled with, or made of chocolate candies, of various sizes, are hidden for children to find, both indoors and outdoors. When the hunt is over, prizes may be given for the largest number of eggs collected, or for the largest or the smallest egg.
Also 'Egg rolling' is a traditional Easter egg game played with eggs at Easter. This tradition continues to this day each Easter on the White House Lawn!
Nancy Shenoy is a Catholic, married to a surgeon and has a 26-year-old son. She loves cooking and working out in the gym. She talks of the relevance of Easter to her and shares with us her mom's special Stuffed Chicken Recipe.
I am married to a Hindu. I just follow whatever we did when we were kids i.e. abstain from non-vegetarian food and alcohol. Now that I've grown older I see to it that I don't make vows that I may break. I keep my conscience clean, pray every day. I cook for my family and stuffed chicken is my Easter specialty. 
For her special  Stuffed Chicken Recipe (Easter Special), Click here.
Easter Egg:
In Christianity, for the celebration of Eastertide, Easter eggs symbolize the empty tomb of Jesus, an egg appears to be like a tomb, a bird hatches from it with life.
The practice of decorating eggshells is an ancient, predating Christian tradition. Although the tradition is to use dyed or painted chicken eggs, a modern custom is to substitute chocolate eggs, or plastic eggs filled with candy and maybe put in a basket filled with real or artificial straw to resemble a bird's nest. The very new entrant to the list is the Easter Bunny!! 
Christina is a stay at home mom, chocoholic, who loves everything about food. She likes to describe herself as someone who loves to cook, bake, eat, read and listen to music, and in between drive her 5-year-old nuts!
Christina Shares with us her easy to do Easter egg's Recipe:
Ingredients:
Method:
Grind the almonds with a little rose water. Add the sugar. Add beaten egg whites. Mix well. Cook the mix for 10 to 15 minutes. Remove from heat. Knead a little and form eggs. Now you can colour and decorate them as you like. Wasn't this simple? I am definitely going to try them now.
I hope you liked reading this post and like me have learned a lot about Easter.