It's Lakme Fashion Week in Mumbai and this is how my day started. The atmosphere there always rubs on me and gets me to dress stylish too. So this was my #OOTD for the day 2 of #LFW. White understated sequin dress, brown leather boots, a backpack with all my essentials and a statement neckpiece to complete the chic but classy look.
While all our focus is watching the shows happening at the Lakme fashion Week and getting inspired from them, but the fashion that happens off the ramp is sometimes drool worthy. So Day 2 I decided to have fun with people around and understand their fashion sensibilities and their element which defines them.
I met this beautiful designer Pallavi Singhvee of Verb Label who is btw showcasing on 2nd April. On being questioned which element of nature does she connect herself with and true to her looks and talk she chose Earth. Being earthy and solid is what I would decipher just like the Earth #LYFSmartphones that I have been using to cover all this for you.
Nikita Kala caught my eye and I was impressed with her personal style. A fashion stylist herself we just loved the way she carried herself and how she put this funky…fiery look together. For Nikita, her identity is all about standing out and like the fire and the flame feature of LYF smartphones she is a class apart. In her moments of doubt she tells herself that she is capable and her doubt just dissappears. This is her #DoubtisOut strategy.
We also met the pretty Nushrat Bharucha, who loved pretty in a cotton printed mini dress. She held the most pretty smile and confidence just oozed out of this pretty lady when she mentioned that how in her moment of doubt she found her inspiration. At just about 5 ft 2″, she used to feel inadequate for movies that's when director assured her that he will make sure that as long as she can deliver, her height will never come in her success.
These beautiful ladies and their behind the scene fashion sense just had us captivated. But how could we not let you in with some news from #LFWDay2, so now let's first feast our eyes on my favourite label the Quirkbox !! A small showcase on other brands as well.
"This is not a fashion show. This is an art gallery. These are not clothes. These are canvases of art. When you wear this piece of clothing, you are not wearing fashion, but art – by putting this on, you become a walking, moving, gallery of imagination. This is not fashion. This is art!! Be art!"
With lines like these , Quirk Box had me impressed even before the store started. The entire collection was inspired from the look, color and feel of Vintage Upholstery. The clothes screamed class with an offbeat attitude. Colors that dominated the collection were off-white, ecru, indigo, crimson, black with delicate cross stitch embroidery. Fabrics that breathe, cottons, linens, and cotton silks, Silhouettes designed for summer travel, breezy, fluid. Comfort is a priority.
Art is the new Black!! And we couldn't agree more.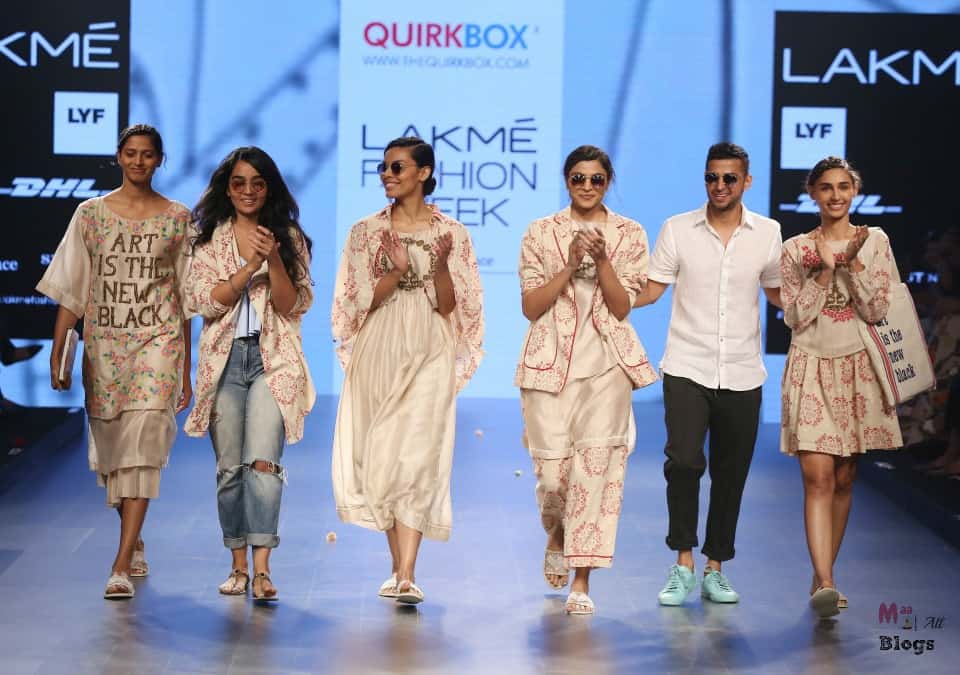 Other collections which were worth your admiration were 'A Petticoat' by Archana Rao for her Frou-Frou label and 'Sangemar-mar' by Sahil Kochchar. The first one being playful and flirty and the other was all about ancient art.
Top trend of this season was the highlight of the show as the key to it was in inner wear. In its way it was an ingenious idea of bringing inner wear, to the forefront of the woman's wardrobe.
All this was covered by my #LYFSmartphones, so now a little about the phone. The phone comes with a 5.50-inch touchscreen display and 3GB of RAM. The phone packs 32GB of internal storage that can be expanded up to 32GB via a microSD card. The Lyf Earth 1 packs a 13-megapixel primary camera on the rear and a 5-megapixel front shooter for selfies. And trust me on this, as you can check all my selfies from the phone.
About Lakmé Fashion Week:
Lakmé Fashion Week (LFW) is jointly organized by Lakmé, the No.1 cosmetics and beauty services brand in India and IMG Reliance, the global leader in sports and entertainment event marketing and management. LFW has been conceived and created with a vision to "Redefine the future of fashion and Integrate India into the global fashion world." LFW is organized twice every year. Lakmé Fashion Week Summer/Resort 2016 will be held from March 30 – April 3, 2016 at St.Regis, Mumbai. For further information log on to http://www.Lakméfashionweek.co.in