It's a cliche' but nevertheless so true, desserts is most definitely stressed spelled backwards. I like to call myself a food explorer and it's my love for food that keeps the quest on no matter where I am. At an upmarket restaurant, at a flea market or even while browsing the internet. I see a trend, I spot it. Listing some desserts with a twist, that caught my fancy, at the end of the post they will have you salivating, I promise :).
With a tagline like 'We believe thoughtfulness can be tasted', A Reverie had to be what it promised, a beautifuly lit, cosy restaurant in Calangute serving the most exotic looking dishes. My most favourite dessert here was 'the egg plate'. Yes sir, the egg plate! And it's a dessert!!
It involved a creative four-play on coconut and mango… disguised as an eggy morning breakfast with a sunny side up (coconut fondue and mango puree); the cracked (lemongrass jelly and mango sorbet); the boiled (coconut gelato, sprinkled with sweetened coconut crisps) and even the coddled (a tender coconut pannacotta with passionfruit and mango coulis)! The salt and pepper shakers contained sugar and cinnamon in disguise. I can't get over this creativity.
Rice & Pumpkin Pudding
This recipe by Chef Vijay of Barbeque Nation is a way healthier version for all you health conscious people out there. It's unconventional, who would have thought rice and pumpkin can make such a mouth watering dessert? We have even replaced the sugar with a healthier honey option. You can even use brown rice if you want to go further down the healthier road. You can get the complete recipe here.
The Fortress Stilt Fisherman Indulgence: This is one of the most expensive desserts in the world. I chanced upon it while surfing for something unique and is on my bucket list now. Created in 2007, this is available on special request at The Fortress, a Sri Lankan luxury hotel. It consists of an Italian Cassata with gold leaf and Irish cream, mango and pomegranate compote, and a champagne based sabayon enlighten. Also on the plate is a miniature chocolate fisherman sculpture hanging onto a stilt. Underneath him is an 80 carat aquamarine. At $14,500, this dessert pays special tribute to the Sri Lankan pastime of stilt fishing. And if you order this dish, the jewel is your reward.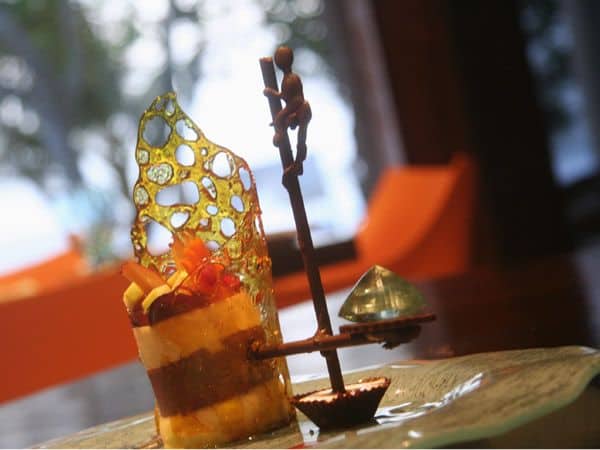 Fruit Popsicles
Another dessert which was highly popular amongst adults and kids last year was the fruit popsicles. We found this at the lil Flea market last year and absolutely loved it. These Homemade Popsicles are as appealing to the eye as they are to the taste buds and healthy too. You can grab them without feeling guilty. Whoever knew that you can combine the goodness of fruit and popsicle fun. Now no parents will ever say no to kids and they are so easy to do at home.
Cinco de Mayo piñata cookies
This is so cool and we loved it for it's beautiful concept and appeal to kids. These multi-striped, burro piñata sugar cookies come complete with hollow centers that you can fill with a secret stash of your favorite candies. Break open or bite into these festive treats and be greeted with a sugary surprise.
A sense of fun pervaded while putting across this assortment. I hope you enjoyed it as much as me.
If you have some interesting recipes/foodventures to share then head to this link and stand a chance to feature in a video with the celebs. Meanwhile have a look at this interesting twisted recipe that Vir Sanghvi brings to you :).
Take your pleasure seriously but have fun while doing it.
Bye, bye sweeties !!