A quaint Portuguese town is famous for an ancient legend of the Barcelos rooster. Legend goes a pilgrim seeking food and water in Barcelos, was accused of stealing from a landowner. The pilgrim was sentenced to death and in a last minute appeal to the judge, he said,
"If I am innocent, then that rooster will get up and crow!"
Suddenly, a gorgeous scarlet-plumed cockerel rose from the plate, crowing loudly. He was spared that day and today the town's shops and streets are decorated with colourful ceramic roosters.
The newly opened Barcelos restaurant in Gurgaon (sector 29) derives it's name from there.
When I visited it last week, it was buzzing with energy and the very lively interiors caught my attention almost instantly!
My night was filled with wonders of cuisines, ranging from Mediterranean mezze platters with wonderful dips, Afro-Portuguese infusions in veg and chicken served with rice and brilliant molecular drinks to accompany the same!!
Do you know they have a menu with 21 flavours of Sangrias? It was quite impressive. I had their Sangria in red wine with five elements!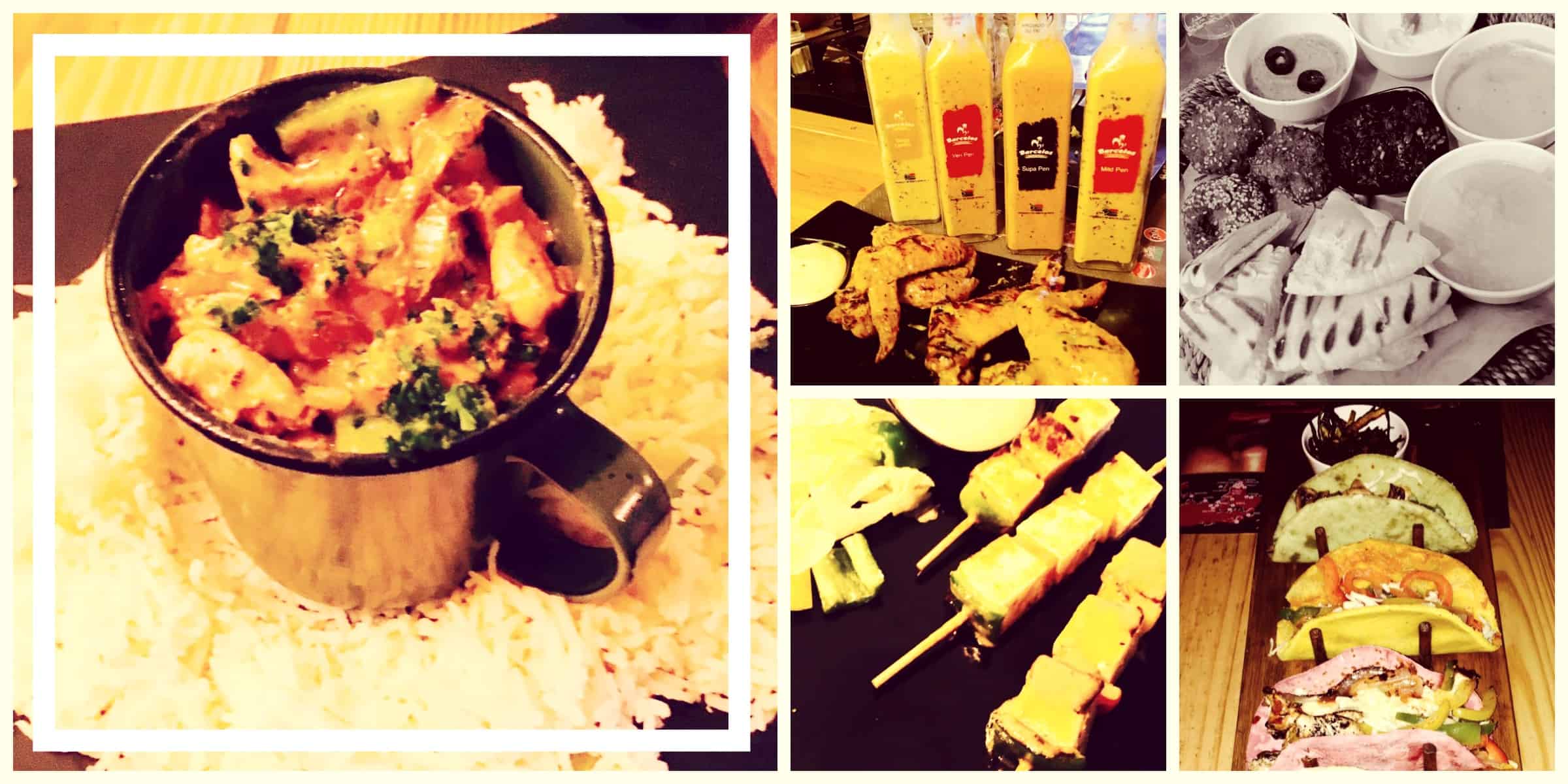 Known for their healthy colourful burgers in the past, they introduced healthy colourful wraps with minced mutton, chicken and assorted grilled vegetables tossed in oil free peri peri sauces, infused with herbs and spices!
The grilled mushrooms I had were, full of flavour and graciously marinated.
An ardent chillies lover has an option of levels of peri peri sauces to incise their taste buds!
Barcelo's Signature grilled chicken dish, Peri Peri Chicken Drumsticks can be enhanced with sauces like tangy lemon,very Peri, mild peri and hot peri!! The grilled chicken was soft, succulent with the glaze of their secret sauce.
Next was Veg Trichando served with rice, an African meets Portuguese dish made with mix peppers, tomatoes, onions and their spiced secret sauce again. An amalgamation of spice and flavour, it had an option of chicken as well, all in all a well-balanced dish.
The last course was a cheesecake, which I honestly didn't try because I was so full! Though I am glad I left something for the next time :)!
Floored by their oil-free cooking and tasteful cuisines I'm sure it's a must visit for me again!
About Barcelos;
While the re-telling of the legend varies, offering different versions, Barcelos Flame Grilled Chicken has written a singularly modern story of its own. As with any journey that starts out with one small step, Barcelos opened its first store in Pretoria, South Africa in 1993. Using recipes mastered by the Portuguese hundreds of years ago, our flame-grilled flavours became so popular that we franchised the business in 1998. Since then they have opened outlets in 16 countries including SA, Lesotho, Botswana, Zambia, Namibia, Mozambique, Ghana, Nigeria, Sudan, Canada, UK, Dubai, Oman, Mauritius, Singapore, and now in India
This restaurant was reviewed by Neha Vij Sharma, who is a contributor to the blog and a part of #TheMaaTeam. She wears many hats, a fashion designer, baker, photographer, mother to two beautiful kids.