It was a regular weekend and as usual the three men in my life(my kids and my hubby) refused to abide to any of the house rules.Which meant ,no bath,no homework ,no helping with household chores,the television set had been switched on to watch the morning movie shows,the clothes,toys  and magazines were littered around the house.Is it just me or does every household go through this tremendous amount of woman of the house needs this sudden urge to blast.And what a blast it was!Atleast,it got the men in action.Happens to use every now and then,so I have even stopped feeling guilty at being so boisterous with my emotions.
I thought,I had it sorted now,and then I saw this pasted on the kid's room door!I have gone through this phase when i was a child and I know that time I just wished my parents would leave me alone.I wanted them to respect my privacy.As a teen my head was full of these puerile notions and obdurate views.But that was in my teens!He is just turning nine!Now my head was swirling.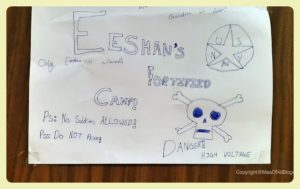 Have you had a similar experience?I am not and don't claim to be a 'perfect' or a 'hands-on' mom.Just because I write a blog on parenting,it does not make me an expert on it.Most of it is through personal experience.I would love it if you moms and dads can come back and share your experiences on this and how you handled it.

The sign did come off after two days when he was in a better mood.We did not push him,as we did not want him to rebel further.I know this from my own experience .Infact,we ignored the sign totally.
While ruminating on this,I decided to ask moms around me.This is what some had to say.
Nishi,a work-at-home mom and mother to a fifteen year old boy,
"No theory work when your time comes , so don't think at all over it just go with the flow n learn to neglect which really irritates you. If u start pointing out or raise ur brow u wl see it will keep on repeating n never ending. But yes by the time they come in late teens everything settles. I remember my days I was quite tough to my mom!"



Bhavna Maneesh,a-stay-at-home-mom and mother to a seventeen and a twelve year old girl:
"Raising adolescent to become a caring, independent & responsible adult is quiet a task. Being a possessive mother of two beautiful n adorable teenage daughters.Sometimes I too feel … Am I getting too high on my emotions or trying to make them do thing the way I want them to do ? Before expecting too much Frm these poor soul…who at this age are over sensitive , moody n have a highly influential mind needs our support n proper guidance. We should try to become the support system of our child. Give them space n avoid giving them personal comments. Praise them n show that we value their opinion. Lecturing, nagging n sarcasm will always have an adverse effect on their personality n will lead to you and your child frustration and the distance between you two. Show your love n try to be flexible to them. They truly need us as a support system. Set an example n you will see they will definitely follow you."

Sonika Gupta,teaches French and is a mother of a boy:
"I guess its got lots to do with the kind of exposure to information that we as adults have given our kids..on one hand its good to be well informed.. But screening information is becoming need of the hour..I personally hold growing peer pressure, un satiating desire of being better then the rest and unsupervised web ..somewhere responsible for this early maturity of our kids."


Kala Anand,working professional with a 18 year old daughter,adds a new perspective to this debate,
"We have a tendency to stereotype behaviours- by gender, race, nationality, religion, class just about anything. However each individual's behaviour is a result of their knowledge, experiences and learnings. So its not like he is 'behaving like a teen' because in the seamless communication age the divides are invisible across ages. We don't behave like our mom's, do we? And you're being super mom with your kids giving them space to think and experience. So I'd say buy yourselves a pirate eye patch and create this real funky poster together which he can display on his door everytime he feels like a 'DND"- like a secret code between you two so you tell the family to keep away. I am not a believer in the 'speak everyting to your parents ideology', because in reality we will never be able to think like our kids because we will tend to spoil the party with our over-protective advise. Yes,they need to know there is an option to talk to us, however they need their space and peers to come to terms with their feelings. We'll never fill that space. There's 3 simple things I keep emphasising for keerthana at this time – 1)academic excellence doesn't define you. 2)qualifications dont indicate capability. 3)competition is a myth. And notes to myself that read 'protecting her from making errors doesn't mean caring for her'. -Enjoy and remember each parenting style is different. Have fun creating your own:)"

As John Wilmot(2nd Earl of Rochester, was an English poet and courtier of King Charles II's Restoration in the 17th century) says;

"Before I got married I had six theories about bringing up children; now I have six children, and no theories"