Come summers the heat just invites you to take a dip in the pool. This year has been exceptionally hot and I just decided to use the opportunity to learn swimming which has been on my agenda for years now and swimming is after all a great, low impact, full body exercise. I am one of those people who create a bucket list every year with swimming as things to tick off but it keeps passing on to next year :).
And of the biggest reasons has been the damage it does to skin and hair and I tend to get tanned really badly. So this year, I tried a few things which helped me maintain my skin.
I use a full body swimsuit. Yes, it doesn't look fancy and a lot of people have told me it doesn't help but when you swim almost 3-4 times a week, you need to do this. If you see my exposed hands, feet and face they have become drier and darker than the rest of the body, so clearly a full body swimsuit is good for people who swim that much.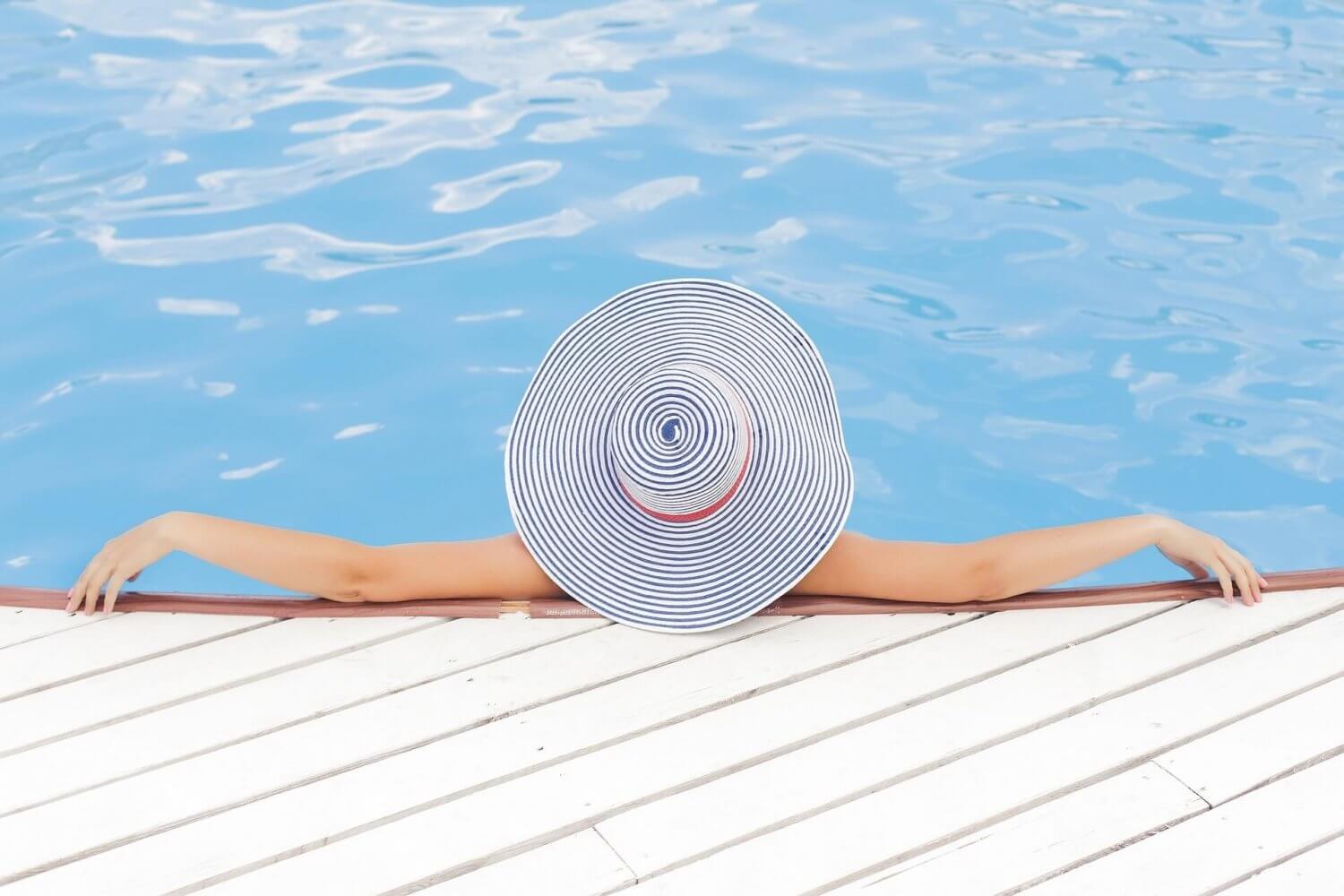 Apart from this, before the swim, I apply a sunblock or sunscreen and over that a product that I have found which is for pre swimming skin and hair care is awesome and the only one I found online in India. It's a brand called Dot & Key, they have pre and post skin and hair care products(please note this is in no way sponsored). I just found by chance and also remember some bloggers like @Ritchstyles reviewing it a few years back. For my hair I apply oil and then the Dot & Key pre swim hair care and wear a swimming cap to protect it further. Make sure you take a shower before entering the pool. It forms a skin barrier.
Also, remember to hydrate yourself as swimming every day does tend to dehydrate you. Have a glass of water before you leave home and one after you reach back.
Post swim, I immediately go for a shower with a creamy shower gel. I have tried using shampoo and conditioner for my hair(worked well) or using the post swim Dot & Key product(not worked so well). Post bath, I use either a pack made of raw potato juice and lemon or mix a grated tomato, lemon and turmeric to make another pack for my skin. Both are good tan removing options.
I also keep my skin moisturised well because skin tends to dry up. You can use any thick moisturiser or make your own DIY thick body cream like me, which works really well.
A home-made pack of honey, avocado or mayonnaise and egg yolk is very effective to give your strands that very necessary moisture. Mix together these ingredients and massage into your scalp. Wrap your head in a warm towel and leave it for about 10-15 minutes. Rinse out well with lukewarm water and shampoo as normal.
Once a month a cleanup/facial helps in restoring that glow as well. Even a detan or bleach one a month can help to remove tan but these definitely dry and harm the skin. So don't overdo it.
Since I swim 3 days a week, I try and work on my skin for the next 3 days and I know it might sound exhaustive but it's not once you get used to it. You need to take special care because after all skin does need special care when you are swimming every day. Any other hair tips? Do share, I can use some more research when it comes to hair post swimming.
Do consume your Vitamin E for keeping good skin health.
You can also refer to a very exhaustively researched blog on post swimming skin care which I had shared a few years back backed by a skin specialist. Listing below more tips on swim care.
How to care for your hair post swimming
How to make dechlorinating lotion at home
Expert advice from a dermatologist.
Have any more tips to share? Comment below, will add to the blog and give you credit :).
Until then signing off, happy swimming :)!!