You are never too old to learn!
That's my philosophy in life!!
I am a Fashion Designer by profession, a photographer by choice and an Ardent baker by Heart!!
So when I was offered an opportunity to learn from the top pastry chefs in India, I grabbed it almost as a reflex action !!
Recently opened Academy of Pastry Arts is situated in Gurgaon!!
Chef Mukesh Rawat was our mentor for the day, he has been trained in Malaysia as a pastry chef and he was very professional and kind in his approach to teaching us the tricks of the trade!
We learned from the basics science of baking, common mistakes we usually make, using new tools and techniques for better preparation of cakes and pastries etc.
We learned about various Bread baking techniques and technicalities of kneading the dough the right way.
Chocolates and lemon tarts were the highlights of the session!!
I was mesmerised by the equipment and in awe of Chef Rawat's skills and demonstration of new ideas, for better presentation of desserts were commendable!
In the end, we also had the opportunity to relish the taste of the different desserts we were taught!!
Here are a few recipes and pictures to summarise my experience!!
Chocolate Mousse
Ingredients
Cream-300 gm
Egg White-1
Chocolate shavings for garnish
Caster Sugar -50 gm
Dark chocolate 67%-100 gm
Tools: Hand held electric mixer
Bowl inside another bowl filled with ice water
Method:
Pour the cream into a saucepan and put it on heat let it come to a boil, next add the chopped chocolate pieces to the cream and it rest for a while.
After 10-15 mins mix it well this will help melt the chocolate and make a very silky texture ganache.
The melted ganache can be whisked further placed in the ice bowl with the electric mixer to make it more fluffy.
In another bowl mix egg white and sugar till its soft and fluffy and makes soft peaks, this makes it into a meringue.
Add this meringue to the chocolate ganache and mix well with the electric mixer.
Leave it to set in the fridge for 2-3 hrs, decorate with chocolate shavings!!
This process is very rewarding once you taste the chocolate mousse.
Another recipe that was demonstrated was the Multigrain bread!!
Here is the video of the same showing how to make the grains stick to the bread while kneading it into the shape that we want!
Hope you've learned something new today!
I loved learning and sharing this experience with you!
Until next time!
A small video where Chef Rawat rolls out the multigrain bread!
For more recipes check out the recipe section on our food page.
Hope you mommies learn something too!!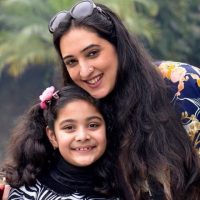 This recipe is contributed by Neha Vij Sharma, who is a mommy to two beautiful girls and now an active part of the Maa Team! She is a compulsive foodie and loves to experiment with food. Stay tuned to more and more interesting recipes from her.