Today, due to technology, taking over the world, it is common to find kids struck to mobiles, tablets, and laptops for playing games. Sometimes, they are swept into the kind of lifestyles which are not healthy. Encouraging kids to play outside would not have even been a topic of discussion a couple of years back. After all, we grew up loving the outdoors! Today, however, the scenario is quite the opposite and I am a victim of this too.
A few years ago when I had heard a friend taking fitness class for kids, I had laughed at the whole idea. Why do kids even need a fitness class? In my opinion, I thought it would be a failed idea as for my childhood was the time when kids would not want to do anything but play. I was still living in a past where I used to beg my mom to let me play a little more than the stipulated time. Alas, my kids proved me wrong. Isn't that the irony always?
My elder one was always sporty and won the Gold medal in school races. He also was a social kid, so I had nothing to worry. However, as he grew into a preteen, he started replacing friends and playtime with books, laptop, and TV. So much so, that my frail child was slowly becoming overweight and when his paediatrician raised the alarm, I knew I couldn't just let it be.
---
Let's first understand why it's important for kids to play outdoors.
There are two fundamental reasons why outdoor play is critical for young children in our early childhood programs and schools. Many of the developmental tasks that children must achieve—exploring, risk-taking, fine and gross motor development and the absorption of vast amounts of basic knowledge—can be most effectively learned through outdoor play.
Playing is a form of fitness and it releases happy hormones, promotes bonding with friends and just eradicates issues like depression, loneliness etc that kids face nowadays.
---
How can you make this happen?
---
#1 Take their toys outside
Start them young. Habits that are formed in the former years have a higher chance of staying forever. You can take their indoor games or toys to an open space like a terrace or patio or your veranda. It might not help in making them active right away but at least they will get to inhale some fresh air and appreciate their surroundings. Taking them outdoors is the first baby step towards making them more outdoorsy.
Try making your backyard(if you have one) more kid-friendly by installing a swing or keeping an inflatable swimming pool, maybe. Having a small kitchen garden in your backyard is also a good way to encourage your kids to spend at least some fraction of their time outdoors each day. Get them a junior gardening equipment, a bug box, a magnifying glass etc.
---
#2 Spend time outdoors as a family
Even if it is just for weekends, it is important to take your kids outdoors. Take them out for a stroll around the park, a swimming session or jogging with you. Seeing you actively involved in outdoor activities would encourage them to do the same. Also, things get more enjoyable to kids when parents are around. My kids love camping so, I try to take them for weekend camps at least 1-2 times a year.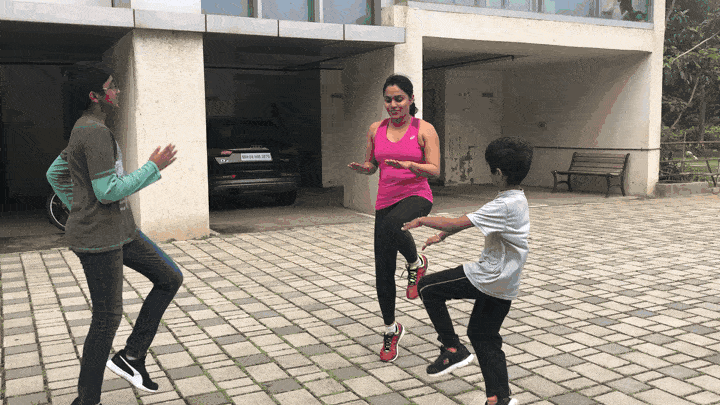 ---
#3 Do not buy them any more gadgets
It is a fact that children will play with whatever equipment they have. So, instead of buying them gaming consoles, video games or letting them download games on your mobile, buy them sports equipment. If your kid is not into some particular form of sports, general stuff like a nice ball or even a Frisbee would be nice. Take them to park with you on evenings. Even stay-at-home moms can take the initiative and play with your kid.
http://maaofallblogs.com/2015/06/the-decline-of-traditional-toys-and-outdoor-play.html/
Parks are flooded with kids on weekends, your child would slowly learn to interact and actively participate in fun and games with other kids. Taking kids out for swings is a good way to encourage kids to play outside with other kids.
---
#4 Invite kids over
Mostly, it is single kids who are more introvert and love staying indoors. Inviting other kids over to play at your home might just be the encouragement your kids to play outside. You can set up an inflatable swimming pool in your backyard and let the kiddos have some fun, They can also play fun games like basketball etc. in the backyard.
---
#5 Introduce variety to your kids
Eventually, you can expose your kids to a variety of outdoor areas where it is possible to play. Take them out to a beach, a sports complex or whatever is convenient for you. Sports complexes usually have a minimal fee and you can get your kid to see so many games. Ask them which game are they more inclined towards and then you can even enroll them for the same!
---
So, these were some initiatives required on your part to encourage your little ones to step outside, enjoy nature and play! Do I apply all of these? No, only a few work for my kids and a few will work for yours. So keep experimenting and trying, it's definitely worth the effort.
If you like it, then pin it.
---