They say 'saree' is the oldest surviving unstitched garment and dates back to as early as the Indus Valley Civilisation. A few weeks back, I was fortunate to attend an event where a small idea took a unanimous form, rather started a movement of reviving the fading trend, elegant and graceful….'Saree'!
My mother-in-law has different cupboards for different kind of sarees!! Chanderis, Maheshwaris, lukhnowis (Cottons) are segregated from Tanchois, Banarasis, Kanjiwarams, Pattinis (Silks). All treated with love and care and gracefully worn with passion on every festive occasion!!
Meanwhile, the comfort factor has taken over our generation! Wearing an anarkali or suit is a no-brainer!
At least, I opt for a suit over a saree any day! Blouse hassles, size issues and the ordeal of draping a saree is a far-fetched idea, for any occasion for me personally!
But, attending this event by Sapna Khandelwal and Vandana Gupta, co-founder Devditi and adorning a saree (which was compulsory ) made me realise that a Saree can make you look and feel like a Goddess!! The drape, the elegance, the grace that it imbibes, is uncomprehended!
Guests of honour, Sushma Seth, famous actor and director, Shobhana Narayan, renowned Kathak dance guru and Salma Sultan, graceful Doordarshan newsreader, all embodiment of this beautiful Indian drape were present on the occasion and came together in support of the 'Dying Saree'!
Sushma Seth remarked,
"Our saree is celebrated as the most graceful garment worldwide, but ignored in our Indian metros, while western clothes are given preference. It is time we take a step to change that and make it relevant for our younger generations"
Shobhana Narayan mentioned how an Indian woman looks her elegant best in a saree, which also celebrates the history of the art, the weaver / artisan and the region where the saree originates from.
Salma Sultan, who herself has started her own collection of sarees said,
"Saree Saga is all about womanhood, self-esteem, love for our country, our culture and its value system. A woman needs to love herself and her Saree."
Delhi's swish set of about 200 ladies were seen in various weaves of the country from South's Kanjeevarams, to Bihar's Tussar, Orissa's Ikats to Gujarat'sPatan Patola to sheer Maheshwaris, and Benarasi jaals to Bengal's Baluchari and Kantha.
The event included Bollywood dances, quiz, games and ramp walk by the city's women. Dance performances by women wearing Maharashtrian, South-Indian, Punjabi, Gujarati & Bengali drapes showcased how Bollywood and the Saree unite India.
The fashion show had a 'Go green' theme, taking up serious issues of climatic change and environment preservation, with women dressed in their splendid green weaves to draw attention to environment-friendly living.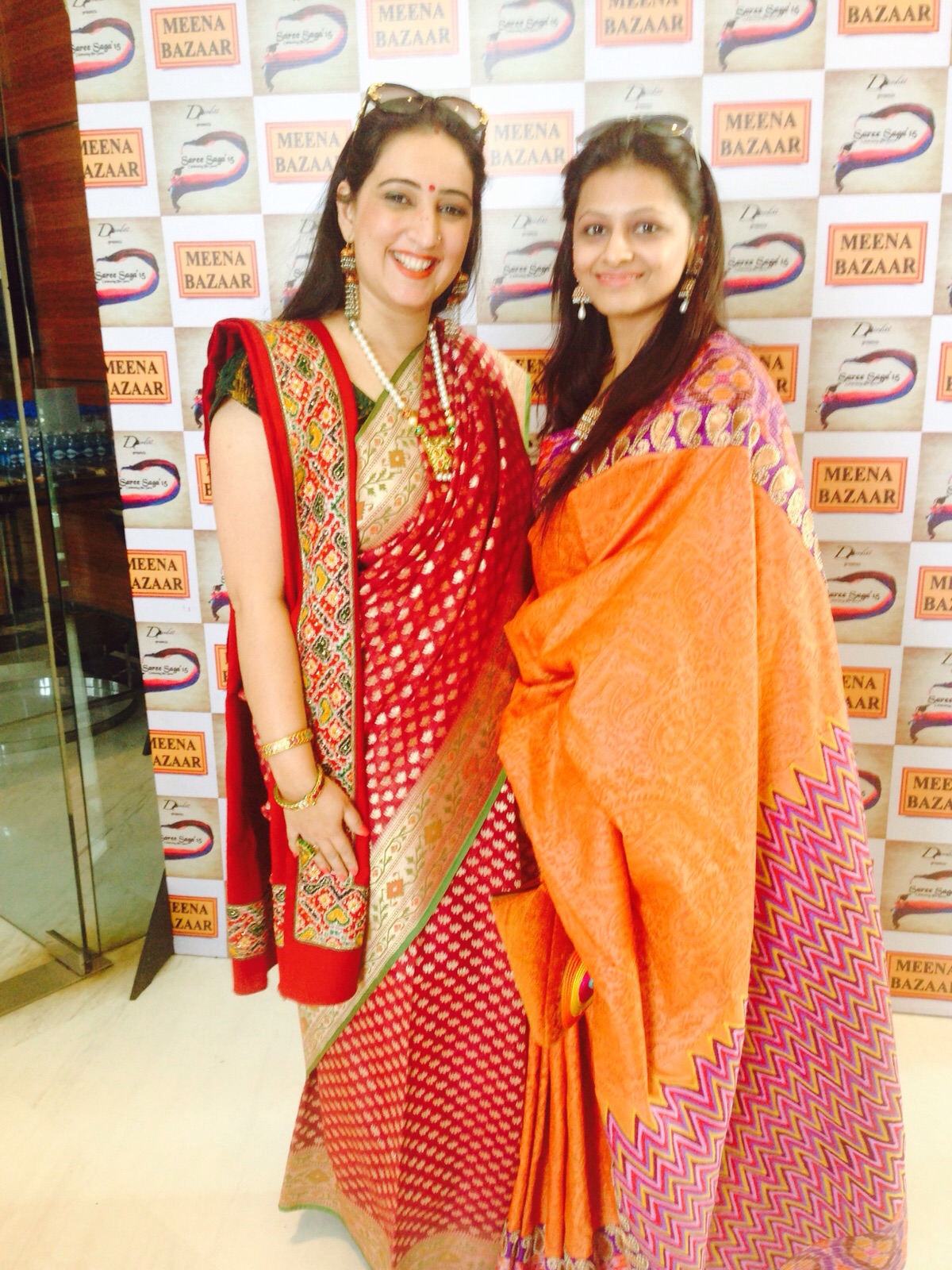 The unique event put many enthusiastic ladies on the ramp for the very first time, including many elegant septuagenarians. Organised by Devditi, an organization for the promotion of Indian culture, the saga saw heart-warming 'generation ramp walk', of various relationships from the same families like mother-in-law vs daughter-in-law, mom-daughter, grandma-daughter-in-law amongst others.
It was an afternoon well spent and I truly was a changed person after witnessing the enthusiasm and the passion for our ever-so-forgotten 'Saree'!
I promise myself to adorn it more often!!
This post is written by Neha Vij Sharma who is a contributor to the blog. She is a mommy to a beautiful boy and a girl. She is a foodie and loves to try new recipes.