Top 5 Places On My Travel Bucket List
In my last post, I had mentioned how I love travelling but have managed to cover only 10% of the world. Being an entrepreneur and mom it is just a few times a year I can get out and that also not on a whim. It has to be well planned in advance. Plus that also means I can't wait for travel blogging assignments to fall into my lap and have to plan and fund my own travel.
I am an explorer and want to see more and more of the world and have offbeat experiences which mean I want to travel to destinations which might cost a lot. The love for travel is not only limited to me but we love taking vacations as a family. I sit with the list of long weekends, school holidays and hubby's calendar at the beginning of the year and plan holidays and start booking and including it in our annual financial planning. That's the only way holidays will actually manifest into reality.
Here are the five places that are riding high on my travel bucket list;
Travel Bucket list 1: See The End Of The Earth At Antartica
It's a place on earth like no other. I have seen the pictures from my friend's travels and it's mesmerising. Before global warming takes over and I am unable to go, this is one place I have to head to. Just to slide down an ice mountain, watch the penguins, visit the deception island and admire the real icebergs.

Travel Bucket list 2: Feel the Sacred Vibes Of Machchu Picchu & Stay In A Cabin lodged On The Edge Of A Mountain In Peru
A thrill of adventure and views like no other. When I first heard of these cabin lodges hanging from a cliff my heart was taken. To reach the Skylodge adventure suites you have to hike up 400 meters or zip line through but that's what makes it even so elusive to adventure seekers.
Machchu Picchu in Peru offers a visit to the Sacred Valley, Inca Trail and colonial city of Cusco which are a must do every history buff.
Travel Bucket list 3: Visit Santa Claus And Stay In Igloos in Finland
Visiting the Santa Claus workshop in Rovaniemi, touching the far end of the Arctic circle and if that is not enough then imagine staying in glass igloos watching the Northern lights dance in the sky, riding reindeers and visiting icebergs. Need I say more?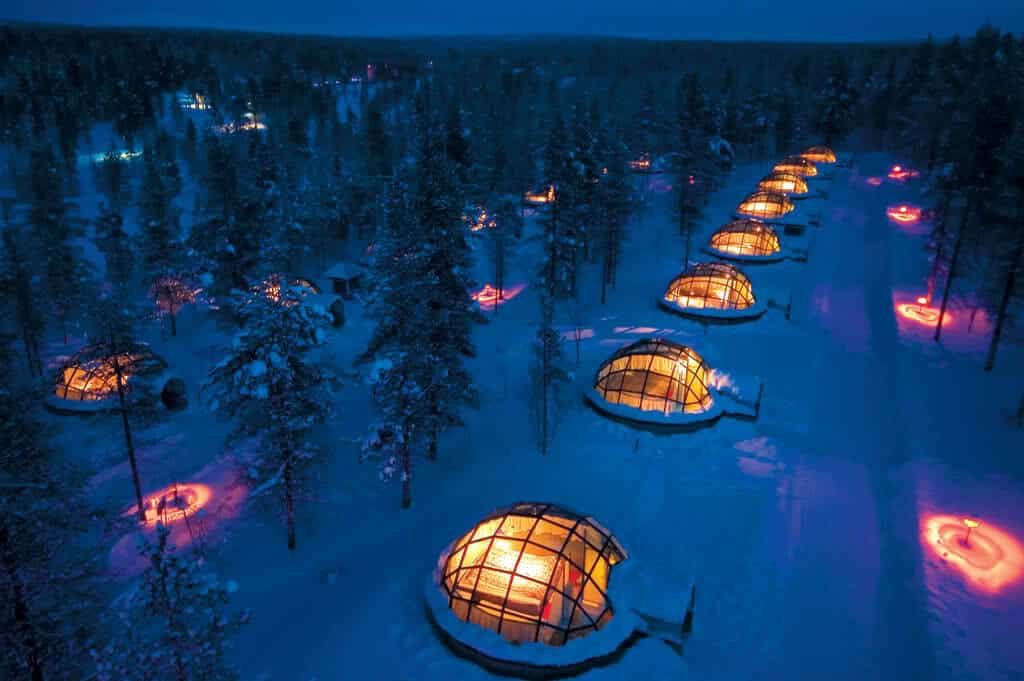 Travel Bucket list 4: Kilimanjaro Hiking and Tanzania National Park
I am a mountain lover and every year, once a year I like spending some time there. After exploring Iceland and the Himalayas my eye is on Mt. Kilimanjaro, the tallest free-standing mountain in the world. To travel all the way there and not do a wildlife safari at Tanzania national park would be a waste. It's on my list and I am very determined to do it.
Travel Bucket list 5: Go in search of history to Egypt
I know this country has been in a state of unrest for ages now but even as a child I have been enamoured by the pharoahs and sphinx and the tales of the mummies buried in the pyramids for centuries. The Nile cruise there is much recommended and holds a lure. I am waiting for the right moment to head there.
Antartica has to be booked a year in advance and is super expensive( approx 5500 dollars) and needs minimum 10-21 days, Climbing Kilimanjaro needs some serious training and every other destination that I have mentioned means I need to start making an investment plan to be able to fund my dreams. I know some people who have started a crowdfunding to fund their travel bucket list dreams but I know I want to do this on my own and while it will take time I have started my process. Finally, only if you dream, you will work towards it and only if you work towards it will manifest.
If like me you are thinking of investment plan too, then read below;
Aegon Life Insurance Company Limited launched its pan-India operations in July 2008 with a vision to be the most recommended new age life insurance Company. The fulfilment of this vision is based on having a complete product suite, superior technology, providing customized advice and enhancing the overall customer experience. This joint venture adopts a local approach with the power of global expertise to facilitate a direct to customer approach, leveraging digital platforms to bring transparent solutions to customers and to prioritize their needs. Aegon is one of the world's leading financial services organizations, providing life insurance, pensions and asset management and Bennett, Coleman & Company, India's leading media conglomerate, have come together to launch Aegon Life Insurance
Liked what you read here? Pin it for later.