TAKE THE CRYSTAL CABLE CAR TO LANTAU ISLANDS
We did not travel to Lantau Islands, as it is a full day trip and we feel short of time, but it is something which is highly recommended by fellow travellers. The Crystal Cable Car trip is a good 25 minutes to the top of the mountain is supposed to be great fun. You can see waterfalls and great scenery from the  the cable car . There are other ways to get there but cable car ride is highly recommended. On the island, visiting the Big Buddha is a must and you can also visit old fishing villages on Lantau Island. This statue is made full of bronze and is the largest outdoor seated Buddha in the world. One of the most popular fishing villages to visit is Tai O. This is a full day tour. Mom, Bindu Pillai, shares her experience;
The main attraction is the cable car ride with glassbottoms.
Kids liked the wishing tree there and  climbing up to the Buddha statue.
The movie about Buddha was also very informative.

VISIT MACAU
Yeah, I know what you're thinking. Macau is known for its gaming and gambling, why should you even take kids there? And if you do take them there what will they do? First of all you have to remember that kids are not allowed in gaming designated areas. So they won't just wander off. Secondly, each of these properties are the largest hotels, with all facilities built-in. They are like a mall with accommodation. So you have to hardly step out for anything. And if you do want to visit another hotel or property, there are shuttles that leave every 15 minutes, connecting almost every sought-after destination. They take the five-star to a different level altogether. We stayed at the Galaxy and the grandeur of the hotel was breathtaking.
House Of Dancing Waters
Take them to 'The House of Dancing Water'  show, because it's one of the most amazing shows I've ever seen. The show is unique to Macau and a whopping $250 million went into creating it. You have to pre book the tickets as it is mostly sold out and it's not cheap. But let me assure you, you will not regret it at all. The stage holds 3.7 million gallons of water and can transform from a pool deep enough for high diving to a completely dry floor  in a matter of seconds. There's acrobatics, motorcycle stunts, water jet displays and more. 
DreamWorks Experience 
Everyone loves a good DreamWorks movie and here you can meet your favourite characters or eat breakfast with them at the Cotal Strip Resort. Shrek, Madagascar, Kung Fu Panda and How To Train Your Dragon perform daily from 12pm – 3pm and 5pm – 7pm every 15 minutes. Admission is free and there are some great photo opportunities. Alternatively you can also purchase a Shrekfast and let the kids enjoy a fairy-tale feast.
Macau Towers
The tower is about 764 feet high. There are various activities that you can do around it. You can take a stroll around the outer perimeter that encircles the tower. The catch being that the walkway is just 1.8 meters wide, and you're actually outside the tower in the open without a handrail, so it's super adventurous. Ofcourse you are tied to harness while you take the stroll. You can also try more adventurous stuff like Skyjumping, Bungee jumping, tower climbing etc. There is not age limit and as long as you fit in the harness you can try it out. Teens will love it!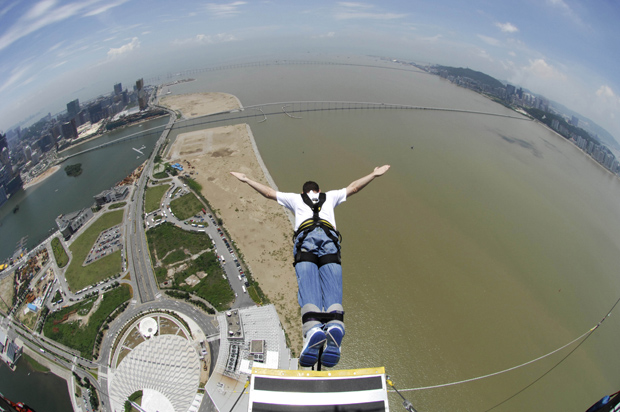 Hongkong is another destination that kids will absolutely love it! Ending with a small video to give you the feel of HongKong!