When you want to dress sporty and still can't fathom mixing your party denim or short skirts with your running shoes. When you are travelling and want to wear something comfortable as it involves a lot of walking but the only option you have is to team your running shoes with your attire. When you want the punk and still want to be stylish. That's when you really miss the right kind of shoes, something that will now be compensated with the launch of ASICS Tiger in India. That's me in my ASICS running shoes gallavanting around on my holiday. How I wish I had discovered ASICS Tiger then :).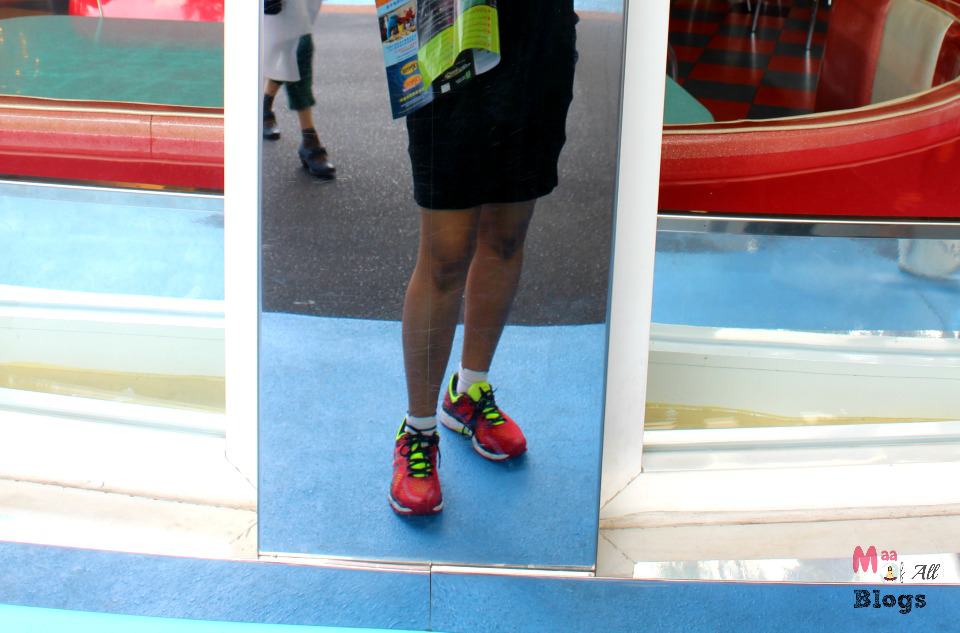 This is ASICS foray into lifestyle segment in India and these shoes will be exclusively be sold ASICS Tiger will be first launched in India on Jabong on April 30th. The brand will be offered in 55 shoe variants with prices ranging from Rs.5999 to Rs. 12499.
By sheer luck, I was visiting my parents in Delhi and ASICS invited me for their launch. I am still using their running shoes Keyano 22 which btw are just perfect for runners who have over pronation and love cushioning.
Did you know that ASICS stands for
'Anima Sana In Corpore Sano'? A
Latin phrase which translates as
'a healthy mind in a healthy body'.
The brand emphasises on energy and lifestyle and what it means to be "born of a wild era".
Rajat Khurana, Director for ASICS India said,
"Announcing ASICS Tiger in India is a mark of great accomplishment for our team, and we are excited to present a range of high quality footwear to the street fashion-savvy market in India. ASICS Tiger products have the perfect blend of ASICS heritage technology to provide maximum support and modern designs for the fashion and style conscious audience. It was a strategic decision to enter the market via e-commerce keeping in mind the evolving buying patterns of consumers, especially the fast paced fashion centric audience.
Hailing from Mumbai I wasn't sure if I would know anyone but I was pleasantly surprised to meet my friends Ruchika Batra from Namaste happiness, Manavi from Be for Beauty and Nidhi Arora from Chic life Byte. I just think they are such wonderful girls and so mature for their age. Guys please go and check their websites out.
I also finally met Anupriya Kapur aka 'Mom on the run', another mommy fitness blogger carrying the fitness bandwagon. So cool to find this rare breed. Will share more on her soon, stay tuned.
Coming back to the event, the shoes were absolute love on first sight, especially the black and white range.
This one is the GEL-KAYANO TRAINER EVO is based on the original GEL-KAYANO TRAINER, which btw is an awesome shoe as I have already mentioned.
There is GEL-LYTE III that is inspired by space-aged rockets and aircraft and GEL-LYTE V was the basic running shoe introduced in 1993. Whatever the model, the styling just catches your attention.
Cinderella is a classic example of how good shoes can change your life. It maybe a fairytale but really a good shoe can make you feel like cinderella….:)!!
About ASICS Tiger
The core of the ASICS Tiger brand is Japanese technology. Re-launched in 2015, the ASICS Tiger brand was born in Japan and is targeted toward the global street fashion-savvy market. ASICS Tiger is a sports lifestyle brand that delivers both confidence and strength backed by ASICS's heritage and technology, as well as the spirit to always push ahead.
The ASICS Tiger brand was popular among a wide range of users, including top athletes and devotees of various sports, from the 1980s to around 1990. The GEL-LYTE series of running shoes introduced in 1990 was especially highly regarded both in Japan and abroad, and was known for its performance and design. The series featured a thick sole of impact-absorbing materials.
While the new ASICS Tiger has been re-created with elements from American street fashion,the model remains true to its original form.
ASICS Tiger will also develop a new product lineup in addition to the re-launched models. The new line will be positioned as a third brand along with ASICS and Onitsuka Tiger, and is intended to carve out a new market.
To learn more about ASICS Tiger, please visit: www.asicstiger.com and follow @ASICSTigerHQ on Instagram and https://www.facebook.com/asicstigerofficial/ on Facebook.