It takes a strong woman to say I don't know everything!
This takes me back to the time when I had just had my first baby. If you are a mom, then trust me, your first experiences as a mom is not something you will forget easily. I had a normal delivery after 12 hours of labour and I thought I had done well. Until, almost rudely, I was woken up just an hour later to go feed my baby at the nursery, which was located at the other end of the hospital corridor. Due to a full hospital and normal delivery, I was not assigned a private room in one of the best hospitals in Mumbai, much to my horror. I remember duck walking somehow to the nursery, trying to figure out who my kid was. Yes, it's a bit difficult to miraculously recognise your child, in a such a short span. Then came the horror of breastfeeding, he just wouldn't latch. All I wanted to do was crash, but I was woken every hour for either feeding him across the corridor or with cries from other moms in labour, who were sharing my room. I pleaded my husband to take me home so that I could finally get some sleep. My body had taken a toll and no one seemed to care because I had a normal delivery.
What followed were sleepless nights, bags under my eyes and an irritable me. I remember finally being able to take a proper nap when he turned three months. Meanwhile, my husband took up a job in another city and I was home alone with my baby for three whole months. I was battling new mom issues, loneliness and trying to be a super mom. This was also very unlike me, because I had a proper corporate job before my little one came into my life and I had always been bit of a free bird. Then one day my baby fell ill, I tried everything under the sun but his condition kept deteriorating. We had to hospitalise him after a week, because I just couldn't manage. It took such a toll on me that soon, I had to be hospitalised too. This shook my husband and he flew in to be by our side. I guess this was my moment, when I realised I couldn't do it all. I needed a helping hand and a break. I told my husband this is it, I had reached my breaking point. He quit his job to be with us in Mumbai but how many of us even accept that we have a breaking point? How many of us agree that we are not supermoms? I think the word supermom is abused at times, when people want her to take on more than she can handle and some of us fall into that trap.
I had to share this beautiful video by All Out, which btw has already garnered around 47 million views, because it just gave me goosebumps. It took me back all those years, as I remembered the agony I went through. Recently, at an event by All Out, I witnessed Sonali Bendre sharing her scary moment when she figured out, she had cancer. She didn't know why it happened to her and what was she going to tell her son and countless other issues. This was her #MujheSabNahiPata moment and that's when she realised that she didn't have answers to everything in life and she started living life one day at a time. According to her, Dengue is one such health concern, which a lot of mothers are not aware of.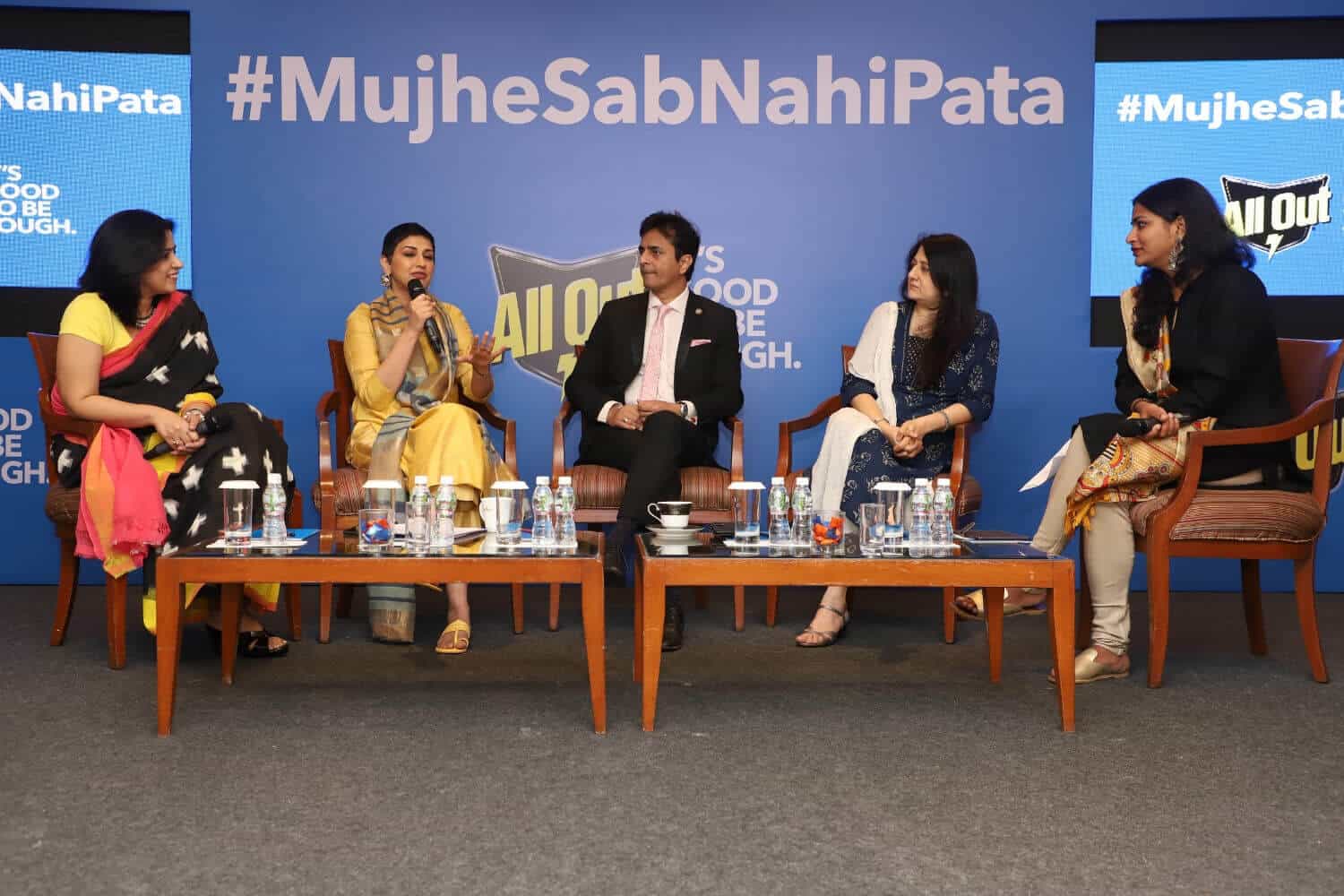 Only 19% mothers considered considered dengue to be a threat to their children's health.
While moms are more equipped to handle a viral fever, they don't understand the threat dengue can pose. Due to the unrealistic self-image of being a supermom or well-informed mom, they sometimes don't ask around for help.
She and the panel present hoped that through this dialogue that All Out has initiated, there is more awareness about the mosquito-borne disease, and also moms can break the barriers of social conditioning to seek help from people around them. After the discussion, all the mom's tied a knot in their attire, to remind themselves to share their #MujheSabNahiPata moment.
It's ok to be human, being super is not always the best choice :). It's ok to say you don't know or you can't do it anymore. I. Be brave to say #IDidntKnow, and tie a knot in your attire, to share your #MujheSabNahiPata story. The experience can be quite liberating and might even help another mother in distress. Believe me, it's ok to once in a while raise your hands and say, I need a break and I could with some help. Trust me when you come back rejuvenated you will be a better one and a happier one :)!!