Imagine a place between heaven and earth and really Iceland will fit in the description. I recently visited Iceland for 5 days and was overwhelmed with its beauty. I am still trying to overcome it. Imagine having lived in such a pristine place and then come back to the noisy, crowded streets of Mumbai?
I would highly recommend making that trip to Iceland once in your life and if you are not the hiking types then also there is so much to do there. However, hiking there gets you close to nature and it's an experience that I can't pen down or explain. So if you are planning to hike there, you will need a list of things to carry and trust me it's best to carry everything on your own as buying anything in Iceland is expensive and renting is expensive too.
If you have come to this post, this is a part of a series I am doing on my trip to Iceland and you might want to check out Some Tips that will help while booking your Iceland trip, Why ICELAND Travel Should be on your list even if you are not hiking and we will soon be sharing our experience on 5 day of hiking in Iceland.
While this is not a sponsored post, I would highly recommend buying from Decathlon stores if you are in India as the products are good and reasonable. Especially if you don't hike too much, the gear you get here is very reasonable.
However, I didn't want to take a chance with my shoes so they were from the Northface store.
Some of my friends highly recommended Patagonia for their gear.
So what do you need?
Look at many layers for dealing with the cold:
The best way to deal with cold countries is not to buy that one expensive leather jacket or woollen one. It is to layer. Layering helps you be insulated which will keep you warmer than the thickest or the warmest clothing. Also, the weather in Iceland is erratic I was continuously taking off layers and putting them back on.
Inner layer– Thermals. You can buy these from any local shops. There are cotton thermals and woolen thermals. I usually use woolen thermals as they keep you warmer if the place is below minus temperatures.
layer 2– Can be a t-shirt. I wore my sweatproof gym Tees. You can wear cotton too but then it's better to wear clothes that dry quickly and don't need ironing. These are the luxuries that won't be available during a hike. For the bottom, you can wear tights.
layer 3– A fleece jacket or a down jacket. I prefer a down jacket as it is light and warm and super compact to pack. You don't usually need another layer at the bottom but if you feel too cold then try another layer.
layer 4 – Should be waterproof as it can rain anytime in Iceland and then there is snow to deal with and on your trek you might need to cross rivers and that will need a waterproof layer. A windcheater and a pair of hiking pants should do it.
Sunglasses- You will need the glasses as it can rain anytime. It is windy at times and it can get dusty. Since the terrain of Iceland keeps changing it is quite unpredictable so it's best to be prepared. Make sure your glasses cover at least 3/4th of the face.
Rain shoes– You don't need them unless you come across rivers. Then you would want to change into these as you don't want your hiking shoes wet and soaking. Drying mine after they got drenched in the rain was a nightmare. You will have to change these after crossing the river as they are not good to trek in.
Gloves– Buy the ones that are insulated and the outer layer is waterproof.
Sleeping bag– Again you can rent these but it is just cheaper to buy it.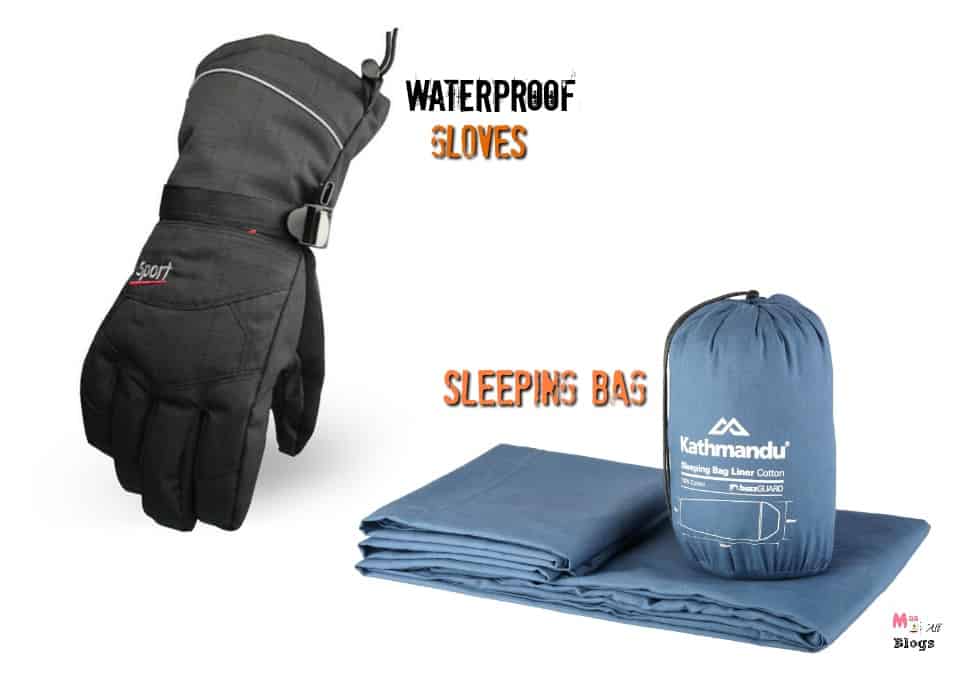 Hiking poles– They might be a pain to carry around in your luggage so I had rented these. Well, they cost me way more than their MRP.
Backpacks – Depending on how you are planning your hike you will need backpacks. I had two. A 40 litre one to carry all my clothes and change and all other things, which would be transported in a van by the tour guide company and one 20 litre light backpack which I used to carry with my mobile, food, money etc. If you are planning to go full on and carry your own tents and stoves then you need more capacity.
Hiking shoes– This should be your best investment and you will thank me later when they help you from sliding down those slippery slopes or ice. Buying something which has a good grip and is water-resistant is a good starting point. I bought mine from Northface for 165 dollars and was grateful for them everyday.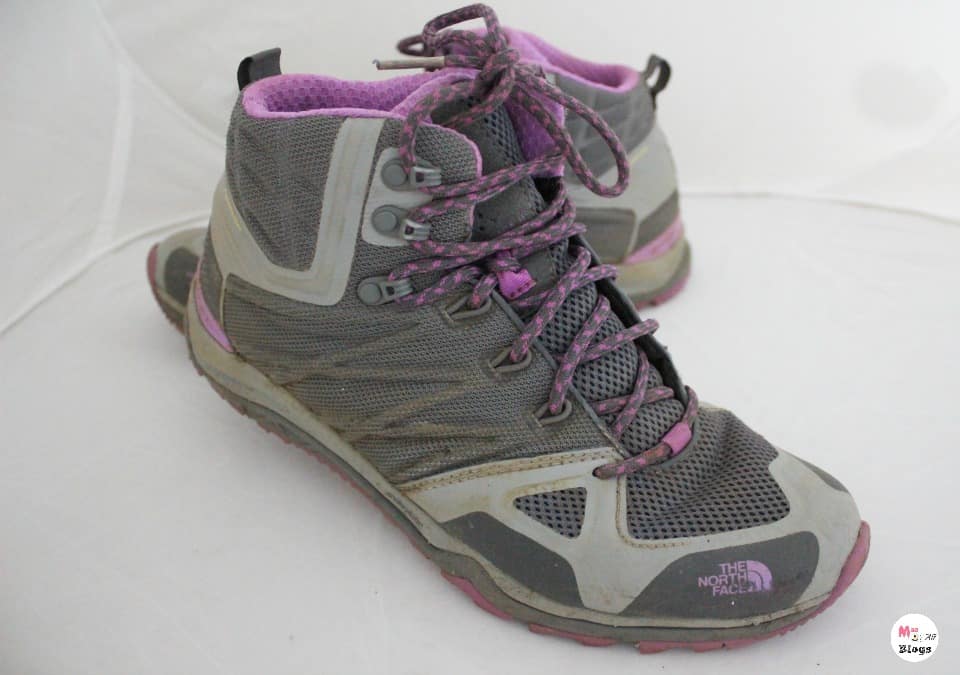 Torches and Headlights– take a crank torch as you really can't depend upon battery life while hiking. I hiked in August so I had about 20 hours of daylight, but from September to March you will have about just 4 hours of daylight.
Powerbanks– Take as many charged ones as possible. The mobile battery discharges really fast and you will get no plug points in a camp.
Toiletries
While you will have your own preferences and lists of toiletries – toothbrushes, liquid soaps, toothpaste etc. Just listing the ones that are a must.
Men- Wipes, deodorants, disposable bags etc. (Some camping grounds have bath areas but they are 500 Kronas each and sometimes you are so dead after the walk that you don't want to have a bath)
Women-Wipes, deodorants,disposable bags, tampons, menstrual cups etc. (not suggesting sanitary napkins as they can brush against your skin in long hikes and cause bruises)
Please make sure that whatever you discard in nature is bio-degradable and the rest can be thrown in the bins.
This list will help you get-set-ready and just want to end on the note that we should all practice responsible tourism.
Stay tuned for my next post on my 5 Days of Hiking Trip to Iceland !!