At the thought of parent bloggers, our mind inadvertently visualises a mommy! The reality is no different either. Try finding parenting blogs on the internet and almost all of them would be run by mothers. It is indeed nice to see more and more moms owning small online spaces for themselves where they can share some amazing experiences with fellow parents. But don't you really want to hear from the dads too?
We know that both the parents play a decisive role in the emotional development of their child. Today's dads are much more participating in the parenting process. In fact, there are some good examples where daddies choose to stay at home with the kids while their wives are out at work. Since the millennial dads are more involved as parents, sure they will have a rich pool of experiences to share with the world. Wouldn't it be nice to meet such daddy bloggers?
As we celebrate the International Men's Day this month, let's have a look at these cool and very interesting blogs run by the dads who are transforming the Indian blogging space in parenting.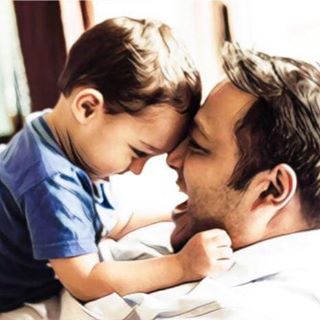 Started by the daddy blogger Sidharth Balachandran a.k.a Sid, I Wrote Those mainly reflects his experiences as a stay-at-home-dad. Sidharth, who worked in the IT and telecom sectors overseas before relocating to India, decided to take care of his then one-year old son while his wife continued with her professional journey.
I Wrote Those is a collection of Sid's parenting journey as well as humour, fiction, and opinion. The best thing about the blog is that Sid knows to keep it real and not preachy. He shares the day-to-day experiences with his son, talks about a nice recipe, or a book – all so effortlessly.
His work and the blog have been featured on various reputed platforms including the Huffpost, blogadda, The Indian Express, and The Hindu.
This is a cute, must-visit blog to witness the amazing relationship and moments lived by a father-son duo. Started by Deba Kumar Dutta, who is a wildlife and nature enthusiast – the blog represents fun moments spent with his 5-year old son, Neel.
Deba is a hands-on dad – traveling with his son, visiting museum, celebrating festivals, spending time in midst of nature; and what not. Deba and Neel mostly spend their time learning new things from nature, also educating their readers.  I bet you'll be amazed to see a whole new world expressed through the eyes of a loving and caring father.
An established business leader, with over 20 years of solid experience, has got time to pen down his fatherhood experiences. Not bad! Naveen Bachwani under the label "Being Dad" gives some real and interesting glimpses of his parenting as well as some cute, funny moments. Naveen, dad to 11-year-old and 15-year-old kids, shows through his writing the rollercoaster journey he is on. In the blog, he fondly addresses his kids as Tiger and Pumpkin (cute, isn't it?).
But the blog is not entirely on funny and witty stuff. There are some informative posts too, like '5 Rules Every Child Should Know About Money'.
I am sure that after knowing about these cool Indian dad bloggers, many of you would have already started navigating their blogs. Today's modern dads have no reservations in cooking meals or changing nappies or even taking the stay-at-home role. They have valuable experience and everyone should learn from them.  Kudos to these daddy bloggers for writing a new chapter in the parenting chronicles and I do hope more and more join the bandwagon.
Happy International Men's Day!